The Dictionary of Sydney was archived in 2021.
Koori Knockout
2019
This week is NAIDOC week, and as it happens, the decider for the State of Origin rugby league, so what better topic then the Koori Knockout and Aboriginal Rugby League?
  Listen to Mark and Julia on 2SER here 
Aboriginal players in the NRL are some of the best and most recognised players across the competition. They are household names, local, state and national captains. But this has not always been the case, and it was a long road to get here.
The NRL as we know it now began in 1908 as a break away competition from the dominate game of rugby union. No known Aboriginal players were amongst the ranks of these first teams, but it was not long before some began to appear around the margins.
By 1917 an all Aboriginal team, known as the All Blacks was playing in and around Sydney. They defeated the Port Kembla Rugby League club 13-6 in October that year.
As success came, recognition grew and by 1930 in Redfern and 1934 at La Perouse all Aboriginal teams had been established: the Redfern All Blacks and La Perouse All Blacks (1934), later changing to La Perouse United. These teams played against each other, against regional Aboriginal teams and played in the South Sydney District competition against teams in lower and junior grades.
In 1952 the first Aboriginal player known to be picked in a First Grade team was Ray Laurie, who played for Balmain. Laurie had been scouted from Casino where he had played for a number of years. In 1951, the year prior to his selection he scored 246 points, including 48 tries and 51 goals. Although he only stayed with Balmain two years, his time was a breakthrough for Aboriginal players. Still despite this the numbers were small and most players were excluded.
By the 1960s, as Aboriginal political action grew in Sydney, the All Blacks and other teams became an important component of the community, providing a welcoming community for young men arriving in Sydney from the bush and a measure of pride and success more broadly.
Finally in 1971, eight teams including the Redfern All Blacks, La Perouse, Mount Druitt and Koori United which represented Southern Sydney joined four regional teams in the inaugural NSW Aboriginal Rugby League Knockout, now known as the Koori Knockout.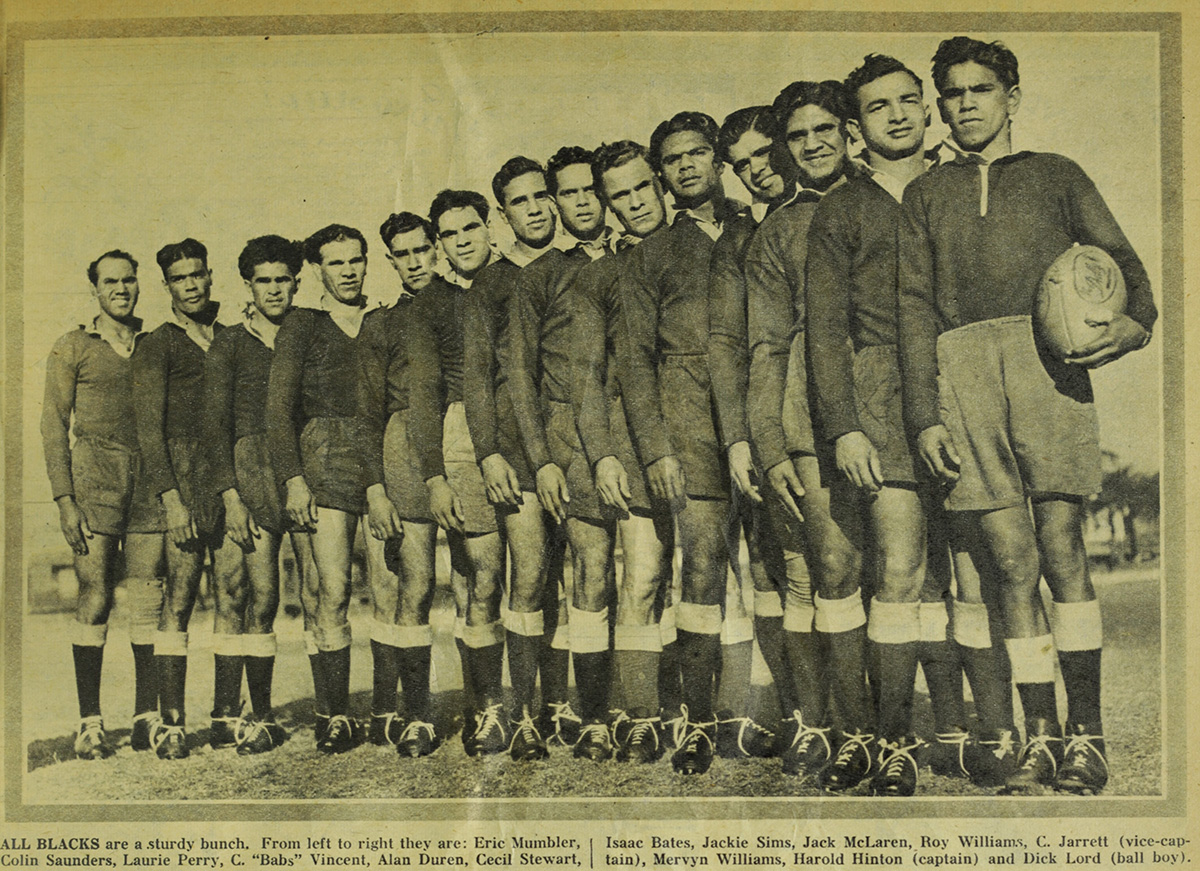 Bob Morgan, one of the original organisers, explained that:
Our concept at the time was to also have a game where people who had difficulty breaking into the big time would be on show. They could put their skills on show and the talent scouts would come and check them out.
The first knockout was held at Camdenville Oval in St Peters and was won by Koori United. 
When the Kempsey All Blacks won in 1975 it was decided that from then on the competition would travel, with the winning side hosting the next year. This is how the competition continues to operate with nearly 100 teams of men, women and junior players competing over a four day carnival in October.
All up more than 60 Koori Knockout players have gone on to play in the NRL competition, proving Bob Morgan was right.
Read Professor Heidi Norman's entry on Aboriginal Rugby League in Sydney on the Dictionary here: https://dictionaryofsydney.org/entry/aboriginal_rugby_league_in_sydney
To find out more about NAIDOC events happening near you, head to the NAIDOC website and scroll down to get to their calendar of events: https://www.naidoc.org.au/
Mark Dunn is the Chair of the NSW Professional Historians Association and former Deputy Chair of the Heritage Council of NSW. He is currently a Visiting Scholar at the State Library of NSW. You can read more of his work on the Dictionary of Sydney here. Mark appears on 2SER on behalf of the Dictionary of Sydney in a voluntary capacity. Thanks Mark!
Listen to the audio of Mark & Julia here, and tune in to 2SER Breakfast with Tess Connery on 107.3 every Wednesday morning at 8:15 to hear more from the Dictionary of Sydney.  
Categories
Blog
2ser
2SER Breakfast
Aboriginal history
community
history of sport
indigenous history
indigenous people
Julia Carr-Catzel
Koori Knockout
Mark Dunn
NAIDOC
rugby league
sport
sydney history