Cite this
Close
Citation
Persistent URL for this entry
http://dictionaryofsydney.org/entry/awa_tower
To cite this entry in text
Dictionary of Sydney staff writer, AWA Tower, Dictionary of Sydney, 2008, http://dictionaryofsydney.org/entry/awa_tower, viewed
17 Jan 2022
To cite this entry in a Wikipedia footnote citation
cite web | url= http://dictionaryofsydney.org/entry/awa_tower | title = AWA Tower | author = Dictionary of Sydney staff writer | date = 2008 | work = Dictionary of Sydney | publisher = Dictionary of Sydney Trust | accessdate =
17 Jan 2022
To cite this entry as a Wikipedia External link
cite web | url = http://dictionaryofsydney.org/entry/awa_tower | title = AWA Tower | accessdate =
2008
| author = Dictionary of Sydney staff writer | date = 2008 | work = Dictionary of Sydney | publisher = Dictionary of Sydney Trust
AWA Tower
The AWA [media]building with its famous tower was built as a new headquarters for Amalgamated Wireless Australasia Ltd in York Street in 1939. This company, incorporated in 1913, was the first to manufacture commercial radios in Australia, in 1920.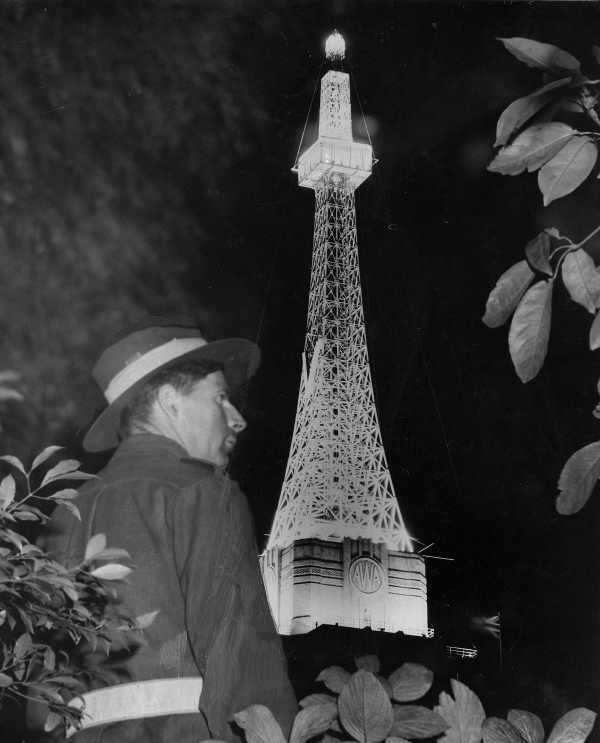 The 1939 steel-framed brick building was designed by Robertson, Marks and McCredie in association with DT Morrow and Gordon. Its art deco style, with polished trachyte facing at ground level, was intended to signal a progressive and go-ahead firm. The tower was modelled on Berlin's Funkturm Tower, built a few years earlier, and both took inspiration from the Eiffel Tower in Paris.
York Street follows a ridge, and at 112 metres, the building and tower dominated the low-lying 1930s Sydney skyline. It remained the tallest building in Sydney until the 1960s. The tower was 48 metres, and at the 97-metre point of the building there was a viewing platform.
The building is decorated with appropriate symbols of communication, including a winged Pegasus, said to be chosen by Sir Ernest Fisk, the pioneer of wireless technology and a founding director of AWA. [1] For many years, the tower wore the sign 'Beam Wireless', a service providing radio contact to commercial shipping on the England–Australia route introduced in 1927.
The firm was the first into television manufacture, and in the 1960s large AWA neon logos were attached to the building to symbolise this fact. In later years, the company expanded into a wide range of electronic products, including gaming systems. In 2000, when the company folded, the building was sold to Jupiter's Casino Group. [2] It is covered by a conservation order, and remains known as the AWA building, although the big red AWA signs have been removed. [3] The tower, which was demolished and rebuilt in 1994, remains illuminated at night, but the viewing platform has long gone.
Notes
[1] Murray Goot, 'Fisk, Sir Ernest Thomas, 1886–1965', Australian Dictionary of Biography, vol 8, Melbourne University Press, Melbourne, 1981, pp 508–10
[2] http://www.tabcorpinternational.biz/awa-gaming-history.htm
[3] Sean Nicholls, 'City Tower to lose historic logos', Sydney Morning Herald, 3 January 2003
.