The Dictionary of Sydney was archived in 2021.
Cite this
Close
Citation
Persistent URL for this entry
http://dictionaryofsydney.org/entry/bondi_pavilion
To cite this entry in text
Dictionary of Sydney staff writer, Bondi Pavilion, Dictionary of Sydney, 2008, http://dictionaryofsydney.org/entry/bondi_pavilion, viewed
02 Jun 2023
To cite this entry in a Wikipedia footnote citation
cite web | url= http://dictionaryofsydney.org/entry/bondi_pavilion | title = Bondi Pavilion | author = Dictionary of Sydney staff writer | date = 2008 | work = Dictionary of Sydney | publisher = Dictionary of Sydney Trust | accessdate =
02 Jun 2023
To cite this entry as a Wikipedia External link
cite web | url = http://dictionaryofsydney.org/entry/bondi_pavilion | title = Bondi Pavilion | accessdate =
2008
| author = Dictionary of Sydney staff writer | date = 2008 | work = Dictionary of Sydney | publisher = Dictionary of Sydney Trust
Bondi Pavilion
[media]There are several 'icons' of Sydney that have an international reputation: the Opera House, the Harbour Bridge, the Gay and Lesbian Mardi Gras, and Bondi Beach. At Bondi Beach is the Bondi Pavilion.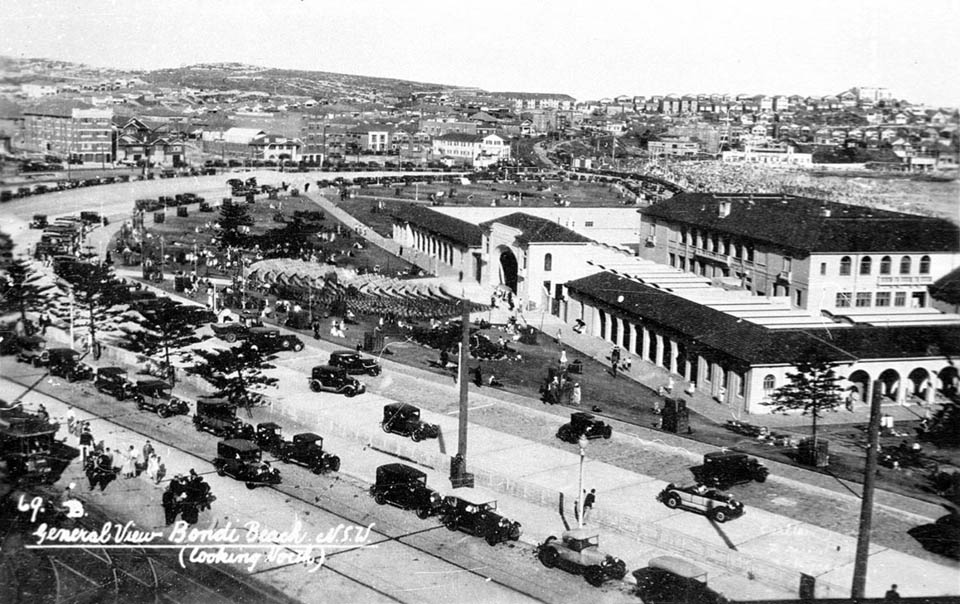 Dating from the late 1920s, the Bondi Surf Pavilion was built in a form that reflected aspects of styles then fashionable – both Interwar Mediterranean and Georgian Revival. The core building is two storeys high, with single-storey wings encircling a large central courtyard. It has colonnaded facades on four sides. The building's frontage is almost 130 metres and its depth is almost 50 metres. It was designed to accommodate 12,000 visitors at a time.
It was the largest surf pavilion built in Sydney, and built at a time when beach recreation was increasing following earlier decades of legislative restrictions on sea bathing. From mid-nineteenth century, Bondi Beach became popular for picnics and other recreational activities. Although the land was freehold, calls were made for the beach to be made a reserve, and in 1882 a public reserve was declared. Sea bathing had been harshly restricted by legislation, but this situation began to ease by the beginning of the twentieth century, and in 1906 the Bondi Surf Bathers' Life Saving Club was established. By this time Waverley Council had already erected changing sheds, and a sea wall, at the rear of the beach, was built between 1911 and 1920.
Due to the increased popularity of beach swimming and surfing, in 1923 an improvement scheme for Bondi Beach was launched. The architectural firm of Robertson and Marks won the competition to design the new works: a surf pavilion was a major element of the scheme, and the foundation stone for the pavilion was laid on 26 May 1928 by the Waverley Mayor, Alderman David Hunter. Builder of the pavilion was John Howie and Sons. The pavilion and other works forming the rest of the scheme were opened on 21 December 1929. The pavilion served several purposes, including changing facilities for swimmers, food outlets and entertainment venues. There were even Turkish baths and a ballroom.
Beach culture boomed during the 1930s – it was a great form of cheap entertainment at a time of straitened circumstances for many families – and Bondi was very popular, with up to 50,000 people using the beach on some summer days. Bondi and the pavilion drew not only Sydneysiders but also people from elsewhere in Australia. Then World War II intervened. After Japan's entry into the war, beach recreation was limited and the army took over the pavilion and the beach, although public use of the upstairs auditorium for cabarets continued.
Postwar changes
The postwar era brought more changes, as the increased availability of cars enabled beachgoers to search out new sites. Although the beach was popular, Waverley Council was losing money on the pavilion, and various schemes were considered to rectify this, none of them successful. By 1959 the pavilion was unlicensed and the building's condition was declining. In the 1960s, one third of the men's changing area was closed and the auditorium was rarely used. By the early 1970s the pavilion was seen by the media as a great white elephant. It was at this time that a reprieve and a new direction arrived, with the Bondi Theatre Group gaining approval to convert the ballroom into a theatre. The theatre was opened by Prime Minister Gough Whitlam in 1975.
Since then, it has been home to parties, film festivals, plays, and various community and cultural events, as well as its colonnades being an informal gathering place, familiar to middle Europeans who live in the area. It is a much-photographed backdrop for visiting tourists, particularly from Asia.
The building presently consists of a 250-seat theatre, an exhibition gallery, souvenir shop, amphitheatre, basketball court, pottery arts and crafts workshops and studios, a meeting room and music room, two small gymnasiums, police office, beach inspector's office, first aid office, take-away food shops and a restaurant, change room and toilets. Much of the evidence of earlier uses and beach culture (locker rooms, bathing suit hire facilities, laundry, ballroom, and other features such as the Turkish baths), have long gone.
References
Clive Lucas, Stapleton and Partners Pty Ltd, 'Bondi Pavilion Surf Club and Surrounds: Conservation Analysis and Conservation Guidelines', prepared for Waverley Council May 1997
Joan Lawrence and Alan Sharpe, (eds), Pictorial History Eastern Suburbs, Kingsclear Books, Crows Nest, c1999
Notes