Cite this
Close
Citation
Persistent URL for this entry
http://dictionaryofsydney.org/entry/christian_mary_ellen
To cite this entry in text
Frappell, Samantha, Christian, Mary Ellen, Dictionary of Sydney, 2011, http://dictionaryofsydney.org/entry/christian_mary_ellen, viewed
16 May 2022
To cite this entry in a Wikipedia footnote citation
cite web | url= http://dictionaryofsydney.org/entry/christian_mary_ellen | title = Christian, Mary Ellen | author = Frappell, Samantha | date = 2011 | work = Dictionary of Sydney | publisher = Dictionary of Sydney Trust | accessdate =
16 May 2022
To cite this entry as a Wikipedia External link
cite web | url = http://dictionaryofsydney.org/entry/christian_mary_ellen | title = Christian, Mary Ellen | accessdate =
2011
| author = Frappell, Samantha | date = 2011 | work = Dictionary of Sydney | publisher = Dictionary of Sydney Trust
Christian, Mary Ellen
Mary Ellen Christian [media]was born in Canada in 1848, but spent most of her childhood in Woolwich, England. From an early age, Mary Ellen was taught singing by a local teacher and sang in the local St Mary Magdalene Church of England choir. In 1866, at the age of 18, Mary Ellen won a Westmoreland Scholarship for Singing at London's Royal Academy of Music. She studied under the great singing teacher, Manuel Garcia.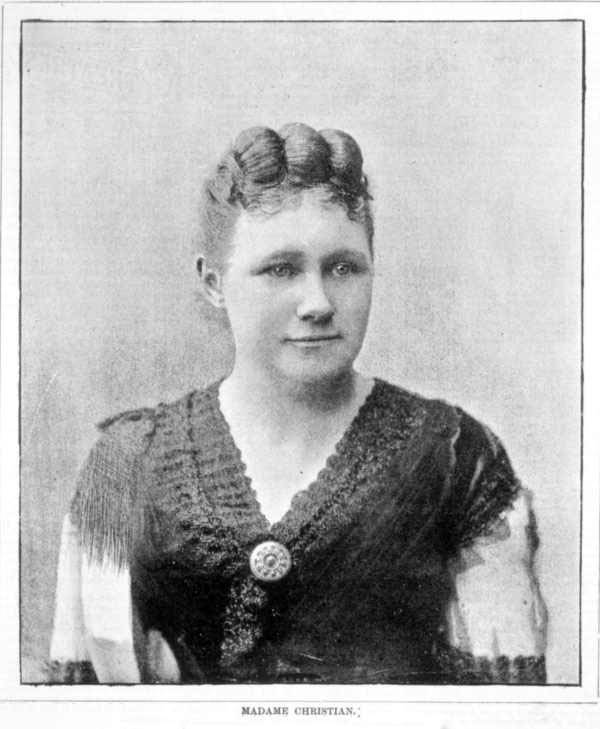 After graduation from the Royal Academy, Christian began performing in concerts. On the advice of doctors, she travelled to Australia in 1871, as it was believed that the London fogs were affecting her voice (she had suffered chronic lung complaints since childhood). While in Australia, Christian sang with the Melbourne Philharmonic Society and the Melbourne German Liedertafel Association. She formed the Christian Concert Company and toured throughout Australia. Her tours were managed by the entrepreneur and events manager Robert Sparrow Smythe.
In 1874 [media]Christian gave birth to a son, Robert Christian Holmes Smythe, fathered by Smythe. The two were unmarried, a cause for shame and scandal in nineteenth-century Australian society. Christian had hoped to marry Smythe, but Smythe would eventually marry soprano Amelia Bailey in 1881.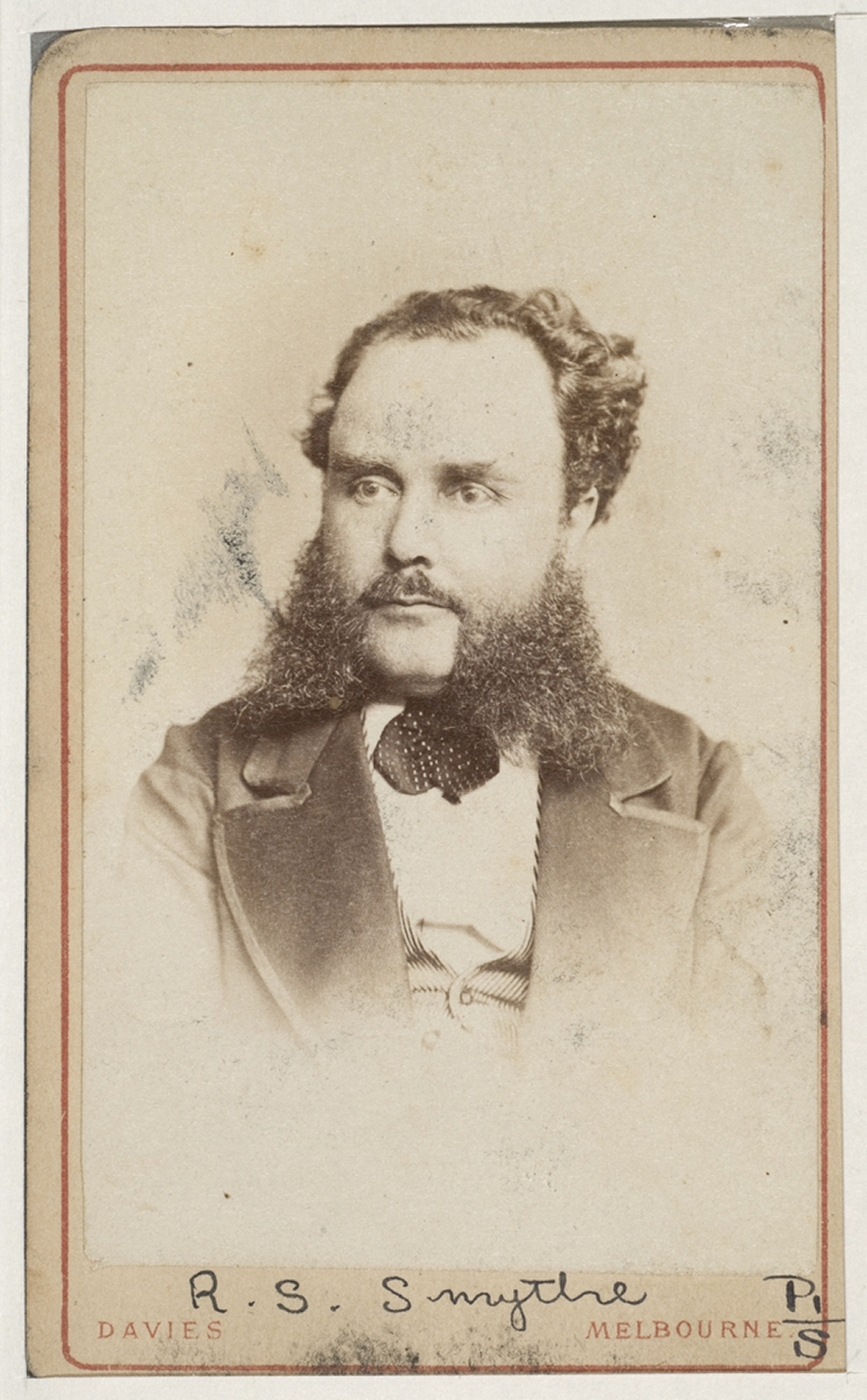 Christian returned to touring in 1875, completing a successful series of concerts in New Zealand. She also taught singing at the Presbyterian Ladies' College in Melbourne, and may have taught Nellie Melba (Helen Porter Mitchell). She toured England in 1879 and 1881 with her sister Emily Christian, an accomplished pianist. Mary Ellen returned to Australia in 1884, where she and her sister performed concerts in Melbourne, Hobart and New Zealand for the next few years. Christian also sang with English baritone Charles Santley at the Sydney Town Hall in 1889.
In 1894, at the [media]age of 46, Christian abandoned her singing career and entered the Sisters of Charity congregation in Sydney as Sister Mary Paul of the Cross. Christian's motivation for leaving her successful career behind is not known. She had converted to Catholicism in 1887 and may simply have felt a deep calling to the religious life. Her sister Emily had married in 1892 and settled in Sydney, while her son Robert Christian Holmes Smythe had completed his education and grown to adulthood; these changes in family circumstances may also have prompted her new path.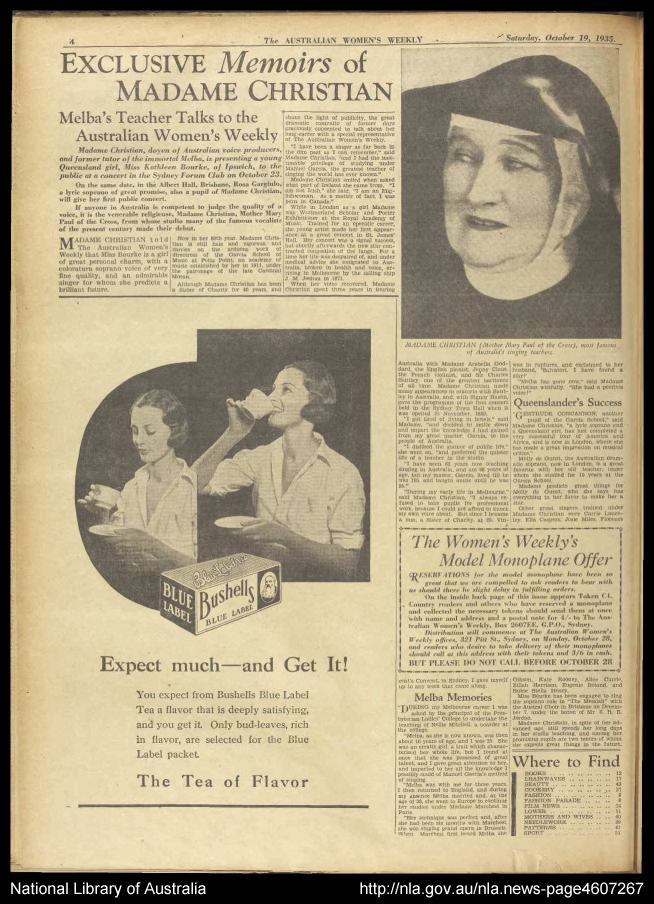 Sister Mary Paul of the Cross began teaching voice at St Vincent's College, run by the Sisters of Charity, in 1895. Two years later, she founded a School of Music (known as the Garcia School from 1905) and also established St Vincent's College as a centre for the Royal Academy of Music and the Royal College of Music's practical examinations. Until the opening of the Conservatorium of Music in 1916, St Vincent's College was the only institution in New South Wales offering public examinations in music.
Sister Mary Paul of the Cross continued teaching at the Garcia School and at St Vincent's College until shortly before her death in 1941.
References
Stewart G East, Sing Gentle Bird, the author, Yarralumla ACT, 2003
Garcia School of Music, Prospectus, Sydney, c1913
Garcia School of Singing, Garcia School of Singing, 1906
Barbara MacKenzie and Findlay MacKenzie, , Singers of Australia: From Melba to Sutherland, Lansdowne Press, Melbourne, 1967
Royal Academy of Music, Royal Academy of Music: Handbook, London, 1876
St Vincent's College, The Garcia School of Music, c1908
St Vincent's College, The Garcia Centre, 1998
Notes