Cite this
Close
Citation
Persistent URL for this entry
http://dictionaryofsydney.org/entry/ellard_frederick
To cite this entry in text
Skinner, Graeme, Ellard, Frederick, Dictionary of Sydney, 2008, http://dictionaryofsydney.org/entry/ellard_frederick, viewed
20 Oct 2021
To cite this entry in a Wikipedia footnote citation
cite web | url= http://dictionaryofsydney.org/entry/ellard_frederick | title = Ellard, Frederick | author = Skinner, Graeme | date = 2008 | work = Dictionary of Sydney | publisher = Dictionary of Sydney Trust | accessdate =
20 Oct 2021
To cite this entry as a Wikipedia External link
cite web | url = http://dictionaryofsydney.org/entry/ellard_frederick | title = Ellard, Frederick | accessdate =
2008
| author = Skinner, Graeme | date = 2008 | work = Dictionary of Sydney | publisher = Dictionary of Sydney Trust
Ellard, Frederick
Frederick Ellard [media]was born in Dublin, and probably arrived in Australia in 1832 with his uncle William and father Francis, who established a family music publishing and instrument selling business in Sydney.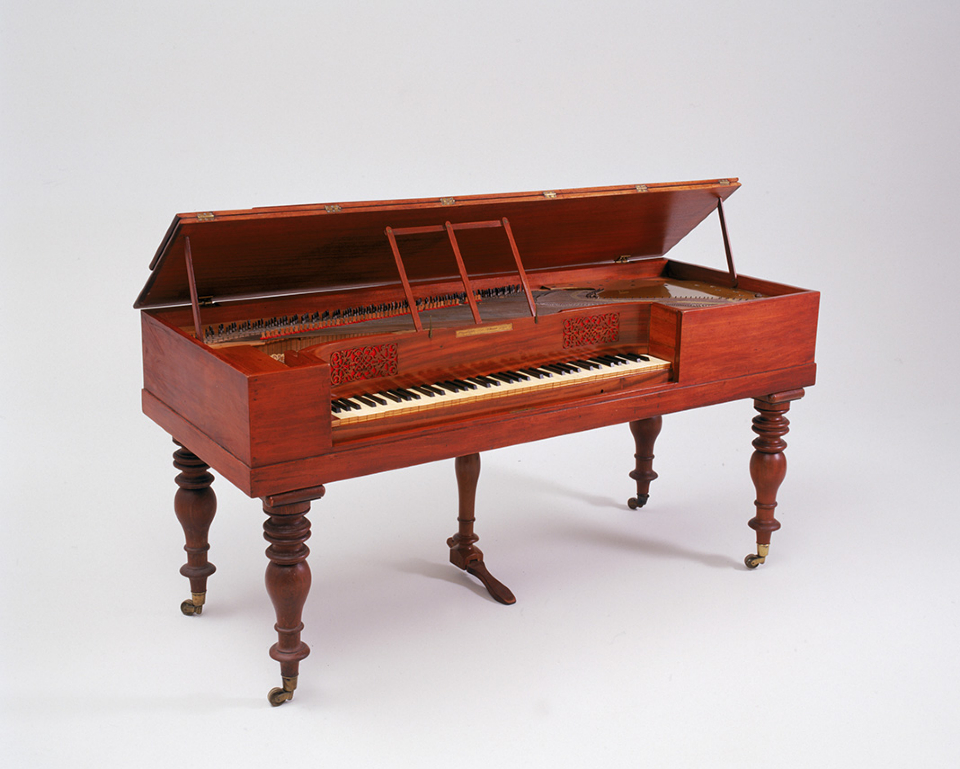 Back in Dublin in 1835, William published a collection entitled The Australian Quadrilles, but during his return voyage to Australia he fell overboard and drowned. Before William Ellard's editorship of this collection was established by the discovery of the original title page (illustrated with a scene of Sydney harbour), The Australian Quadrilles was often attributed to Reichenberg, bandmaster of the British 40th Regiment stationed in Sydney. William's volume is dedicated 'to Miss Hely of Engehurst' (the daughter of Frederick Hely of Paddington). The contents, a miscellany of tunes recently popular in Europe, are described as being 'selected from the newest and most Celebrated Operas' (including works by Bellini and Adam) and 'arranged for the Piano-Forte or Harp by Wm Ellard'. The set consists of five dances with the titles La Sydney, La Woolloomooloo, La Illawarra, La Bong-Bong, and La Engehurst (based on the popular song, 'The Girl I Left Behind'). The quadrilles have been recorded both in their original form, and in arrangements by several later Sydney composers, notably John Antill and Peter Sculthorpe.
Though Frederick Ellard spent much of the 1840s in Melbourne and London, Sydney remained the base of his activities. [media]His first published composition was The Sydney Corporation Quadrilles (1842) which, like most of his other works of the 1840s, was published by the Ellard family business. He also became one of the city's leading cellists and piano teachers, and, during the last 20 years of his life, a singing teacher.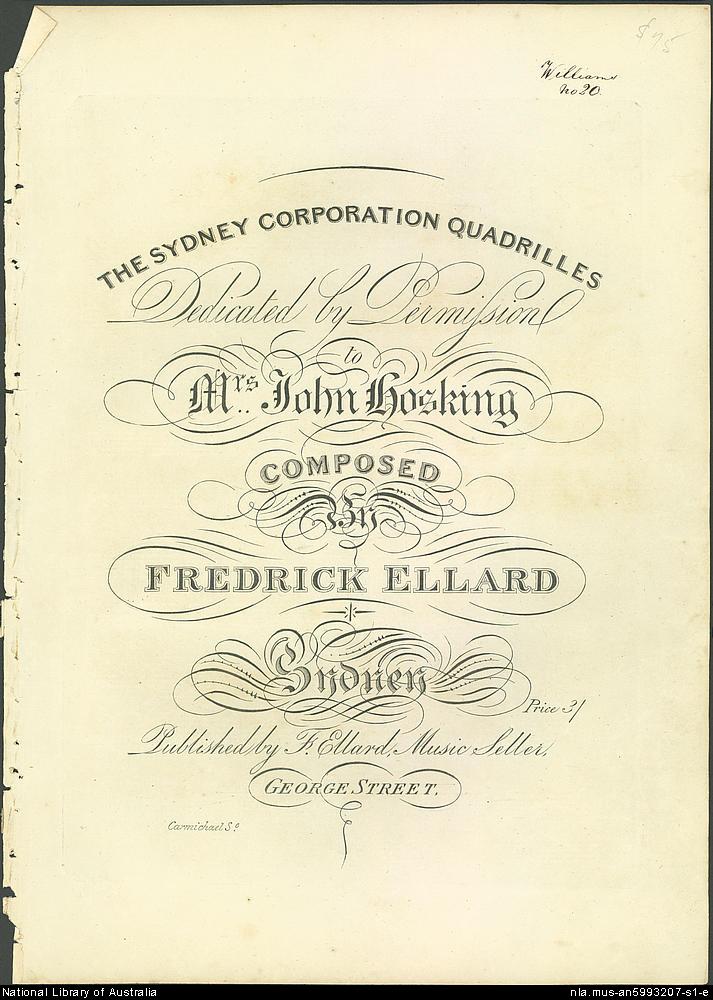 Among his popular works were those commemorating events in the Crimean War of 1853–56, a set of part-songs entitled Crimea: Alma, Inkermann, Balaklava, dedicated to the Sydney Philharmonic Society. His Australian Bird Waltz is [media]possibly the first published piece of music based on an Australian bird call, and includes a preface by the composer explaining its genesis and notating the bird call that inspired him.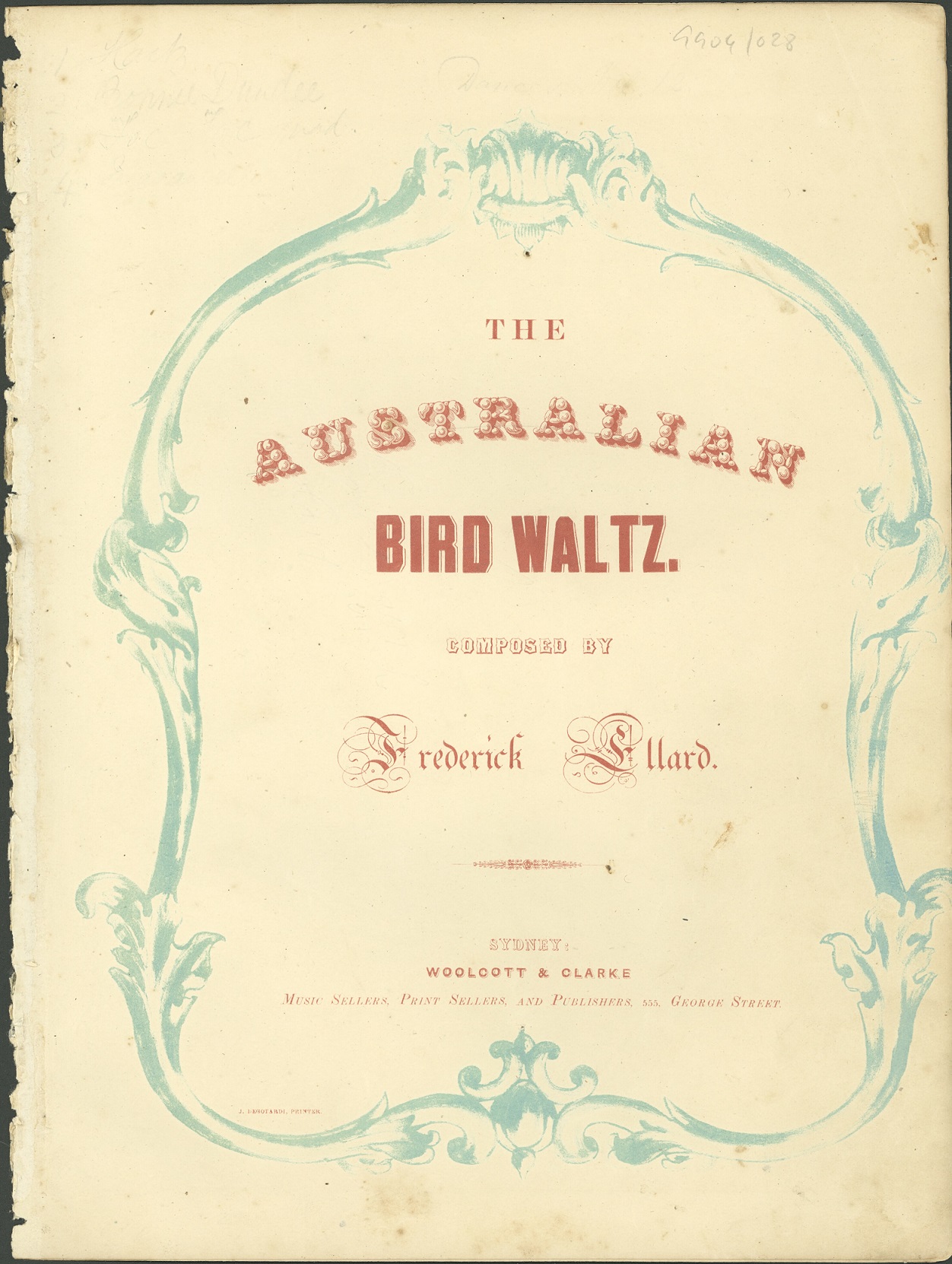 Among other local composers, Isaac Nathan had works published by Francis Ellard's family business.
References
Ann Carr-Boyd, Classical Music of Colonial Australia, liner notes, Sound Heritage Association, CD recording, AHS 03-2CDS
National Library of Australia, 'Frederick Ellard', MusicAustralia, viewed 27 November 2008, http://nla.gov.au/nla.cs-ma-ANL%3AMA~478469
Prue Neidorf, 'Publishing Music', in John Whiteoak and Aline Scott-Maxwell (eds), Currency Companion to Music and Dance in Australia, Currency House in association with Currency Press, 2003, pp 550
Notes