Cite this
Close
Citation
Persistent URL for this entry
http://dictionaryofsydney.org/entry/garcia_school_of_music
To cite this entry in text
Frappell, Samantha, Garcia School of Music, Dictionary of Sydney, 2011, http://dictionaryofsydney.org/entry/garcia_school_of_music, viewed
21 Jan 2022
To cite this entry in a Wikipedia footnote citation
cite web | url= http://dictionaryofsydney.org/entry/garcia_school_of_music | title = Garcia School of Music | author = Frappell, Samantha | date = 2011 | work = Dictionary of Sydney | publisher = Dictionary of Sydney Trust | accessdate =
21 Jan 2022
To cite this entry as a Wikipedia External link
cite web | url = http://dictionaryofsydney.org/entry/garcia_school_of_music | title = Garcia School of Music | accessdate =
2011
| author = Frappell, Samantha | date = 2011 | work = Dictionary of Sydney | publisher = Dictionary of Sydney Trust
Garcia School of Music
In 1897 [media]the Sisters of Charity established a School of Music at St Vincent's College, Potts Point. The School was managed by Sister Mary Paul of the Cross (formerly Mary Ellen Christian), a talented singer of some renown before she entered religious life. The School of Music offered instruction in voice, piano, organ, violin, cello, music theory, harmony, counterpoint, vocalisation, sight-reading, choral singing and chamber music. A number of outstanding musicians taught at the School, including Ivonne Levarrier (piano), Henry Stäell (violin) and Bryce Carter (cello), while Sister Mary Paul of the Cross taught voice.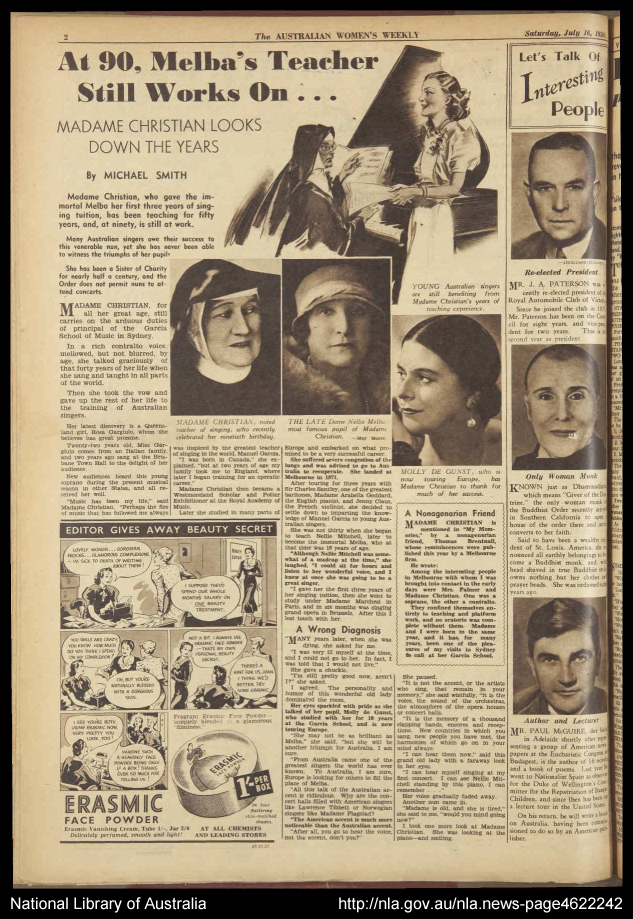 In 1905 the School of Music was renamed the Garcia School of Music, in honour of Manuel Garcia, who was celebrating his 100th birthday. Manuel Garcia had been Sister Mary Paul of the Cross's singing teacher. The 1906 prospectus for the Garcia School was justly proud of its premier role in music education in Australia:
In the establishment of the Garcia School of Music we have started, in Sydney, what one writer has described as 'the first national nursery of native talent.' The student who is earnest and sincere may now enter upon a complete course of 'scholastic and scientific' training in the art of singing. While those who wish to become 'sound and well-built pianists'… have the opportunities of being trained in the best modern school, that of Leschetitzki, by Miss Ivonne Leverrier…' [1]
In 1906, Garcia students were required to undertake one principal study and one secondary study, choosing from piano, violin, cello or voice. They were also taught music theory, Italian, French and German, elocution and deportment. Fees for one year were 80 guineas, which included full board and residence. Students were also expected to give public concerts at the Sydney Town Hall or other local concert halls as part of their course.
At first, the Garcia School had been located in Rockwell Crescent, Potts Point, but soon moved to a rented property in nearby Challis Avenue. In 1909, four unfinished terraces in Challis Avenue became available for sale, and were purchased by the Sisters of Charity. Architect Richard Shaw was commissioned to refurbish the buildings as two terraces containing classrooms and student accommodation for the Garcia School.
In 1914 the number of students entering the Garcia School of Music was greatly reduced for reasons that are unclear. Certainly, the opening of the New South Wales Conservatorium of Music two years later would have subsequently increased competition for potential music students. Sister Mary Paul of the Cross nevertheless continued teaching music at the school until six months before her death in 1941. The Garcia School was closed shortly thereafter. The Performing Arts department building of St Vincent's College, located in the original Garcia School buildings, was named The Garcia Centre in 1998.
References
Stewart G East, Sing Gentle Bird, the author, Yarralumla ACT, 2003
Garcia School of Music, Prospectus, Sydney, c1912
Garcia School of Singing, Garcia School of Singing, 1906
St Vincent's College, The Garcia School of Music, c1908
St Vincent's College, The Garcia Centre, 1998
Notes