Cite this
Close
Citation
Persistent URL for this entry
http://dictionaryofsydney.org/entry/little_manly
To cite this entry in text
MacRitchie, John, Little Manly, Dictionary of Sydney, 2008, http://dictionaryofsydney.org/entry/little_manly, viewed
20 Sep 2021
To cite this entry in a Wikipedia footnote citation
cite web | url= http://dictionaryofsydney.org/entry/little_manly | title = Little Manly | author = MacRitchie, John | date = 2008 | work = Dictionary of Sydney | publisher = Dictionary of Sydney Trust | accessdate =
20 Sep 2021
To cite this entry as a Wikipedia External link
cite web | url = http://dictionaryofsydney.org/entry/little_manly | title = Little Manly | accessdate =
2008
| author = MacRitchie, John | date = 2008 | work = Dictionary of Sydney | publisher = Dictionary of Sydney Trust
Little Manly
Captain Arthur Phillip, the first Governor of New South Wales, visited the northern part of the harbour in January 1788, and noted the 'manly' behaviour of the Aboriginal men who waded into the water among his boats. Phillip gave the name Manly Cove to the place. [media]Over time the area surrounding this cove became known as Manly. Little Manly fronts Little Manly Cove, which is south of Manly Cove, around Smedley's Point.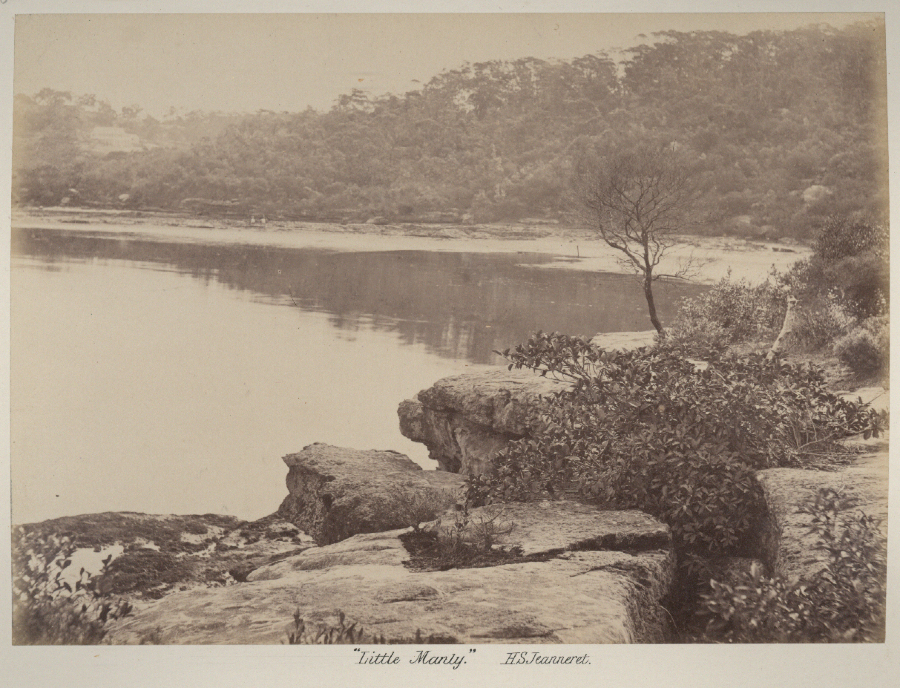 Attempts to shelter here were not always successful. In the winter of 1800, the Martha, returning from the Hunter River with a load of coal, attempted to shelter from a storm in what is now known as Little Manly Cove, but it was driven onto a reef where it was holed. Later, the schooner Elizabeth was wrecked there in 1848.
In February 1837 the immigrant ship, Lady MacNaghten, arrived in the harbour from Ireland. A number of passengers, including children, had died at sea from fever and there were over 70 cases on board. A temporary land-based quarantine station was established at Little Manly Cove and buildings constructed. A number of the sick died. Three months later when the crisis was over, the buildings were moved to a site above what later became known as Quarantine Beach.
During the summer of 1860–61 a rival ferry service was set up to compete with the established Phantom ferry service running to the pier at Manly Cove. Passengers from Sydney arriving in the Victoria at the 'Sixpenny Wharf' on the western side of Little Manly Cove were encouraged to walk to Fairy Bower. The rivalry was short-lived.
Much of the land in the Little Manly area, owned by Katherine Wentworth, was subdivided and auctioned from December 1878 onwards, after the passage of the Bassett-Darley Estates Act. Darley Road commemorates her married name.
In January 1878 a deputation of residents including the Mayor of Manly approached the Minister for Lands for approval to construct baths – one for men and one for women, on either side of Manly Cove. Opposition by a number of residents forced the Council to build the gentlemen's baths at Little Manly Cove.
The Manly Gas Works were constructed at Little Manly Point in 1883, and operated until 1966. The New South Wales Government acquired the site in 1970 for passive recreation.
Little Manly Boatshed was built in 1916 out of weatherboard and iron roofing by James Farrell. Later, his son Laurence Farrell, a professional fisherman, kept the boatshed. It was acquired by Manly Council in the mid-1970s, and demolished in 1977 to make way for the public reserve. [1]
References
Champion, Shelagh and George, Manly, Warringah and Pittwater, the authors, Killarney Heights NSW, 1997
Notes