Cite this
Close
Citation
Persistent URL for this entry
http://dictionaryofsydney.org/entry/merriman_stairs
To cite this entry in text
Preston, Jennifer, Merriman Stairs, Dictionary of Sydney, 2018, http://dictionaryofsydney.org/entry/merriman_stairs, viewed
27 Jan 2022
To cite this entry in a Wikipedia footnote citation
cite web | url= http://dictionaryofsydney.org/entry/merriman_stairs | title = Merriman Stairs | author = Preston, Jennifer | date = 2018 | work = Dictionary of Sydney | publisher = Dictionary of Sydney Trust | accessdate =
27 Jan 2022
To cite this entry as a Wikipedia External link
cite web | url = http://dictionaryofsydney.org/entry/merriman_stairs | title = Merriman Stairs | accessdate =
2018
| author = Preston, Jennifer | date = 2018 | work = Dictionary of Sydney | publisher = Dictionary of Sydney Trust
Merriman Stairs
[media]Merriman Stairs linked Argyle Street, Millers Point with Princes Street in The Rocks. They were constructed in 1859 and demolished in 1931 due to the construction of the Sydney Harbour Bridge.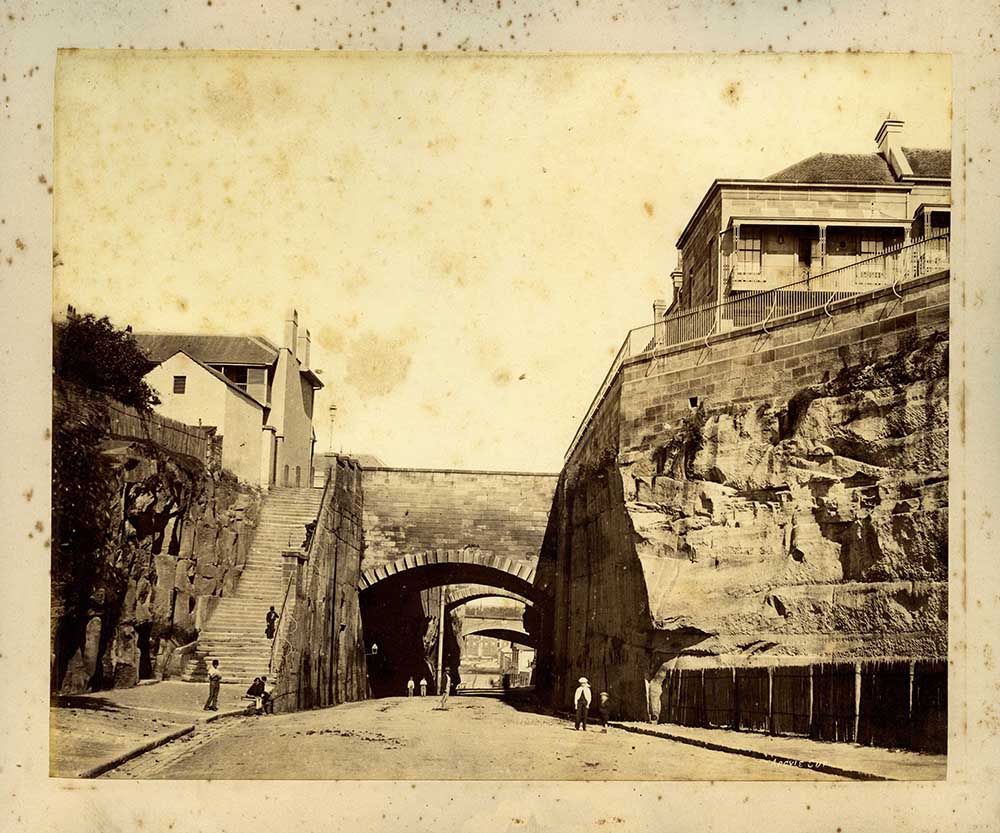 Argyle Cut
In 1859 when the Argyle Cut was completed, it provided a passage through the hill and joined Upper and Lower Argyle Streets but it did not resolve a safe pedestrian connection to Princes Street located high on the ridge between The Rocks and Millers Point. A solution was provided to the problem of pedestrian access with the construction in the same year of a set of stone steps cut into the rock behind Holy Trinity Church.
The specifications and drawings for these stairs were signed by Edward Bell, the City Engineer, in 1858. The successful contractors for the stairs, Thomas Bowman of the North Shore, Joseph Fogg of the North Shore, and Patrick Freehill, a baker of George Street, required a blasting licence as the landing and steps were to be 'neatly cut in the rock'.[1] Although not in the original contract, prior to 1870 a stone parapet wall with a wrought iron balustrade and a lamppost to the entry at Princes Street had been added on the south side of the stair and by 1910 a central handrail had been installed.
James Merriman
In 1888 the stairs were named 'Merriman Stairs'[2] after James Merriman who had been an alderman with the council since 1867 and was Mayor of Sydney in 1873, 1877 and 1878.[3] 
Old Sydney
[media]During the early twentieth century, as changes to the area were causing many to reflect on the loss of 'Old Sydney', stairways were often seen as a picturesque reflection of the past. One description in 1913 observed: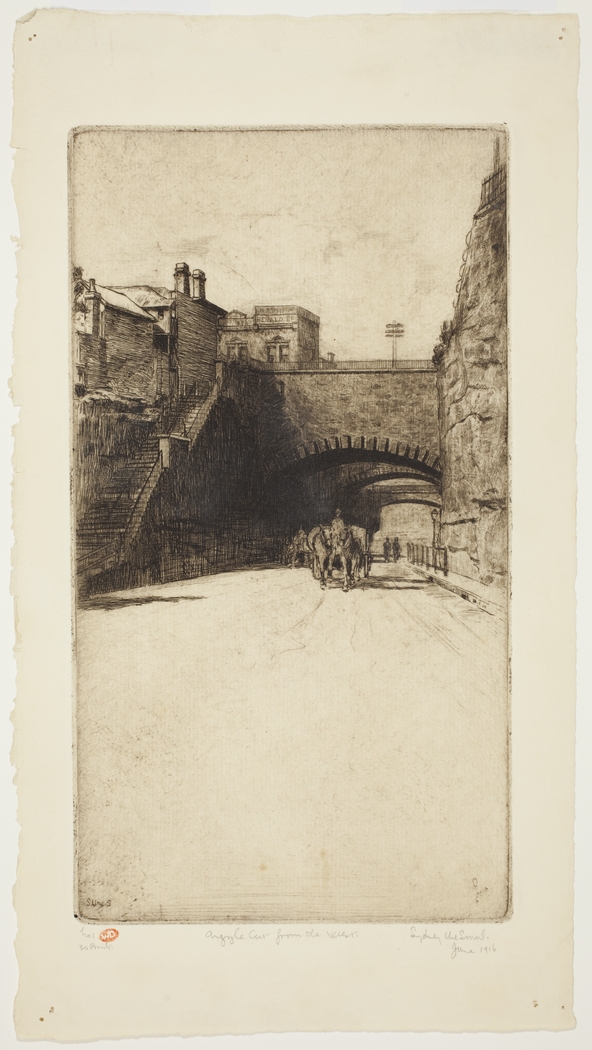 A delightful flight of worn old steps, "Merriman's Stairs" gives access from one street to another. The rough-hewn stone wall alongside, mossy and green with soakage, heightens the effect of antiquity, and brings to mind some old world city.[4]
With the demolition of Princes Street in 1927 for the construction of the Sydney Harbour Bridge, the practical need to climb up to its shops was also gone. The bridge not only removed the means of access to the ridge it also removed the primary purpose for that access. Other less tangible benefits such as the view and the physical pleasure of a walk were no match for the pragmatic considerations of Sydney's rail and road transport systems which required the bridge's construction. Merriman Stairs remained until 1931 when they were also demolished.
Notes
[1] Edward Bell, City Engineer, Specification of work to be done for the Municipal Council for the City of Sydney in Excavating and Forming Footpath, and Cutting Steps on the North side of Argyle street from Princes street to Fort street, City of Sydney Archives, 65/0156 
[2] City Council, Evening News, 11 September 1888,6
[3] NEWS OF THE DAY. The Sydney Morning Herald, 7 September 1888,7 
[4] Our Elder Sister, The Argus, 11 October 1913, 8