Cite this
Close
Citation
Persistent URL for this entry
http://dictionaryofsydney.org/entry/owen_robert
To cite this entry in text
McCormack, Terri, Owen, Robert, Dictionary of Sydney, 2011, http://dictionaryofsydney.org/entry/owen_robert, viewed
01 Dec 2021
To cite this entry in a Wikipedia footnote citation
cite web | url= http://dictionaryofsydney.org/entry/owen_robert | title = Owen, Robert | author = McCormack, Terri | date = 2011 | work = Dictionary of Sydney | publisher = Dictionary of Sydney Trust | accessdate =
01 Dec 2021
To cite this entry as a Wikipedia External link
cite web | url = http://dictionaryofsydney.org/entry/owen_robert | title = Owen, Robert | accessdate =
2011
| author = McCormack, Terri | date = 2011 | work = Dictionary of Sydney | publisher = Dictionary of Sydney Trust
Owen, Robert
Robert Owen was [media]born on 8 November 1799 at Tynemouth, North Shields, England, the second son of Robert Owen, master mariner, and his wife Sarah. Owen was admitted as a solicitor on 20 April 1820 at London, England. In 1824 he married Jane (or Jessie) Threipland, the daughter of Lord Moncrieff of Finagask Castle, Perth, at Newcastle on Tyne. They had two sons and a daughter.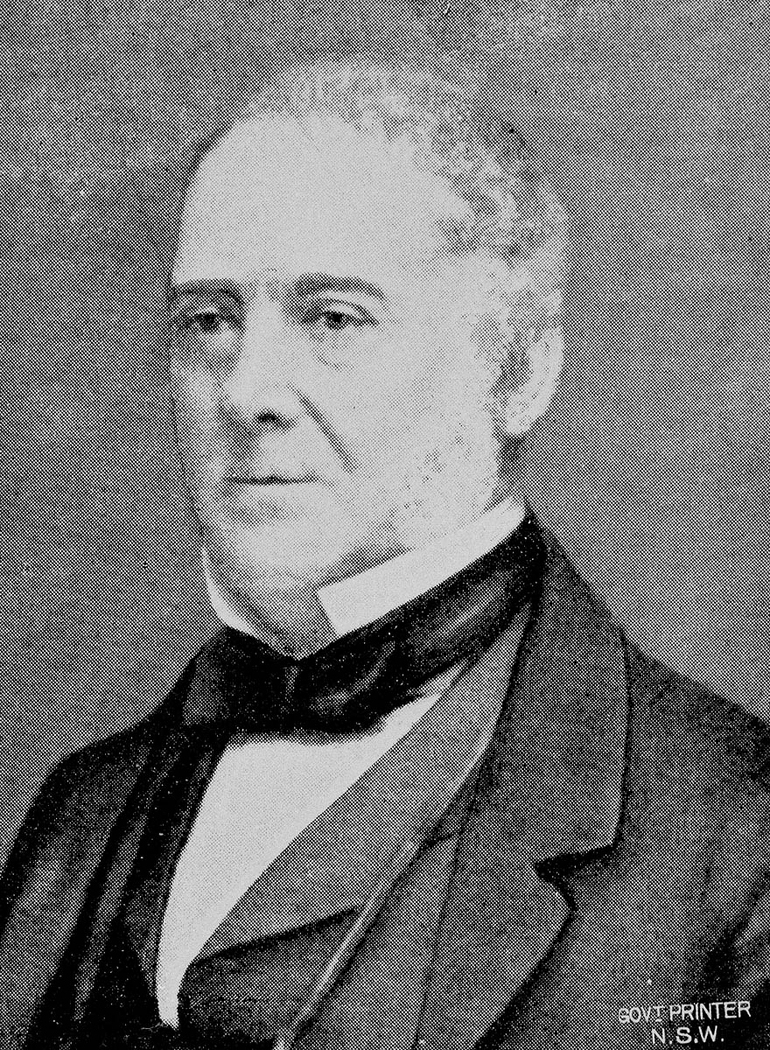 Journey to the colony
With his two sons, Owen sailed to Melbourne in 1839 on his own schooner, and soon moved to Sydney. He was admitted as a solicitor in New South Wales on 5 June 1841. He later became a partner of Carr, Rogers & Owen of George Street; this partnership was dissolved in 1850.
Owen was a large landholder in the Illawarra district and had interests in several Murrumbidgee sheep stations. He also leased coal and mineral lands and invested in South Coast collieries. He was a keen yachtsman, a member of the Anniversary Regatta Committee, and winner of the Anniversary Race in 1848.
Magistrate and politician
Robert Owen was a foundation councillor for Bourke Ward, from 1 November 1842. He resigned on 2 March 1843 because he was annoyed by 'frequent attacks on aldermen without reason', but he attended the Mayoral Ball in 1844. He was elected for Brisbane Ward on 2 November 1846 and was its alderman to 31 October 1847.
At Wollongong, on 1 February 1854, he married, according to Catholic rites, Mary Catherine Hogan, with whom he had two sons and three daughters. On 1 March 1859 he became the first and only solicitor appointed a District Court Judge and Chairman of Quarter Sessions. Owen resigned from the bench in June 1861 and lived in Wollongong. He visited England in 1850 and 1868.
Owen was elected to the Legislative Assembly for East Camden, a position he held from 22 January 1858 to 3 March 1859, when he became a judge. He was appointed to the Legislative Council as a government representative on 8 December 1868, remaining a member until 25 November 1878, although he resigned from the government in August 1870. Owen was trustee of the Free Public Library from 1870 to 1878.
He died on 25 November 1878 at 88 Elizabeth Street, Sydney, and was buried in the legal section of the Church of England cemetery at Rookwood.
References
HTE Holt, 'Owen, Robert (1799–1878)', Australian Dictionary of Biography, vol 5, Melbourne University Press, Melbourne, 1974, pp 384–385
Obituary, Illawarra Mercury, 29 November 1878
Obituary, Sydney Morning Herald, 5 December 1878, p 7
Notes