Cite this
Close
Citation
Persistent URL for this entry
http://dictionaryofsydney.org/entry/sally_bundil
To cite this entry in text
Vincent Smith, Keith, Sally Bundil, Dictionary of Sydney, 2020, http://dictionaryofsydney.org/entry/sally_bundil, viewed
18 May 2022
To cite this entry in a Wikipedia footnote citation
cite web | url= http://dictionaryofsydney.org/entry/sally_bundil | title = Sally Bundil | author = Vincent Smith, Keith | date = 2020 | work = Dictionary of Sydney | publisher = Dictionary of Sydney Trust | accessdate =
18 May 2022
To cite this entry as a Wikipedia External link
cite web | url = http://dictionaryofsydney.org/entry/sally_bundil | title = Sally Bundil | accessdate =
2020
| author = Vincent Smith, Keith | date = 2020 | work = Dictionary of Sydney | publisher = Dictionary of Sydney Trust
Sally Bundil
[media]In his personal diary for 5 November 1817, young naval officer John Septimus Roe describes a 'Caraubery' or 'dance performed by some natives of the Kissing Point Tribe, who sought shelter in our house from a Thunderstorm.' The people from Kissing Point were in the city for a meeting and dance at Elizabeth Bay and included 'Bidjie Bidjie' [Bidgee Bidgee] 'the chief, with his wife Sally'.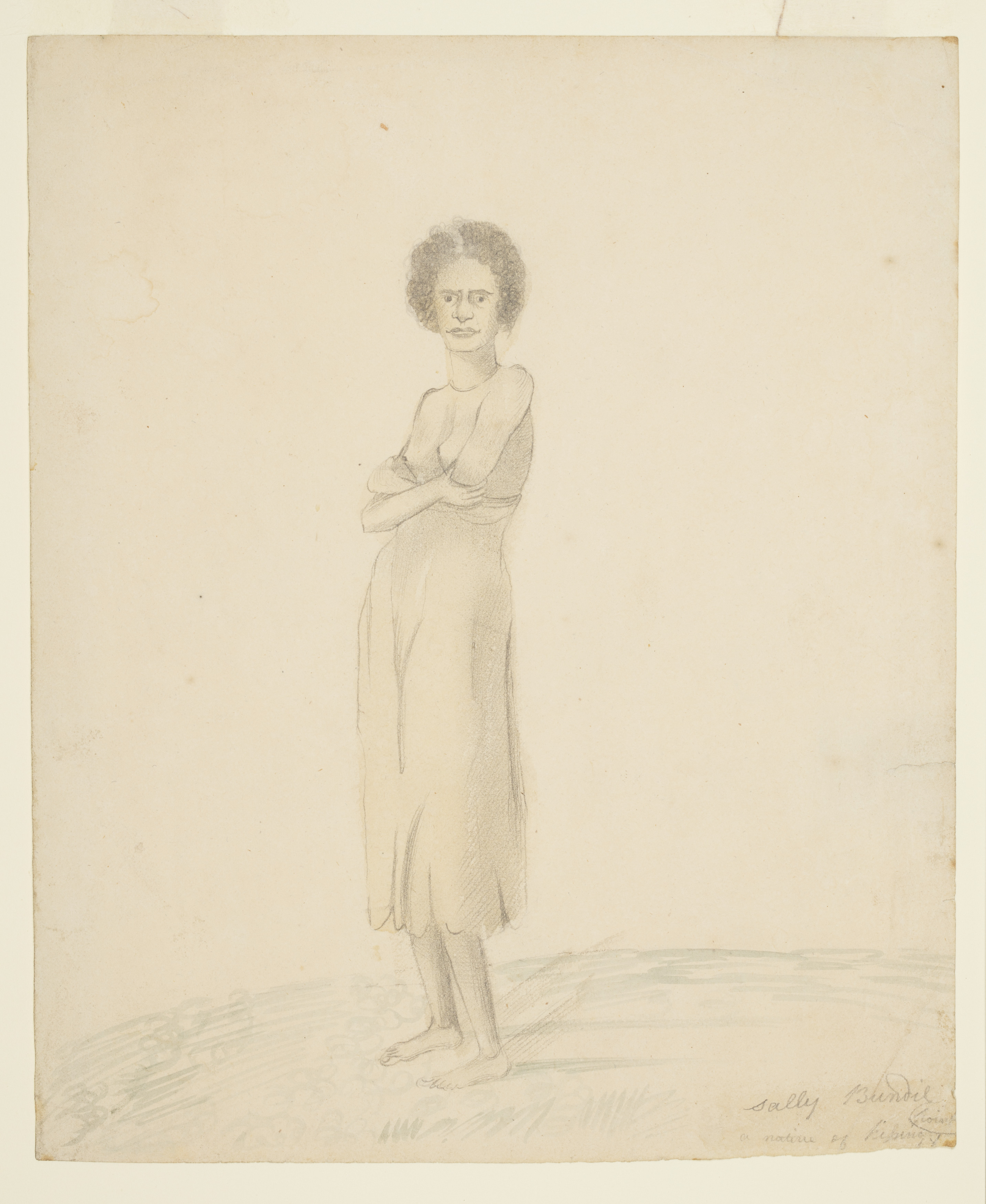 The Dance was always commenced by the wife of the chief, a comely looking damsel about 20 years of age, who was very soon followed by the rest, jumping or stamping on the ground, and keeping time to the tune.[1]
Roe was impressed by Bidgee Bidgee's looks, manners and mimicry, but he is scathing in his description of Sally's attitude towards her older husband:
His wife Sally is the pest of his life, having the most violent, sulky and horrible temper that was perhaps ever possessed by one person, but I attribute it in a great measure to her being so much younger than her husband and having no children - for she openly accused him before us, and without very nice and scrupulous feeling of delicacy, of inability to do his duty.[3]
'Young Bundle' was linked to Kissing Point in 1810 when he assisted James Squire, then district constable, to track armed robbers who broke into the home of Richard Jenner. Bundle followed footprints left by two nails in the sole of a shoe to a nearby hut whose owner had loaned the shoes to a labourer at Lane Cove named Kean.[5]
In 1816 Bundle, Bidgee Bidgee and another Burramattagal man Harry were rewarded with '4 days provisions, a half pint of spirits, half a pound of tobacco, a blanket and slop clothing' as trackers during April and May in Macquarie's punitive expeditions against 'hostile' Aborigines in the hinterland west of Sydney.[6]
In 1834, Sally's husband Bidgee Bidgee was recorded in the Colonial Secretary Return of Aboriginal Natives (often referred to as 'Blanket lists') at Parramatta as having no wife but one female child. His 'place of resort' is given as Kissing Point. Bidgee Bidgee received blankets at Parramatta again in May 1836, but Sally's name does not appear in either record.[7] 
Notes
[1] John Septimus Roe, 'Journal of the Proceedings of a Voyage to Explore and Survey the Coasts of Australia, Kept by John Septimus Roe, Masters Mate, 4 February-18 November 1817', Battye Library, State Library of Western Australia, Perth (301A/1-2)
[2] 'Sally Bundil, a native of Kissing Point', Mitchell Library, State Library of NSW (P2/424)
[3] John Septimus Roe, 'Journal of the Proceedings of a Voyage to Explore and Survey the Coasts of Australia, Kept by John Septimus Roe, Masters Mate, 4 February-18 November 1817', Battye Library, State Library of Western Australia, Perth (301A/1-2)
[4] Watkin Tench, A complete account of the settlement at Port Jackson … G. Nicol and J. Sewell, London, 1793,107
[5] Sydney Gazette, 21 July 1810, 2
[6] Lachlan Macquarie, Volume 11: `The Governor's Diary & Memorandum Book Commencing on and from Wednesday the 10th Day of April 1816 At Sydney in N.S.Wales', Mitchell Library, State Library of New South Wales (SAFE/A 773, p32 (Safe 1/360))
[7]  Colonial Secretary, Special bundles. Aborigines - Papers dealing with issue of blankets etc. and including returns of the native population in the various districts, 1833-35, State Records NSW (4/6666B.3);  Colonial Secretary,  Main series of letters received,1826-1982, Year: 1836, Letter signed 'Henry Bailey, Clerk of Petty Sessions, Parramatta' (1836), State Records NSW (4/2302.1)