The Dictionary of Sydney was archived in 2021.
Cite this
Close
Citation
Persistent URL for this entry
http://dictionaryofsydney.org/entry/sydney_harbour_bridge
To cite this entry in text
Poe, Jim, Sydney Harbour Bridge, Dictionary of Sydney, 2014, http://dictionaryofsydney.org/entry/sydney_harbour_bridge, viewed
27 Sep 2023
To cite this entry in a Wikipedia footnote citation
cite web | url= http://dictionaryofsydney.org/entry/sydney_harbour_bridge | title = Sydney Harbour Bridge | author = Poe, Jim | date = 2014 | work = Dictionary of Sydney | publisher = Dictionary of Sydney Trust | accessdate =
27 Sep 2023
To cite this entry as a Wikipedia External link
cite web | url = http://dictionaryofsydney.org/entry/sydney_harbour_bridge | title = Sydney Harbour Bridge | accessdate =
2014
| author = Poe, Jim | date = 2014 | work = Dictionary of Sydney | publisher = Dictionary of Sydney Trust
Sydney Harbour Bridge
[media]The Sydney Harbour Bridge was an inspiration to Sydneysiders even before it was completed, and naturally this found expression in art and literature. The unfinished bridge, its half-arches reaching out across the harbour as the creeping cranes slowly worked their way towards the middle of the span, are documented in paintings like Arthur D'Auvergne Boxall's Building of the Sydney Harbour Bridge from 1930 and, most famously, Grace Cossington Smith's The Bridge in Curve also 1930. Cossington Smith's piece – in which the bridge seems like a living thing, its steel half-arches dancing in the shimmering blue-and-white sky – was rejected from an exhibition the year she completed it but it is now considered one of the finest works of Australian modern art. [1]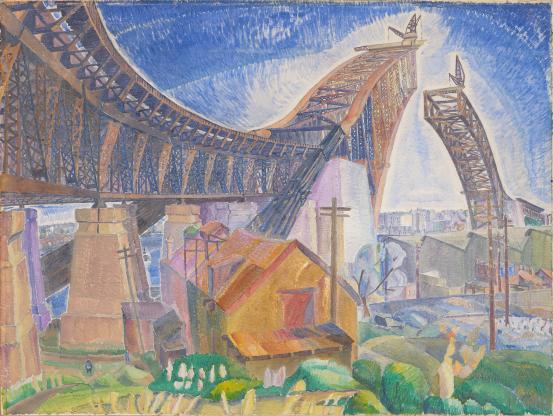 The unfinished bridge
Balmain-born, French-Australian photographer Henri Mallard's iconic [media]series of photographs covering construction of the bridge are no less ethereal though they document reality. [2] Mallard set out to frame the construction of an edifice in terms of the day-to-day experience of the men who worked on it. His breathtaking images of them scampering about fearlessly on the narrow steel girders and cables of the unfinished bridge, at impossible heights, with primitive safety equipment or none at all, still invoke astonishment (if not vertigo). There [media]is an unreality to the contrast between the utilitarian grit of the men and equipment against the vastness and airiness of their lofty domain. They document not only a landmark but also the people of Sydney, many of whom were rescued from the Great Depression by the project. They are a poignant reflection of determination and ingenuity in the face of economic crisis and a reminder that the bridge did more than merely unite the two sides of the harbour.
[media]One of Mallard's close colleagues was photographer Harold Cazneaux, another great documentarian of Sydney life in the early twentieth century, especially in the slums and markets and along the docks. [3] By comparison, his photos of the unfinished bridge showed the heroism of its construction from a distance. In The Spectre, 1930, the incomplete span rises out of the mist like a behemoth, towering over the slum rooftops of The Rocks (where many homes had been demolished to make way for the bridge's roadway) seeming part of another world. Later, his 1933 photo Arch of Steel, with the roadway of the bridge a year after it was opened bathed in a strikingly modernist latticework of sunlight, became one of his most famous works.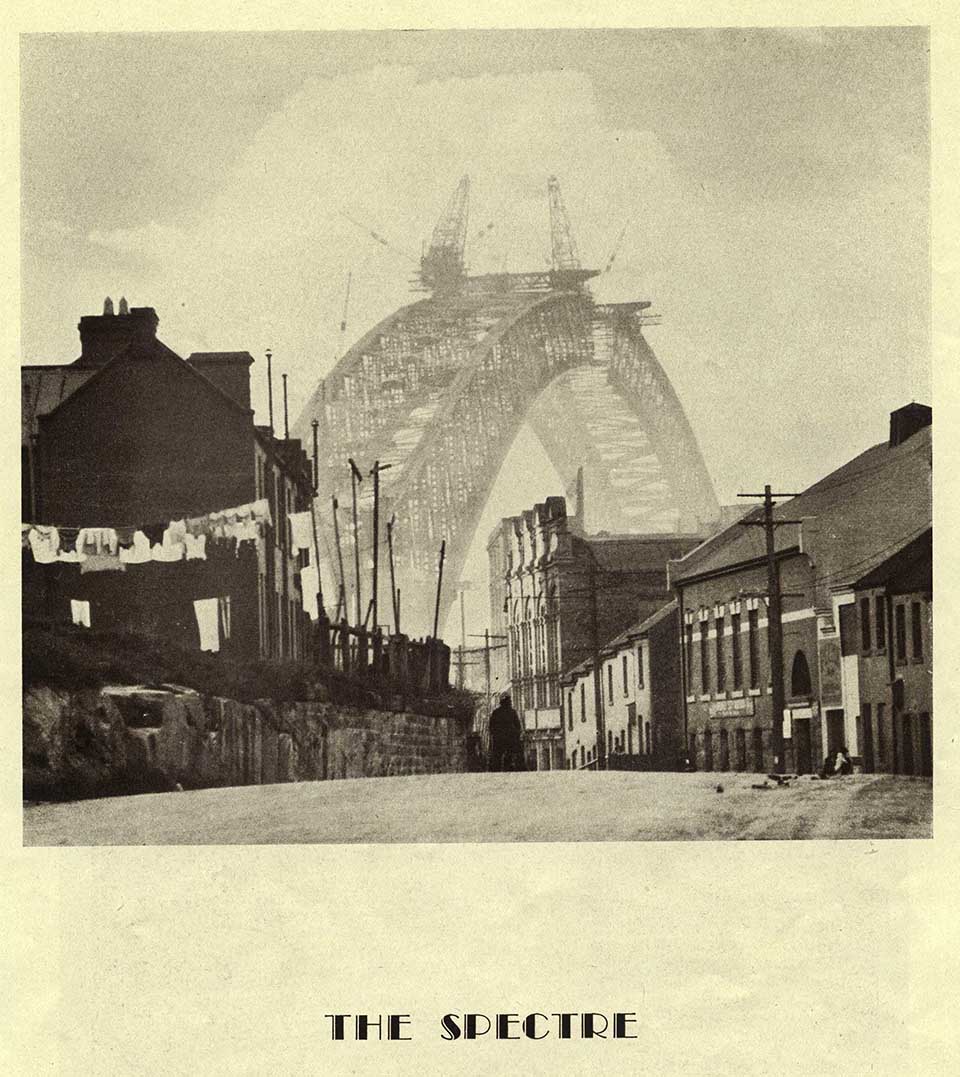 Proud arch
[media]Once finished, the bridge captured the imagination of a nation. Australian poet CJ Dennis expressed popular feeling about it in 'I Dips Me Lid,' a verse published to commemorate its opening in 1932: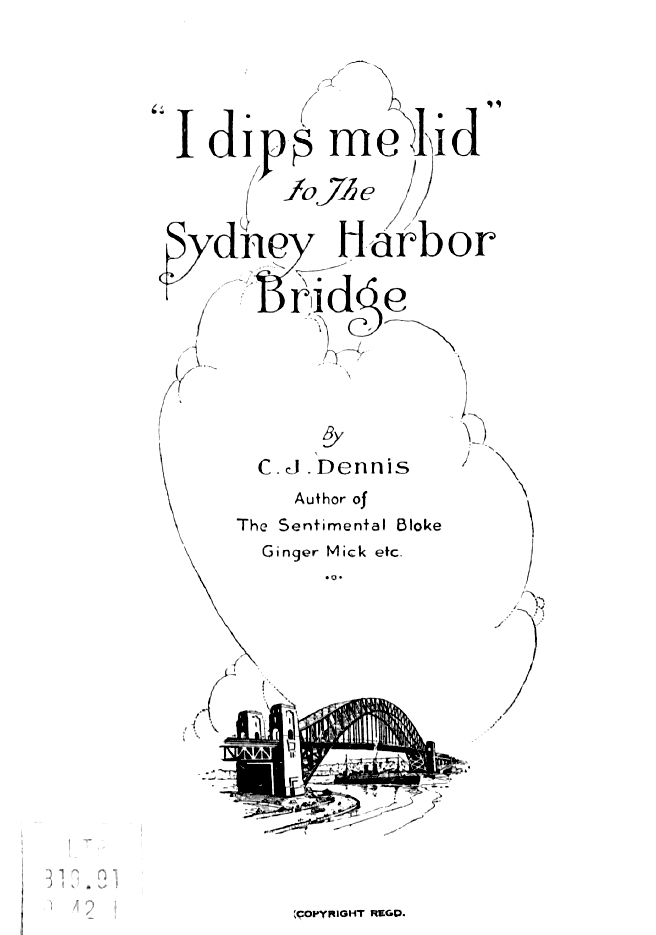 There the proud arch, Colossus-like, bestride
Yon glittering stream and bound the chafing tide!
Dennis' beautifully crafted piece is told from the point of view of his most popular character. The Sentimental Bloke's colourful slang and cheeky insights struck a nerve with both Australian and overseas readers beginning with the 1915 'verse novel' The Songs of a Sentimental Bloke making Dennis the bestselling poet in Australian history. [4]
In 'I Dips Me Lid,' the bloke falls asleep at Mrs Macquarie's Chair and is visited in a dream by Sydney's founder, Governor Phillip. Together they contemplate the newly built 'Colossus' before them, musing on its place among the great achievements of Australians, including the 'wondrous miracle of growth' that built 'a city of renown.' The bloke congratulates Phillip on his role in founding the city:
"Young sir," 'e sez. "You, too, in sheer amaze
Look upon this, and hark to other days,
An' dream of this fair city's early start.
In which ('e bows) I played my 'umble part –
My 'umble part – a flagpole an' a tent."
"Come orf!" sez I. "You was a fine ole gent. [5]
Dennis' poem directly references the bloodshed of World War I (which the bloke calls a 'triumph') and alludes to the grinding angst of the Depression ('still they fought and they wrought').
However, 'I Dips Me Lid' also carries a view of Sydney's colonial history that is indeed sentimental. To be fair, Dennis, now considered one of a trinity of national poets along with Banjo Patterson and Henry Lawson, was known for occasionally biting political commentary over thousands of published works. [6] Yet Australian literature has come a long way since the bridge opened in re-evaluating history.
30 Days in Sydney
Peter Carey is one contemporary figure with a claim to Dennis' place in the annals of Australian literature, beloved as a chronicler and interpreter of Australia's history. The Sydney Harbour Bridge plays a significant role in his unorthodox 2001 travelogue, 30 Days in Sydney: A Wildly Distorted Account. [7] As the subtitle indicates, Carey's anecdotes are mixed wholesale with feverish quasi-fictional embellishments and gonzo observations about Sydney's culture and history, often focusing on its dark side.
Carey fears and loathes the bridge itself; he has a specific phobia that came over him while crossing it one day in the 1980s and he has avoided it ever since. His abhorrence is mirrored by obsession; the bridge becomes one of the book's central motifs. In one passage, he describes a vivid dream in which he climbs the bridge. At the apex, he sees a ghostly corpse hanging at Fort Denison (Pinchgut Island) – Francis Morgan, a convict and murderer whom Phillip sentenced to hang in 1793 until his body rotted and fell into the sea. He then looks out over the city and is troubled by a vision of the colony's corrupt and violent history – fittingly, from precisely the opposite point of view on the harbour as The Sentimental Bloke's:
I saw the Central Business District as if for the first time. I saw how it held itself back from the edge of the beloved harbour as if it understood how vile and crooked it had always been… A physical expression of two centuries of Sydney's own brand of capitalism, the concrete symbol of an unhealthy anti-democratic alliance between business and those authorities which should have controlled it. [8]
A brave and foolhardy act
Carey had a nightmare about climbing the bridge illegally; in 1961, a university student had a dream of doing so in real life – then actually went and did it. Harvey Cohen and two friends climbed one of the arches in broad daylight (a transgression that would be impossible with today's security), and took a camera with them. [9] The resulting snapshots, while perhaps not on the artistic level of Mallard or Cazneaux, are a wonderful document of a brave and foolhardy act (a performance in its own right) full of a giddiness and exuberance (quiet the opposite of Carey's dread) that seems to symbolise the best of the bridge and of the city itself. They also provide us with interesting glimpses into history – the shot that looks down onto Bennelong Point with no Opera House; construction on the landmark was only just beginning. Cohen's youthful daredevil stunt is part of a secret history of the bridge, perhaps one of millions of secret histories, giving us one more vantage point on how a monument is seen by the people it represents.
References
Peter Carey, 30 Days in Sydney: A Wildly Distorted Account, Bloomsbury Publishing, New York, 2001
CJ Dennis, I Dips Me Lid to the Sydney Harbour Bridge Rhodes, Lewis Berger and Sons Ltd, NSW, 1932
Notes
[1] Lauren Martin, 'Modern Message from the Extreme Edge of Niceness,' Sydney Morning Herald, 3 March 2005
[2] Max Dupain and Howard Tanner, Building the Sydney Harbour Bridge: The Photography of Henri Mallard, Sun Books in association with Australian Centre for Photography, Melbourne, 1976
[3] Zeny Edwards, 'Harold Cazneaux,' The Dictionary of Sydney, 2008 October 2013, accessed online 18 October 2013
[4] Ian F McClaren, 'Dennis, Clarence Michael James (1876–1938),' Australian Dictionary of Biography, National Centre of Biography, Australian National University, http://adb.anu.edu.au/biography/dennis-clarence-michael-james-5957/text10163, published in hardcopy 1981, accessed online 18 October 2013
[5] CJ Dennis, I Dips Me Lid to the Sydney Harbour Bridge Rhodes, Lewis Berger and Sons Ltd, NSW, 1932
[6] For select bibliography, see Ian F McClaren, 'Dennis, Clarence Michael James (1876–1938),' Australian Dictionary of Biography, National Centre of Biography, Australian National University, http://adb.anu.edu.au/biography/dennis-clarence-michael-james-5957/text10163, published in hardcopy 1981, accessed online 18 October 2013
[7] Peter Carey, 30 Days in Sydney: A Wildly Distorted Account, Bloomsbury Publishing, New York, 2001
[8] Peter Carey, 30 Days in Sydney: A Wildly Distorted Account, Bloomsbury Publishing, New York, 2001
[9] Harvey Cohen, 'Bridge Climb Report,' Harvey Cohen, PhD: Personal Website, http://harveycohen.net/bridge_climb, accessed 18 October, 2013