Cite this
Close
Citation
Persistent URL for this entry
http://dictionaryofsydney.org/entry/yarranabbe_park
To cite this entry in text
Jacobsen, Patricia, Yarranabbe Park, Dictionary of Sydney, 2016, http://dictionaryofsydney.org/entry/yarranabbe_park, viewed
19 May 2022
To cite this entry in a Wikipedia footnote citation
cite web | url= http://dictionaryofsydney.org/entry/yarranabbe_park | title = Yarranabbe Park | author = Jacobsen, Patricia | date = 2016 | work = Dictionary of Sydney | publisher = Dictionary of Sydney Trust | accessdate =
19 May 2022
To cite this entry as a Wikipedia External link
cite web | url = http://dictionaryofsydney.org/entry/yarranabbe_park | title = Yarranabbe Park | accessdate =
2016
| author = Jacobsen, Patricia | date = 2016 | work = Dictionary of Sydney | publisher = Dictionary of Sydney Trust
Yarranabbe Park
Yarranabbe Park [media]is on the northern section of the Rushcutters Bay shoreline, an area included in the late nineteenth century reclamations. The land was paid little attention until the late 1920s, possibly because of its proximity to early naval establishments. An 1899 Surveyor's Plan in connection with the definition of the sea wall shows part of the area was reserved as a 'Recreation Reserve for the Royal Navy'. That plan also included a proposed biological station at the far western end.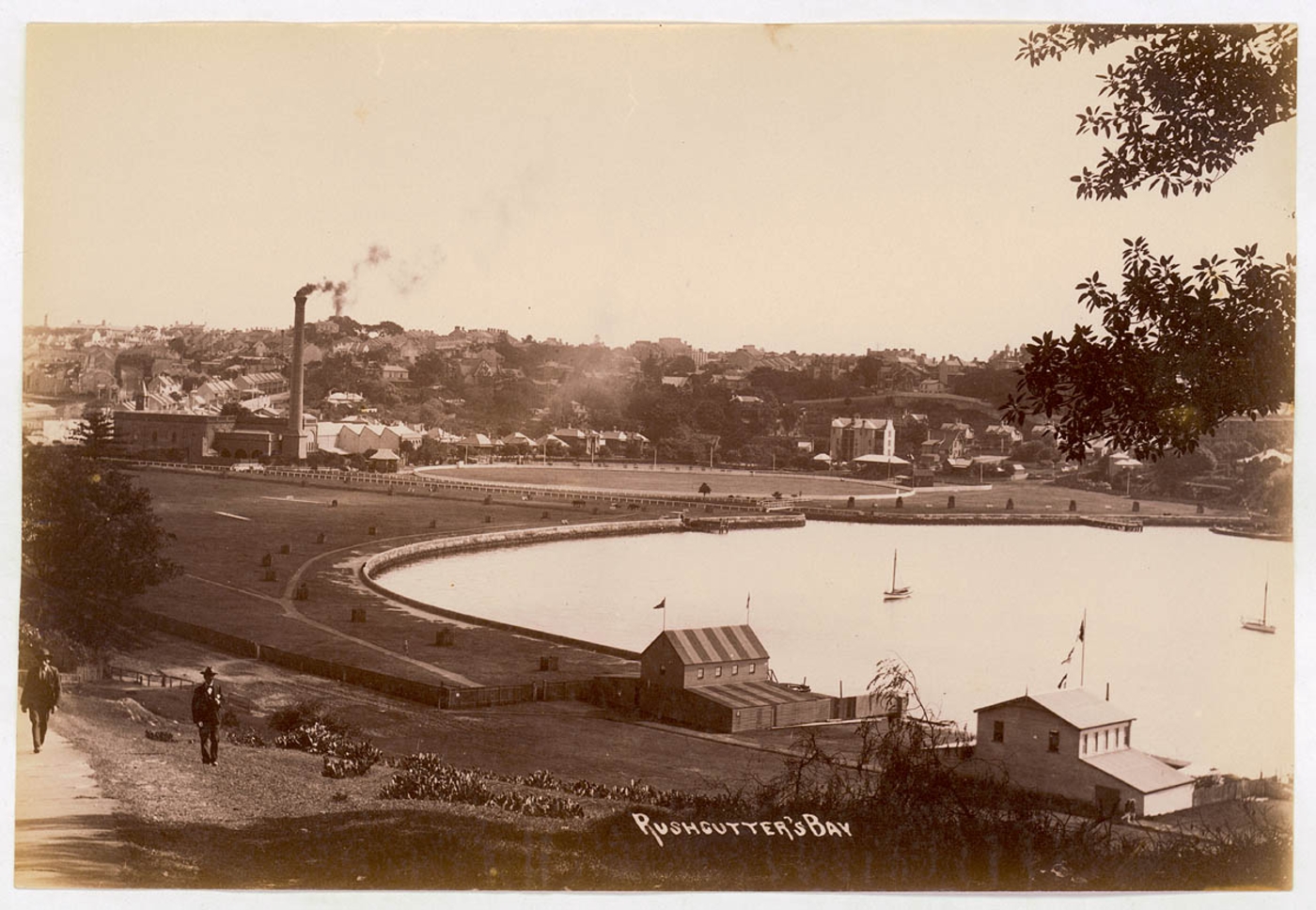 Early twentieth century maps and photographs of the area include images of the Rushcutters Bay Baths which were provided in the late nineteenth century under lease to private operators. Although greatly appreciated by swimmers, particularly the children who learnt to swim there, [1] other local residents objected to the 'indecent exposure' of swimmers in the strictly gendered baths. [2] In 1911 one prominent local resident requested Woollahra Municipal Council to plant some trees to hide the unsightly structure. The Baths were removed in the 1970s. [3]
Two parts of the area were gazetted for public recreation in 1926 and 1939, [4] and the remaining largest section abutting the previous Naval Depot's boat shed was gazetted on 23 October 1953. [5] On 22 November 1971, Woollahra Municipal Council resolved to rename the Public Reserve north of HMAS Rushcutter as 'Yarranabbe Park', which was approved by the Geographical Names Board of New South Wales on 12 November 1971.
Since that time, the park has become popular with a variety of users and a small children's playground provides special facilities for young children. Recent concerns about the future of the park precipitated the evolvement of a management plan designed to protect the heritage aspects of the park. Recommendations in 2015 for the heritage listing of the park and sea wall have been promoted by the Darling Point Society, with the support of Woollahra Municipal Council.
Notes
[1] Jill Buckland, 'Growing up in Darling Point' in A Taste of Woollahra: A Tasteful Anthology of Life in Australia's Oldest Suburb, ed. Robin Brampton (Darlinghurst: Media House Production, 1987), 57–58.
[2] Woollahra Council Archives, Alderman Backhouse to the Mayor, Minutes of Woollahra Council, 13 December 1909
[3] Woollahra Council Archives, H Long Innes to the Mayor 11 October, 1911, MS28
[4] New South Wales Government Gazette, 6 August 1926 (No 59058) and 21 April 1939 (No 69282)
[5] New South Wales Government Gazette, Fol.189, 23 October 1953