The Dictionary of Sydney was archived in 2021.
The Witch of Kings Cross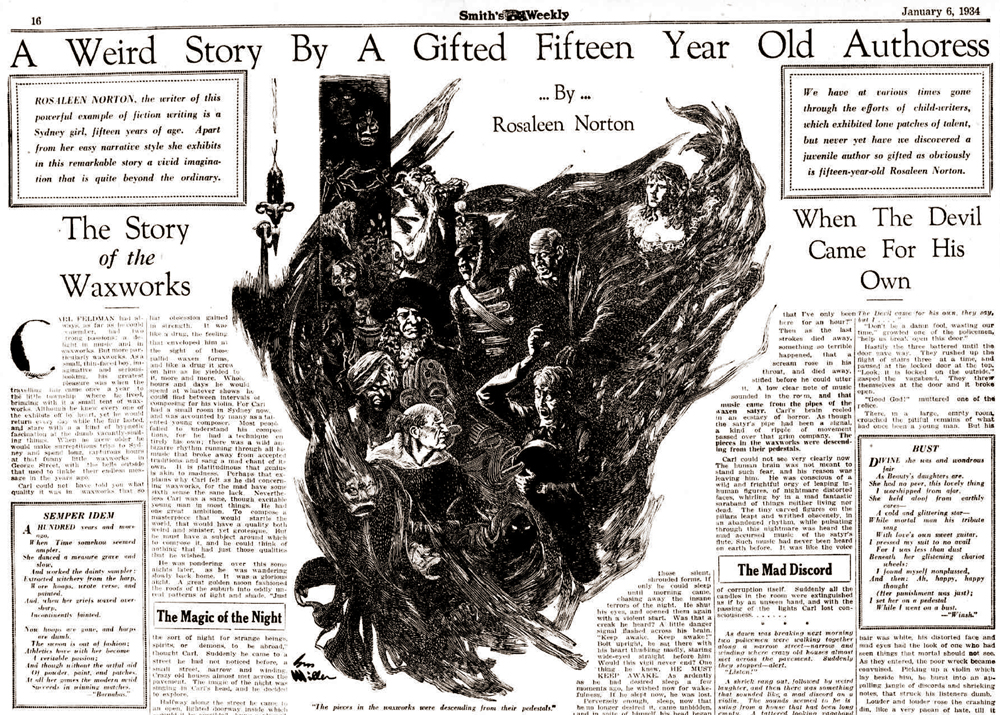 Amidst the bohemian neighbourhood of Kings Cross in the mid 20th century, the self-proclaimed 'witch' Rosaleen Norton (1917-1979) was hard to miss; a crop of raven hair, thinly arched eyebrows and gap between her crooked teeth. Norton claimed she was born in a thunderstorm and bore the tell-tale signs of a witch including pointed ears, blue markings on her left knee and a strand of flesh. Her alternate lifestyle, aside from her occult beliefs, also flouted the conventional norms of society, as she lived with men in squats, often dressed in male clothing and smoked in public.
Listen to Minna and Tess on 2SER here
A rebel from early childhood, the young Rosaleen preferred to live in the garden outside her family home and occupy a tent where she kept a pet spider named Horatius alongside cats, lizards, tortoises, toads, dogs and a goat. At 14 years old she was expelled from the Church of England Girls' School in Chatswood for corrupting other pupils with her drawings of vampires, ghouls and werewolves. She began working as a trainee journalist and illustrator at the newspaper
Smiths Weekly
 and studying art. At East Sydney Technical College she found encouragement from sculptor Rayner Hoff. Influenced by the writing and artworks of British occultist Alistair Crowley, Norton continued to develop her own provocative style of depicting demons, pagan gods and sexually explicit content.
[1]
Against the morally conservative backdrop of 1940s and '50s Australia, Norton became fodder for the media and a target of government censorship. In 1949, her exhibition at the Rowden White Library at University of Melbourne was raided by police and Norton was charged with obscenity. Though the charges were later dropped she remains the only Australian artist to have artworks destroyed by order of the courts.
[2]
Norton tried to articulate her occult beliefs as a dedication to the pagan god Pan, trance mediation and mysticism but was falsely accused of satanic rituals, animal sacrifice and holding 'Black Masses'. In 1955, sexual experimentation saw Norton and her lover the poet Gavin Greenlees charged by the NSW Vice Squad for 'engaging in an unnatural sex act.' Further scandal ensued when Sir Eugene Goosens, conductor of Sydney Symphony Orchestra, was discovered to be a member of her occult group and she was blamed for corrupting him. In 1979, Norton died of colon cancer at the Sacred Heart Hospice at St Vincents in Darlinghurst, still worshipping Pan until her death. She was reported to have said 'I came into the world bravely; I'll go out bravely.'
[3]
Listen to an oral history interview with Thelma Crawley about
Rosaleen Norton
and her home in Kings Cross at the end of her life on the Dictionary here: 
https://dictionaryofsydney.org/media/1750
Minna Muhlen-Schulte is a professional historian and Senior Heritage Consultant at GML Heritage. She was the recipient of the Berry Family Fellowship at the State Library of Victoria and has worked on a range of history projects for community organisations, local and state government including the Third Quarantine Cemetery, Victorian War Heritage Inventory, Museum of Australian Democracy at Eureka (M.A.D.E) and Mallee Aboriginal District Services. In 2014, Minna developed a program on the life and work of Clarice Beckett for ABC Radio National's Hindsight Program and in 2017 produced Crossing Enemy Lines for ABC Radio National's Earshot Program. She's appearing for the Dictionary today in a voluntary capacity. Thanks Minna!
Listen to the podcast with  Minna & Tess here, and tune in to 2SER Breakfast with Tess Connery on 107.3 every Wednesday morning to hear more from the Dictionary of Sydney. 
Notes
[1]
Nevill Drury, 'Norton, Rosaleen Miriam (1917–1979)', Australian Dictionary of Biography, National Centre of Biography, Australian National University,
http://adb.anu.edu.au/biography/norton-rosaleen-miriam-11261/text20087
, published first in hardcopy 2000, accessed online 21 August 2019.
[2]
Cassie Crofts, 'The Witch of Kings Cross', National Geographic, 6 June 2016, 
https://www.nationalgeographic.com.au/history/the-witch-of-kings-cross.aspx
, viewed on 21 August 2019
[3]
Nevill Drury, 
Pan's Daughter: The Strange World of Rosaleen Norton
, Collins Australia, 1988