The Dictionary of Sydney was archived in 2021.
Order in the Court! The Trial of Two Murderers
2020
In the mid-eighteenth century, the famous London magazine Punch published a short piece on the ever-increasing popularity of true crime stories:
We are a trading community—a commercial people. Murder is, doubtless, a very shocking offence; nevertheless, as what is done is not to be undone, let us make our money out of it. Hereupon, we turn a murderer into a commodity, and open an account with homicide.
When lawyer Robert Wardell founded Sydney's second major (and first independent) newspaper, The Australian—with William Charles Wentworth in 1824—he could never have predicted he would be a true crime story in the pages of his own media enterprise a decade later.
Listen to Rachel and Alex on 2SER here
The Australian
(a very different publication to the one founded in 1964 that we know today) was published weekly from 14 October 1824 until 28 September 1848. The first issue stated an intention to be unapologetically outspoken, 'individual influence is apt to luxuriate and flourish where there exists no corrective to check its exuberance or prevent its growth.' The editors bluntly declared: 'A free Press is the most legitimate, and at the same time the most powerful weapon that can be employed to annihilate such influence, frustrate the designs of tyranny, and restrain the arm of oppression'. On 9 September 1834,
The Australian
reported on the 'DREADFUL MURDER OF DR WARDELL' and how another 'bloody deed has now stained the annals of this Colony.' In an early example of Sydney-based investigative journalism, a representative of the newspaper went to the scene of the crime to try and find out what had happened.
[W]e arrived, on the spot, and there to our infinite regret; beheld a scene of horror, which to attempt to describe with truth is not in our power; imagine a human being crimsoned over with his own heart's blood; a fearful wound on the left side of the throat, immediately under the ear, and another gaping wound sufficient for the escape of a hundred lives, immediately between the left shoulder and the breast; and you have some faint picture of the scene which we yesterday beheld. The blood stained corpse, of which was once Robert Wardell, was here before us.
Yes, true crime stories are often dominated by graphic details of violence, but this article is different. In these words you can feel the grief, and the rage, felt by those at
The Australian
where
Wardell
had been, for many, a colleague, an employer and friend. So, what actually happened? Wardell had been riding on his property at
Petersham
when he came across three runaway convicts. He unsuccessfully tried to convince the trio to give themselves up to authorities.
John Jenkins
, the leader of the small gang, fearful that Wardell would turn them in, shot and killed him. Two of the men, including Jenkins (a man with a really dodgy past) and
Thomas Tattersdale
, were soon arrested, tried and convicted for murder. The third man, a teenager by the name of
Emmanuel Brace
, made a deal with prosecutors and gave evidence against his former companions. The trial was quite an event, and the
courthouse
was packed. The jury was sworn in, the indictments were read and the prisoners pleaded not guilty. There was evidence, there were witnesses and the usual emotive arguments. The jury retired, 'but the door, was hardly shut, when they came back into Court' and returned verdicts of 'Guilty' against Jenkins and Tattersdale. Jenkins was condemned for being the ringleader and the man who pulled the trigger, killing Wardell. Tattersdale was done for aiding and abetting. His Honour,
Chief Justice Francis Forbes
, passed the sentence of death: both men would 'be hung by the neck until they were dead, and their bodies delivered over to the surgeons for dissection'. This is when things became a little bit more dramatic. Tattersdale was resigned to a verdict he must have seen as inevitable. He asked the Judge to order the teenager Brace to be present as a witness at his execution, and he requested some time to repent. In sharp contrast, Jenkins was clearly unimpressed.
Wardell's murderer had 'a good deal to say, and throwing himself into a threatening and unbecoming attitude' (a very polite way of saying that Jenkins completely lost it). The convicted murderer started swearing and abusing everyone in sight: he complained he hadn't received a fair trial, he blamed his counsel for the outcome and then declared he could shoot everyone in the courtroom. Jenkins then tried to play for leniency, or at least time, and suggested that 'in order to prevent innocent persons from being punished, he would confess to several robberies he had done, and that he had shot several bullocks'. Forbes, who had been Chief Justice for over a decade when he heard this case, wasn't going to tolerate Jenkins' schemes and told him 'he had better apply to the clergyman of his own religion' if he wanted to make any confessions. Jenkins launched himself on Tattersdale: he punched him hard in the face, twice, knocking him down in the dock. Forbes, who had really seen almost everything there was to be seen in a court of law was quite overwhelmed while he watched his court room, once a stoic symbol of justice and order, become a complete scrum. In a classic understatement,
The Australian
reported that the Judge: 'sat in mute astonishment'. The scene was one of absolute uproar: there was poor Forbes; the bashed Tattersdale; the jury; the officers of the court; a small but obviously highly-motivated media pack; members of the public; and the dozen constables that were required to brawl with Jenkins, secure him and put him in handcuffs. Though restrained, Jenkins fought and hurled insults all the way to his cell.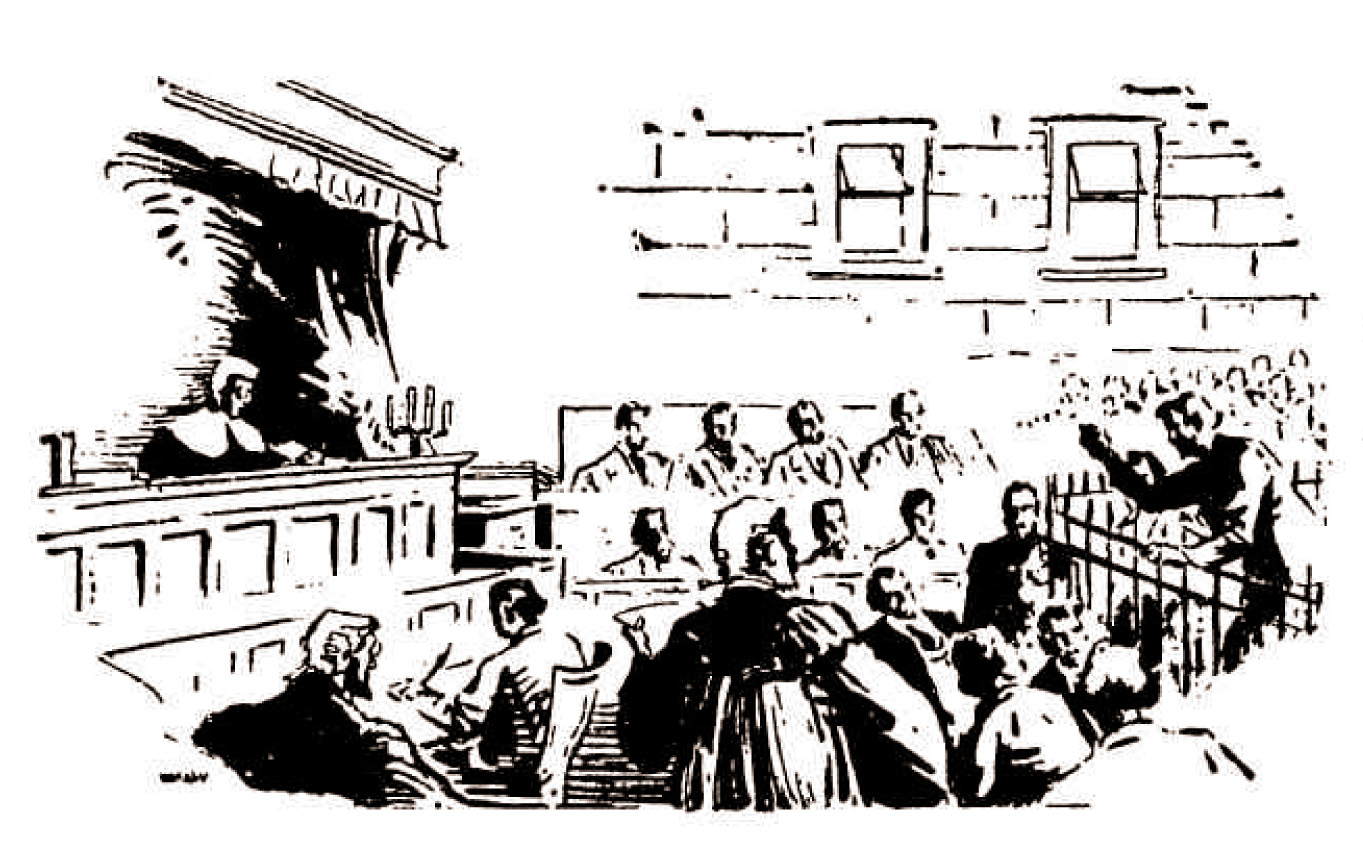 Jenkins and Tattersdale were hanged on 10 November 1834. Tattersdale offered his hand to Jenkins on the gallows who turned away, declaring: 'Let every villain shake hands with himself'. There was little honour among thieves in colonial Sydney, and even less honour among murderers.   Read more about Robert Wardell, Marrickville and the King Street Courts on the Dictionary: Robert Wardell:
https://dictionaryofsydney.org/person/wardell_robert
John Edwards 'Robert Wardell',
https://dictionaryofsydney.org/entry/wardell_robert
Chrys Meader, 'Marrickville',
https://dictionaryofsydney.org/entry/marrickville
Margaret Betteridge, 'King Street Courts',
https://dictionaryofsydney.org/building/supreme_court_building_king_street
Dr Rachel Franks is the Coordinator of Scholarship at the State Library of NSW and a Conjoint Fellow at the University of Newcastle. She holds a PhD in Australian crime fiction and her research on crime fiction, true crime, popular culture and information science has been presented at numerous conferences. An award-winning writer, her work can be found in a wide variety of books, journals and magazines as well as on social media. She's appearing for the Dictionary today in a voluntary capacity. Thank you Rachel! 
For more Dictionary of Sydney, listen to the podcast with Rachel & Alex here, and tune in to 2SER Breakfast with Alex James on 107.3 every Wednesday morning to hear more stories from the Dictionary of Sydney.
References
'Australian, The.'
The Australian
(Sydney, NSW), 14 Oct. (1824): 2
https://trove.nla.gov.au/newspaper/article/37074013
'Convict System, The.'
The Sydney Herald
(Sydney, NSW), 13 Nov. (1834): 2
https://trove.nla.gov.au/newspaper/article/28654392
Currey, C.H. 'Forbes, Sir Francis (1784-1841)'
Australian Dictionary of Biography
(1966/2018): online
http://adb.anu.edu.au/biography/forbes-sir-francis-2052
Currey, C.H. 'Wardell, Robert (1793–1834)',
Australian Dictionary of Biography
(1967/2019): online
http://adb.anu.edu.au/biography/wardell-robert-2773/text3941
'Dreadful Murder of Dr Wardell'
The Australian
(Sydney, NSW), 9 Sep. (1834): 2
https://trove.nla.gov.au/newspaper/article/42008194
'Law Intelligence: Supreme Court – Criminal Side'
The Australian
(Sydney, NSW), 11 Nov. (1834): 2–3
https://trove.nla.gov.au/newspaper/article/42007689
'Marrickville: A Suburb History'
Blog of the Marrickville Heritage Society.
Marrickville: Marrickville Heritage Society (2014): online
http://marrickville-heritage.blogspot.com/2012/10/marrickville-suburb-history.html
'Murder of Dr Wardell, LLD at his Estate of Petersham'
The Sydney Herald
(Sydney, NSW), 11 Sep. (1834): 2
https://trove.nla.gov.au/newspaper/article/12850423
'Blood'
Punch, or the London Charivari
2 (1842): 190 Osborne, Mike. 'Robert Wardell'
The Australian Media Hall of Fame
(n.d.): online
http://halloffame.melbournepressclub.com/article/robert-wardell
Categories
Blog
2SER Breakfast
Alex James
courts
crime
Emanuel Brace
John Jenkins
murder
newspapers
Petersham
Rachel Franks
radio
Robert Wardell
Sir Francis Forbes
Thomas Tattersdale