The Dictionary of Sydney was archived in 2021.
The Santas of Sydney's Christmas Past
2019
Some of us still have the photos taken of us crying, having a tantrum or terrified while perched on the knee of the strange Santa at the shopping mall, his nylon beard glistening under neon lights. But what about those other Santa-like figures of Sydney's Christmas past? It was often the least likely people in the community that each year gave the most, and often those with memories of a grim childhood who set out to make sure other unlucky kids had a better one. This week we thought we'd have a quick look at a few of Sydney's more best known alternative Santas.
Listen to Minna and Alex on 2SER here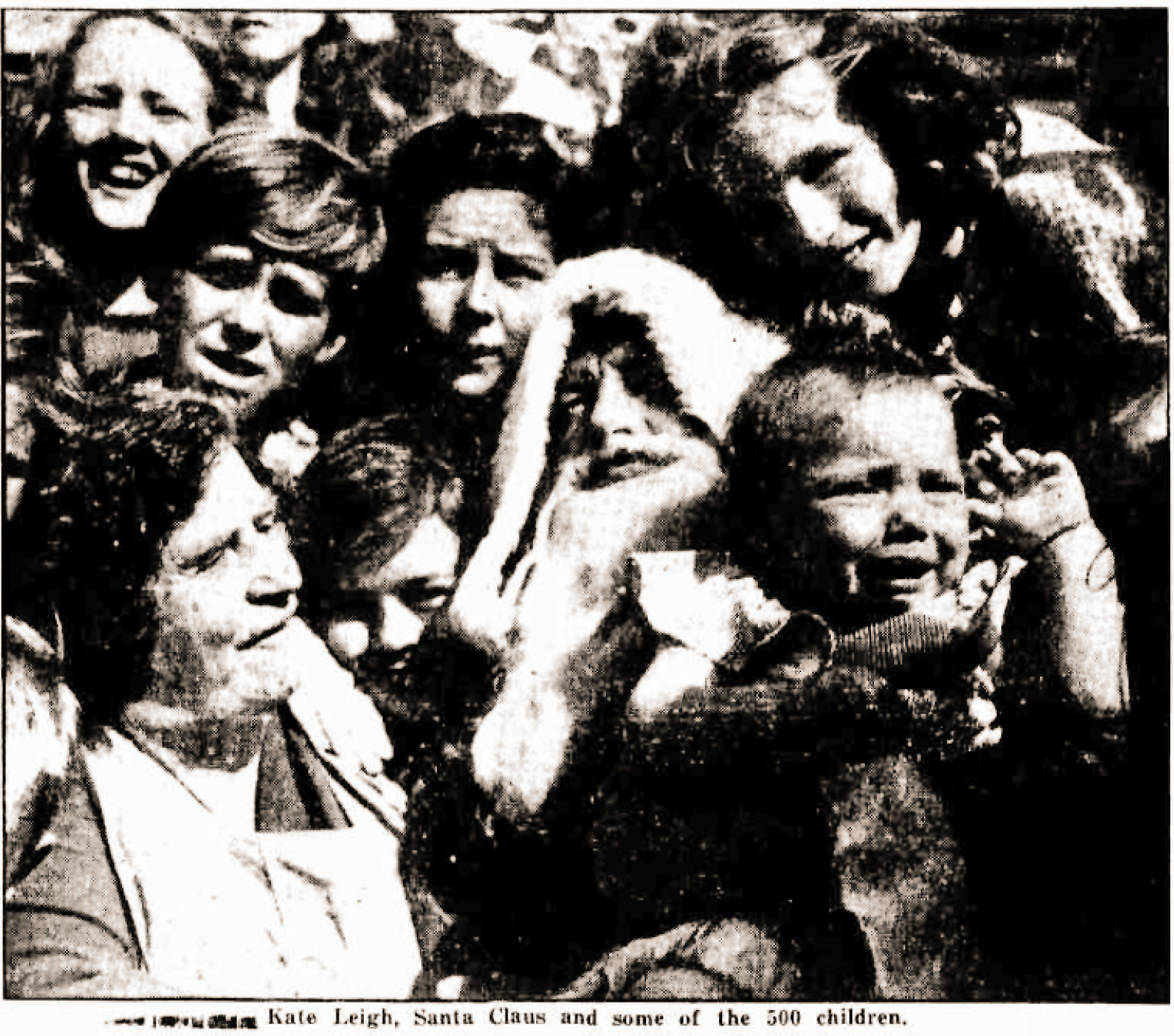 The Sly-Grog Santa
The Razor Gang matriarch
Kate Leigh
(aka 'the'Queen of the Hills') started life in Dubbo in 1881, but by the age of 12 had come to the attention of police as a neglected child and was sent to the notorious Industrial School for Girls in Parramatta. After her release she set about building her criminal empire running a string of sly-grog shops, profiting off the back of State Government's lock out of pubs at six o'clock. During the 1920s, Kate cornered the market in cocaine but prided herself on never in indulging in either alcohol or drugs. She lived in Surry Hills, generously hosting an annual Christmas street party for the locals, saying 'Kiddies of Surry Hills have very little… but I will not see them unhappy at Christmas'.
The Sun
newspaper reported up to 300 children at her place in 1946 and 500 children the following year. On occasion, Kate even cast her second husband, sly grog dealer Teddy Barry, in the role of Santa while she held court and handed out party hats for the kids.
The Santa Claus of Kings Cross
The bikie
Randall 'Animal' Nelson
was a distinctive part of the Cross from the 1960s; chain smoking, bearded, tattooed and tearing through the streets on his motorcycle. As a child Nelson was bounced between state institutions. He did a stint of National Service and served gaol sentences but in 1989 he co-founded Kings Cross Bikers Social and Welfare Club. With the club, he coordinated the Bikie's Toy Ride each Christmas to distribute toys for needy children. Up until his death in 2014, Nelson spent the better part of each day wrapping and packing presents in his public housing unit at Waterloo. He was awarded the Medal of the Order of Australia for his community work. Dame Marie Bashir became a personal friend, visiting him on his deathbed and speaking at his funeral at the
Wayside Chapel
, which hundreds of people attended.
Black Santa
Sydney Arthur Cunningham
, the self-titled 'Black Santa', used to sit with a table, chair and bucket on the foothpath outside a supermarket in Newtown, collecting donations throughout the year  with a sign that read 'Wellington Aboriginal Children, we need your help for a bush Xmas'. For over 30 years Cunningham encouraged Sydney's citizens to help provide gifts for Aboriginal kids in Western NSW. He began delivering gifts to the bush in the 1960s, dressed in red overalls with a red pyjama top and pair of gum boots. Black Santa's sleigh was a helicopter and he remembered how the 'kids eyes shone like diamonds' when he descended from the sky with toys. Descended from the Yuin people of the South Coast, Cunningham grew up in Redfern and La Perouse, first working selling newspapers and then driving wool carts. He also served in the Army and RAAF in Papua New Guinea during World War II. Moved to help improve conditions for Aboriginal communities he worked for many years as co-ordinator with the Western Districts Foundation for Aboriginal Affairs in St Marys. He even opened his home to children who needed shelter. Today outside the IGA on King Street a plaque marks where Syd once tirelessly stood collecting for kids out west. This year Sydney's time-honoured tradition of alternative Santas continued with
Drag Santa
at the Imperial Hotel in Erskineville, where the public could get a free photo with one of a series of festive drag queens and donate to the Bobby Goldsmith Foundation, Australia's longest running HIV charity.  
Minna Muhlen-Schulte is a professional historian and Senior Heritage Consultant at GML Heritage. She was the recipient of the Berry Family Fellowship at the State Library of Victoria and has worked on a range of history projects for community organisations, local and state government including the Third Quarantine Cemetery, Victorian War Heritage Inventory, Museum of Australian Democracy at Eureka (M.A.D.E) and Mallee Aboriginal District Services. In 2014, Minna developed a program on the life and work of Clarice Beckett for ABC Radio National's Hindsight Program and in 2017 produced Crossing Enemy Lines for ABC Radio National's Earshot Program. She's appearing for the Dictionary today in a voluntary capacity. Thanks Minna!
Listen to the podcast with Minna & Alex here, and tune in to 2SER Breakfast on 107.3 every Wednesday morning to hear more from the Dictionary of Sydney. 
The State Library of NSW wants your feedback on their exciting new catalogue. You can preview the new catalogue and some of its features here.  
Categories
Blog
2SER Breakfast
Alex James
Animal
bikies
Black Santa
Charity
children
Christmas
Doc Cunningham
Kate Leigh
kindness
Kings Cross
Minna Muhlen Schulte
philanthropy
Randall Nelson
Santa Claus
Surry Hills
Syd Cunningham
sydney history