Cite this
Close
Citation
Persistent URL for this entry
http://dictionaryofsydney.org/entry/bishop_anna
To cite this entry in text
Skinner, Graeme, Bishop, Anna, Dictionary of Sydney, 2008, http://dictionaryofsydney.org/entry/bishop_anna, viewed
20 May 2022
To cite this entry in a Wikipedia footnote citation
cite web | url= http://dictionaryofsydney.org/entry/bishop_anna | title = Bishop, Anna | author = Skinner, Graeme | date = 2008 | work = Dictionary of Sydney | publisher = Dictionary of Sydney Trust | accessdate =
20 May 2022
To cite this entry as a Wikipedia External link
cite web | url = http://dictionaryofsydney.org/entry/bishop_anna | title = Bishop, Anna | accessdate =
2008
| author = Skinner, Graeme | date = 2008 | work = Dictionary of Sydney | publisher = Dictionary of Sydney Trust
Bishop, Anna
[media]In 1855, Anna Bishop became one of the first truly world-famous European opera stars to perform in Sydney.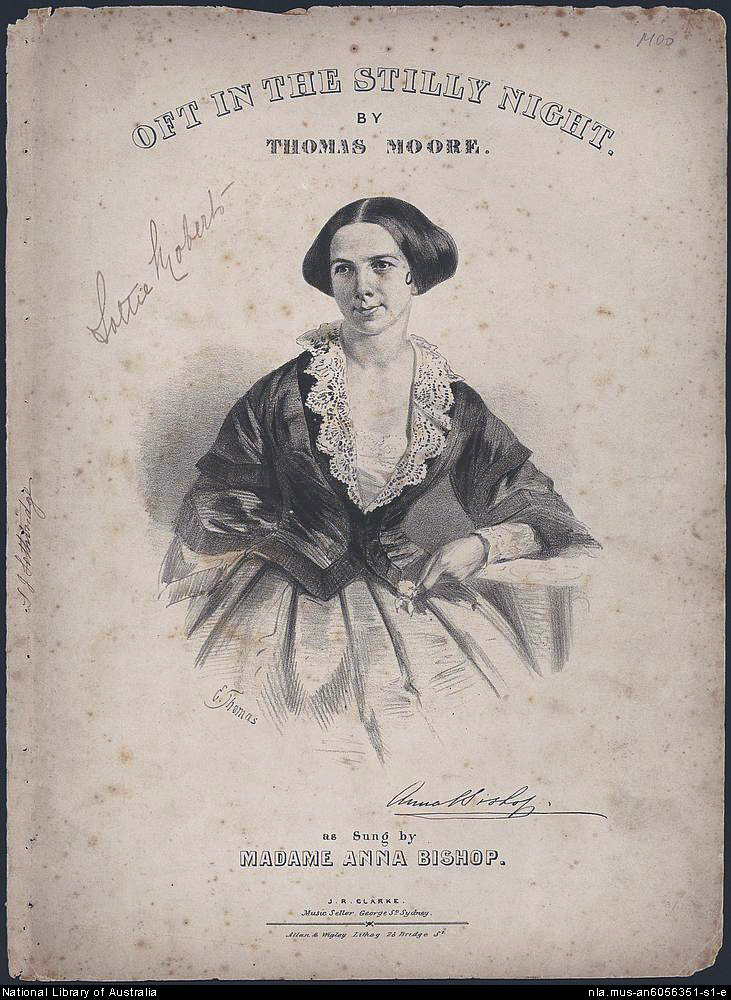 One of 13 children of a London drawing-master, she had entered the Royal Academy of Music in 1824 where she studied singing, piano and composition. In 1831 she married her former professor, the eminent Henry Bishop (composer of Home Sweet Home). By the mid 1830s she was one of London's leading oratorio sopranos.
In 1839, to great scandal, she left her husband and eloped with one of her fellow performers, the harpist Nicholas Bochsa, who already had a reputation as a forger and bigamist. Effectively banned from London concert platforms, she starred on most of the major opera stages in Europe and America during the 1840s. Then, in 1854, she and Bochsa sailed from San Francisco for Australia.
The lovers arrived in Sydney in December 1855, intending to give a series of concerts [media]in the city before travelling south to tour the Australian goldfields. They had given only the first of their Sydney concerts however, when Bochsa fell seriously ill. He died in their lodgings at the Royal Hotel on 6 January 1856. Bishop erected a statue of herself (since destroyed by vandals) on Bochsa's tomb, in the cemetery at St Stephen's, Newtown. What remains of the original grave monument, however, still bears her inscription: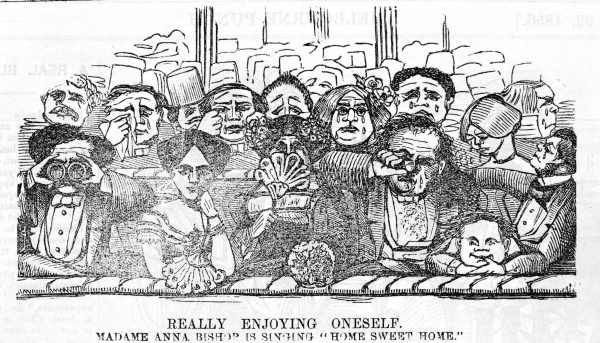 Never more shall float such music
None could ever sweep the lyre like him!
Anna Bishop [media]left Sydney soon after her sad loss. Her husband Henry Bishop died only three months after Bochsa, leaving Anna free to marry again, this time to a New York diamond merchant.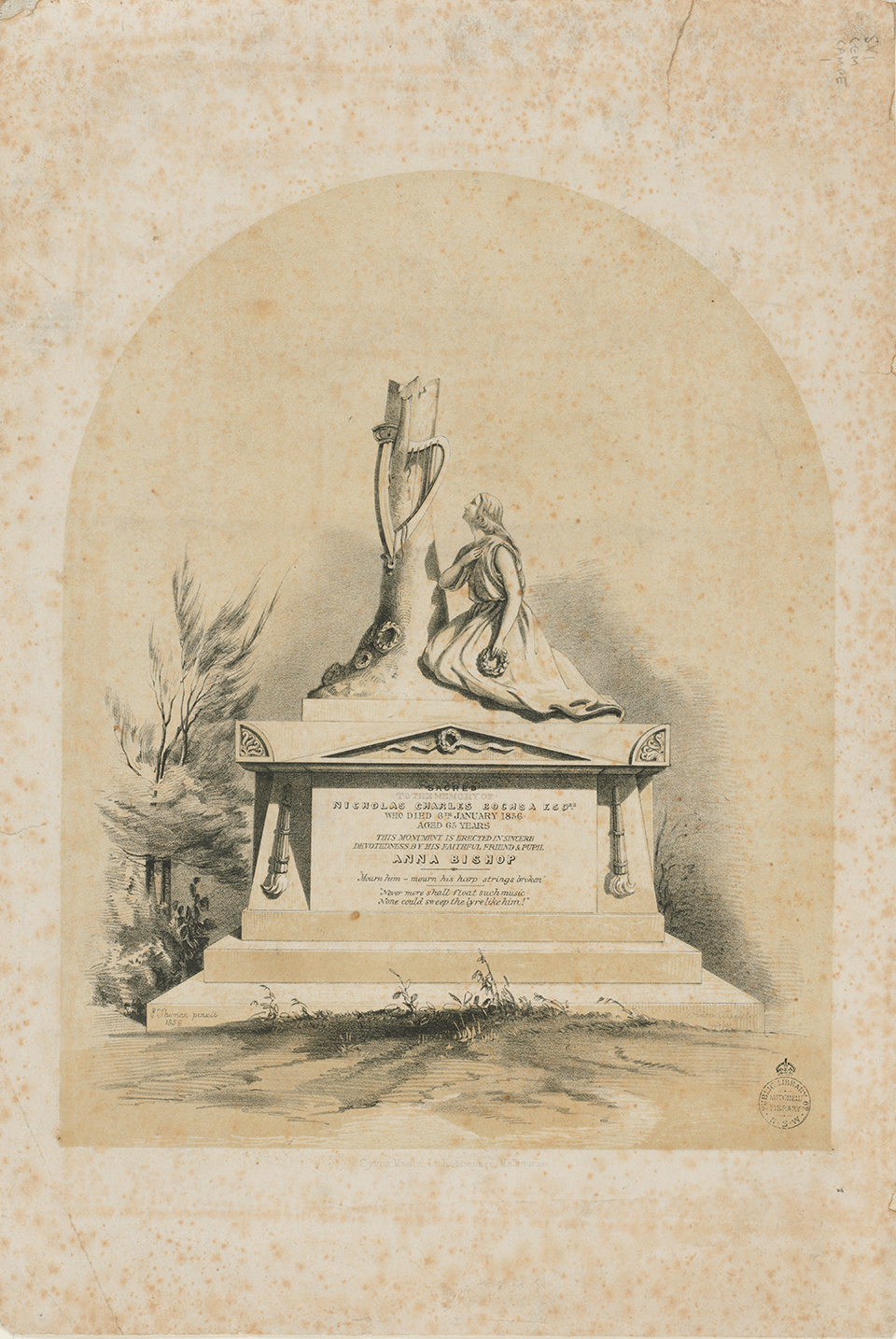 Anna Bishop returned briefly to Sydney [media]and performed in 1868 and 1875.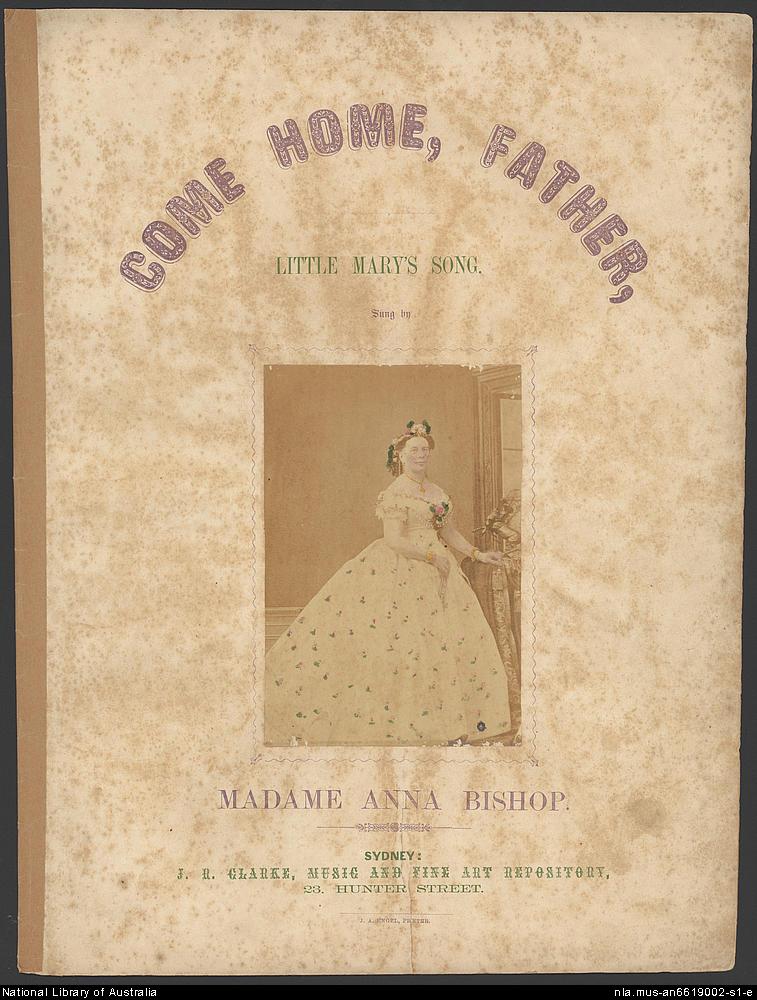 References
Richard Davis, Anna Bishop: The adventures of an intrepid prima donna, Currency Press, Sydney, 1996
EJ Lea-Scarlett, 'Bochsa, Robert Nicholas Charles (1789–1856)', Australian Dictionary of Biography, vol 3, Melbourne University Press, Melbourne, 1969, pp 187–188
Nicholas Temperley, 'Anna Bishop', Grove Music Online, accessed August 2008, www.oxfordmusiconline.com
Nicholas Temperley, 'Nicholas Bochsa', Grove Music Online, accessed August 2008, www.oxfordmusiconline.com
Notes