Cite this
Close
Citation
Persistent URL for this entry
http://dictionaryofsydney.org/entry/broughton_william_grant
To cite this entry in text
Vincent, Alison, Broughton, William Grant, Dictionary of Sydney, 2008, http://dictionaryofsydney.org/entry/broughton_william_grant, viewed
21 May 2022
To cite this entry in a Wikipedia footnote citation
cite web | url= http://dictionaryofsydney.org/entry/broughton_william_grant | title = Broughton, William Grant | author = Vincent, Alison | date = 2008 | work = Dictionary of Sydney | publisher = Dictionary of Sydney Trust | accessdate =
21 May 2022
To cite this entry as a Wikipedia External link
cite web | url = http://dictionaryofsydney.org/entry/broughton_william_grant | title = Broughton, William Grant | accessdate =
2008
| author = Vincent, Alison | date = 2008 | work = Dictionary of Sydney | publisher = Dictionary of Sydney Trust
Broughton, William Grant
[media]William Grant Broughton, who was born on 22 May 1788 at Westminster, London, was ordained as a priest in 1818, and served as curate at Hartley Wespall, Hampshire, where he earned a reputation for his scholarly publications. These earned him the patronage of the Duke and Duchess of Wellington, and in 1828, thanks to his patrons, he was appointed chaplain to the Tower of London and nominated as archdeacon of New South Wales. He arrived in Sydney with his family on 13 September 1829, where he replaced the incumbent, Archdeacon Scott, and preached his first sermon at St Philip's on 27 September.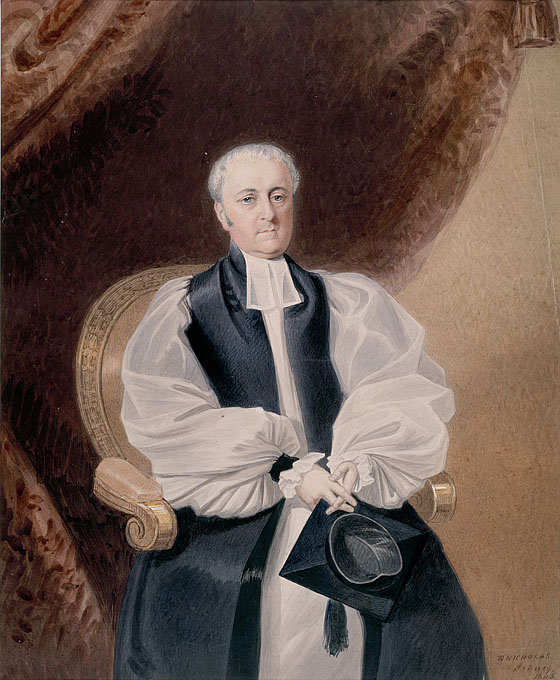 A retiring, even-tempered man, he won the respect of his peers, and showed concern for all his parishioners, including convicts and Aboriginal people, while travelling extensively throughout his jurisdiction. He was not however on good terms with Governor Richard Bourke, who arrived in the colony in 1831. While Broughton was a conservative churchman and an unwavering believer in the concept of the national established church, Bourke was an Irish Anglican with broader and more liberal views. They clashed first over Broughton's plans to establish the King's School at Parramatta. Broughton envisioned an establishment providing Anglican education for the sons of the wealthy, which was diametrically opposed to Bourke's egalitarian and pluralistic approach. Broughton could not reconcile his idea of the role of the church with Bourke's plans to introduce his own system of popular education and to provide funding to Anglican, Presbyterian and Catholic churches. In 1834 Broughton returned to England to garner support for his cause, and after some hesitation was consecrated as Bishop of Australia in February 1836 at Lambeth Palace.
The struggle over the role of church and state in education and the funding of the clergy by the state continued, and was not finally resolved until 1848, when a dual system – free, secular and compulsory education in state-funded schools and secular education financed by the churches – was finally introduced. Throughout his career, Broughton remained opposed to religious equality and hostile to the idea of the subordination of the churches to the secular state. He focused his energies on the expansion of his church, both through the promotion of parish churches and schools and the training of clergy. To provide this training, he established a theological college at St James's church in Sydney in 1845, which later moved to Lyndhurst in Glebe, but closed in 1849.
Always concerned about the role of the church and its governance, in 1850 Broughton convened a conference of Australian bishops in Sydney, to consider the changing role of the colonial church and the arrangements under which it worked. The recommendations of this conference resulted in unrest and criticism locally from those concerned about the role of the laity in the governance of the church. In 1852 he proceeded to England to put his case and discuss the future of the church in the colonies. Arriving in London in ill health, he died on 20 February 1853 and was buried in Canterbury Cathedral
References
KJ Cable, 'Broughton, William Grant (1788–1853)', Australian Dictionary of Biography, vol 1, Melbourne University Press, Melbourne, 1966, pp 158–164
Notes