The Dictionary of Sydney was archived in 2021.
Cite this
Close
Citation
Persistent URL for this entry
http://dictionaryofsydney.org/entry/byles_marie
To cite this entry in text
Solomon, Jonathan, Byles, Marie, Dictionary of Sydney, 2008, http://dictionaryofsydney.org/entry/byles_marie, viewed
07 Jun 2023
To cite this entry in a Wikipedia footnote citation
cite web | url= http://dictionaryofsydney.org/entry/byles_marie | title = Byles, Marie | author = Solomon, Jonathan | date = 2008 | work = Dictionary of Sydney | publisher = Dictionary of Sydney Trust | accessdate =
07 Jun 2023
To cite this entry as a Wikipedia External link
cite web | url = http://dictionaryofsydney.org/entry/byles_marie | title = Byles, Marie | accessdate =
2008
| author = Solomon, Jonathan | date = 2008 | work = Dictionary of Sydney | publisher = Dictionary of Sydney Trust
Byles, Marie Beuzeville
[media]Marie Beuzeville Byles was born on 8 April 1900 at Ashton-upon-Mersey, in Cheshire, England. She was the only daughter of Cyril Beuzeville Byles, a railway signal engineer, and Ida Margaret, née Unwin, a suffragette. In 1912 her family migrated to Sydney on the ship Anchises. Brought up in the Unitarian faith, she was enrolled at Presbyterian Ladies College at Croydon and Pymble, where she later became dux.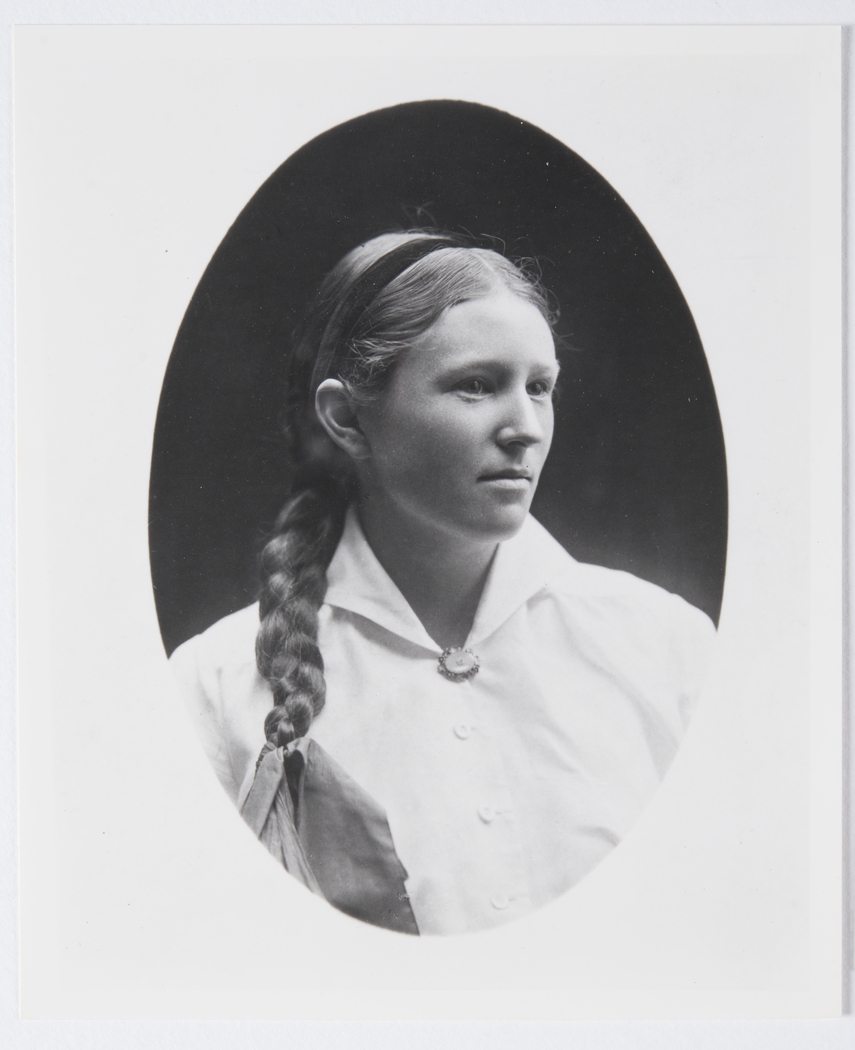 Marie was seen to be a biddable child but did not always agree with her parents' decisions. When she was 18, her father forbade her to travel to the city on Armistice Day in 1918, saying it was no place for a girl to be. However he did encourage her career. When the Women 's Legal Status Act was passed in 1918, Marie's father persuaded her to take advantage of this opening up of the professions to women. At school Marie had excelled at debating, and Cyril was of the opinion she would be a good barrister. Marie won an exhibition to Sydney University and in 1921 she began her law studies as the only woman student. In 1924 Marie obtained first class honours in History and in Law. On the day of her graduation, Marie and her father both appeared in the news, Marie as Sydney's first female lawyer and her father for his work on inaugurating automatic signals in Sydney's railway yards.
Pioneering woman in the law
[media]In her efforts to become an articled clerk (part of requirements for legal qualification at the time), she had some discouraging encounters with law firms – one male solicitor viewed Marie's potential as a mere typist. Eventually she was articled to Stuart Thom & Co on 6 June 1924. To obtain the requisite training with the master solicitor, her father had to pay £200 for her articles. The usual cost for male graduates was, in contrast, £100. Marie's father also had to provide her with suitable clothing for work. Unfortunately, the articles proved to be a soul-destroying experience. A change of workplace was made possible with the intervention of Sir John Peden, the Law Dean of Sydney University. Henry Davis & Co agreed to employ Marie in a role as managing clerk. In 1927 she left to travel overseas, where she spent time on a cargo ship and climbed mountains in Britain, Norway, Canada, New Zealand and the United States. This was a passion begun in her childhood when the Byles family had organised bushwalking outings.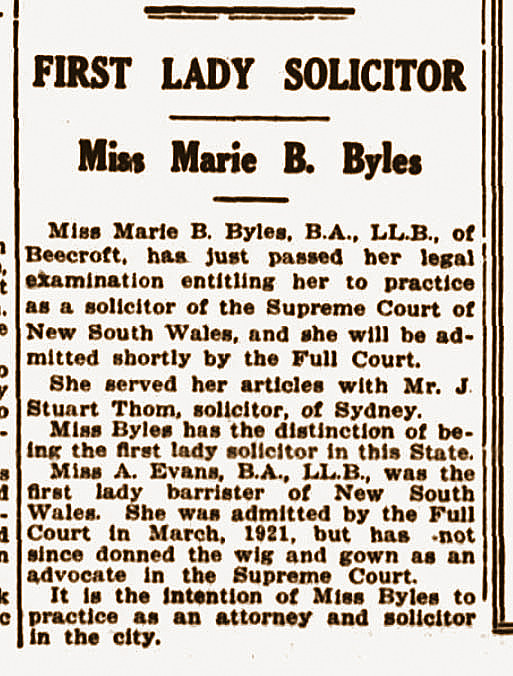 Marie arrived back in Sydney in 1929 and, with financial support from her mother, set up a legal practice in Eastwood. Her office was part of the foyer in the Duke of York Theatre in Eastwood, and the rent was 15 shillings a week. It was the Depression and to keep her practice operating, she became a journalist for extra income. Marie was a prolific writer and she was published in newspapers and magazines, including the Australian Woman 's Mirror. She focused on the minimal legal rights available for women, including discrimination in the law and in the courts. Marie also participated in lobbying the government for improved rights for women on issues relating to equal pay, guardianship and married women's rights. She was also active in the United Associations of Women and the National Council of Women of New South Wales.
By the 1930s, the practice employed five other women and sought to obtain the services of female barristers when they were available, including Sibyl Morrison. The legal practice dealt with matters of probate, conveyancing and debt recovery. Another office opened in the city in 1932.
Mountain climber, bushwalker and Buddhist
In 1937 Marie organised a party of six to climb the 20,000-foot (6000-metre) Mount Sanseto in south-west China. Unfortunately, within 2,000 feet (600 metres) of the peak, the party had to turn back due to strong winds and blizzards. In 1938 she travelled through Burma and Tibet, encountered Buddhism and read the Bhagavad-Gita.
In the years 1943 to 1947 Marie was honorary secretary for the Federation of Bushwalking Clubs, which campaigned for new national parks and legal protection for Australia's natural habitat. In 1932 she had helped to secure the reservation of 650 acres (263 hectares) of bushland at Bouddi Natural National Park. In 1941 her passion for mountaineering and exploring was temporarily set back when, within Sydney's bushland, she broke her foot while carrying three packs after a companion fell ill.
In 1951 Byles was a founding member of the Buddhist Society of New South Wales, and around this time she travelled to northern India and Nepal. She also visited Gandhi's ashram and Ceylon. In 1957 she wrote In Footprints of Gautama the Buddha, which challenged the privileged status of monks compared to nuns. Her experiences of meditation centres in Burma and Japan led her to write Journey into Burmese Silence in 1962 and Paths to Inner Calm in 1965.
Later years
In 1952 Marie became the first female master solicitor when articled clerk Margaret Crawley joined her practice. By this time, the work premises were inappropriate and Marie created a private company to purchase land at 2A Hillview Avenue, Eastwood. Here she built the Berangie Chambers, an Aboriginal word meaning 'friend'. Marie designed the building to ensure the space was airy and filled with light. The practice moved here in 1953. In the late 1950s, she continued to consciously employ married women and promoted their professional development. Marie even offered to sponsor her law clerks to study for the Solicitors' Admission Board exams.
In 1966, Marie was attacked in her home, the attacker thought to be an unhappy personal injury client. He inflicted head injuries before leaving her locked in a cupboard, where she remained until the neighbours found her the next morning. No one was charged for the attack and Marie never returned to practice. In 1970, she sold her business to Helen Larcombe, who had been the first female solicitor to practise in Newcastle in 1957.
In 1974, Marie celebrated the fiftieth anniversary of becoming a solicitor, and shared the occasion with two eminent judges, Judge Elizabeth Evatt and Judge Mary Gaudron.
Marie lived at Ahimsa, a small house located in a forest in the Sydney suburb of Cheltenham. Here she had a vegetable garden and slept on the balcony. In 1970 she donated Ahimsa to the National Trust and in 1971 also donated her other land interests to the National Trust.
References
Mary Liverani, 'Celebrating the life and practice of our first woman solicitor', Law Society Gazette, September 2005, pp 24–25
Mary Liverani, 'Hello there I'm still alive', Law Society Gazette, November 2005, pp 32–34
Chris Ronalds, 'Marie Byles; A Reflection on her Life as a Legal Practitioner', paper given at the National Trust, Sydney, 13 September 2005
'Leading the way with Law', Sydney Morning Herald, 14 November 1974
Notes