The Dictionary of Sydney was archived in 2021.
Making Fire: Bangarra Dance Theatre Australia
Cite this
Close
Citation
Persistent URL for this entry
http://dictionaryofsydney.org/entry/making_fire_bangarra_dance_theatre_australia
To cite this entry in text
Sheppard, Jasmin, Making Fire: Bangarra Dance Theatre Australia, Dictionary of Sydney, 2014, http://dictionaryofsydney.org/entry/making_fire_bangarra_dance_theatre_australia, viewed
03 Oct 2023
To cite this entry in a Wikipedia footnote citation
cite web | url= http://dictionaryofsydney.org/entry/making_fire_bangarra_dance_theatre_australia | title = Making Fire: Bangarra Dance Theatre Australia | author = Sheppard, Jasmin | date = 2014 | work = Dictionary of Sydney | publisher = Dictionary of Sydney Trust | accessdate =
03 Oct 2023
To cite this entry as a Wikipedia External link
cite web | url = http://dictionaryofsydney.org/entry/making_fire_bangarra_dance_theatre_australia | title = Making Fire: Bangarra Dance Theatre Australia | accessdate =
2014
| author = Sheppard, Jasmin | date = 2014 | work = Dictionary of Sydney | publisher = Dictionary of Sydney Trust
Making fire
When I arrived for my first day of work as a dancer for Bangarra in 2007, on the land of the Gadigal people of the Eora nation, I felt an overwhelming sense of awe. I stood at the ballet barre, preparing for the first exercise in a ballet class, plies, and stared out the window through the old, heavy wooden double doors to the glistening waters of Sydney Harbour. Across from the studio the next pier over, Pier 2/3, is humbly nestled under the proud Sydney Harbour Bridge. I had been in Sydney for just three years and was stunned by the beauty of the Harbour, as I still am today.
Named after the Wiradjuri word meaning 'to make fire', Bangarra Dance Theatre (pronounced bungurra) is Australia's most renowned Indigenous theatre company. Bangarra has been making fire in the studios on the Wharf in Walsh Bay since the late 1990s, bringing together the creative minds and hearts of dancers, choreographers, composers and other creatives from many different Aboriginal nations across the country and the Torres Strait.
Our dance works reach into the cultural heritage of our ancestors, shedding light on the evolution of our culture to the present day. The company has been fuelling the growth of Indigenous contemporary work from the day it sprouted as a young dance theatre company among the communities based in Glebe and Redfern in inner Sydney in 1989.
Fusing traditional with the contemporary
Bangarra began under the artistic directorship of Carole Johnson, an African American woman who had a vision to empower the development of Indigenous dance in Australia through a contemporary medium. The company forged a new style: traditional Aboriginal and Torres Strait Islander dance, song, story and culture fused with contemporary modern dance.
[media]In 1991 the company's artistic direction was passed on to a young, fresh and inspired Munaldjali man from Brisbane, Stephen Page. Stephen had close creative ties with Carol Johnson from his days attending the National Aboriginal and Islander Skills Development Association Dance College, of which Carol was also the founding director. Throughout the life of Bangarra, the company has had a close relationship with NAISDA and to this day their graduates are among the professional members of the company. Other dancers in Bangarra hail from the Aboriginal Centre for Performing Arts, Queensland University of Technology, and Western Australian Academy of Performing Arts.

So much of Indigenous Australia is represented within the members of Bangarra. At present we have dancers and crew from mid-west New South Wales from Wiradjuri and Gamilaroi country, those from all over the state of Queensland from the lands of the Bidjara, Kullali, Munaldjali, Bundjalung, Kurtijar, Pajinka-wik, and Wulli-Wulli. We have desert people from Arrernte land, and our artists also hail from as far as Yawuru land in the Kimberly. Most of the Torres Strait Islands are represented in our small clan of 14 dancers too, and over 100 Aboriginal and Torres Strait Islander artists have worked with Bangarra since its inception. The richness that this diversity brings lends to a wider scope of perspective and experience and a deeper well of knowledge when we gather to create a dance theatre work.
A journey of storytelling
[media]Back in 1992, Bangarra performed its first full-length work, Praying Mantis Dreaming, the beginning of a journey of storytelling that the company would embark upon. Praying Mantis Dreaming is the story of a young woman with both Aboriginal and European heritage making the daunting transition from a traditional life in the bush to the city. It is the spirit of her totem, the praying mantis which guides her and from where she draws strength through such a big life change. This story is a familiar one for many Indigenous people who move to the big smoke and Bangarra played an important role in showing this struggle.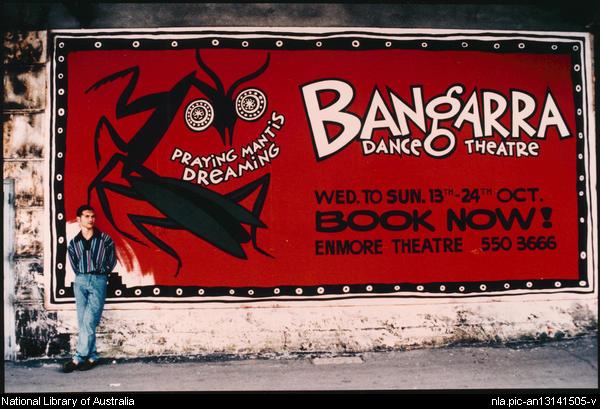 In 1995 the production of Ochres took to the stage, and really put the company on the map. It drew on the spirituality of Aboriginal culture and the deep importance that ritual has on us as Indigenous people. Ochres told these stories through the inspiration of ceremonial ochre paints of red, white, yellow and black. Ochres is still an important work for the company to this day and a work that we treasure the chance to take to the stage.
Bangarra has always had a prerogative to share Indigenous culture with the wider Australian audience but also to expose many of the issues we face in a rapidly changing society. Over the past few years, our artistic director's stream of consciousness has led us to investigate what it means to be Aboriginal or Torres Strait Islander in today's society. Our last two works with Stephen have had each dancer ask themselves, "Who am I?" "How do I express myself as a member of the Indigenous community?" and "How do I see myself as an individual?"
Because we often work with such personal subject matter, a great deal of our personal experience forms a fundamental part of our performances. We strive to share our culture as an evolving thing, while ever returning to our roots and connection to this country and our ancestral ritual. A typical day for a Bangarra dancer when we are in creative production of a new dance piece starts by arriving at our studios on the Wharf. Once our daily class is done (either ballet, contemporary, Pilates or yoga), we are in the rehearsal studio until late in the evening delving into the subject matter of our work and disappearing into our creativity.
Inspiring and empowering audiences
Bangarra is a unique dance company and a vital part of Australia's largest city. We are in a fortunate position to reach our Indigenous communities and empower the next generation to succeed with pride in themselves and their heritage and we also recognise the obligation we have in sharing Indigenous culture with all of Australia's theatre goers.
Our international tours take us all around the world, allowing us to educate, and share our culture and our love of dance in far off places. We've found many cultural parallels in our travels abroad, which in turn inspire us to continue to tell our stories.
Bangarra has a special place in the heart of Sydney, right on the water of our beautiful harbour. In 2014, the company will celebrate 25 years and will continue to nurture the upcoming generation of Indigenous contemporary dance makers and performers.
Notes