Cite this
Close
Citation
Persistent URL for this entry
http://dictionaryofsydney.org/entry/market_row
To cite this entry in text
Ellmoos, Laila, Market Row, Dictionary of Sydney, 2011, http://dictionaryofsydney.org/entry/market_row, viewed
16 May 2022
To cite this entry in a Wikipedia footnote citation
cite web | url= http://dictionaryofsydney.org/entry/market_row | title = Market Row | author = Ellmoos, Laila | date = 2011 | work = Dictionary of Sydney | publisher = Dictionary of Sydney Trust | accessdate =
16 May 2022
To cite this entry as a Wikipedia External link
cite web | url = http://dictionaryofsydney.org/entry/market_row | title = Market Row | accessdate =
2011
| author = Ellmoos, Laila | date = 2011 | work = Dictionary of Sydney | publisher = Dictionary of Sydney Trust
Market Row
Market Row is a [media]narrow lane off Druitt Street in central Sydney, which runs north towards Market Street (but does not extend to it), between and parallel to Clarence and York streets.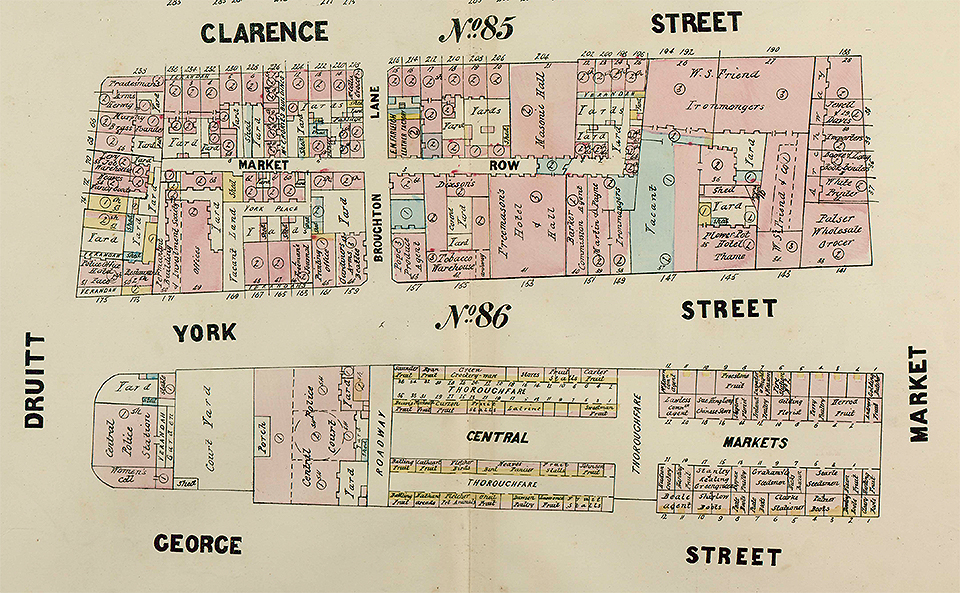 An early mention of Market Row is in an advertisement for the sale of land in Clarence Street which appeared in the Sydney Morning Herald in December 1858. The parcel for sale was part of a 'grant from the Crown to one Elizabeth Charlotte Broughton, dated 29th February 1840', bounded 'on the east by Market Row', and was for sale along with the four dwellings constructed on it. [1]
An analysis of nineteenth-century maps of Sydney shows that Market Row was fully formed by the mid-1860s, running north-south off Broughton Lane (or Place), which joined Clarence and York streets (called Mullins Street from 1905 after a City of Sydney councillor, John Lane Mullins). [2]
The lane did not originally extend to Druitt Street, but in 1914, the Levey Job Warehouse at 70 Druitt Street was demolished to make way for the extension of Market Row, joining it to Druitt Street.
[media]In 2011, roadwork in Market Row uncovered one of Sydney's early road surfacing technologies: woodblocks. Because of the extension of the lane in 1914, the blocks uncovered probably date from this time.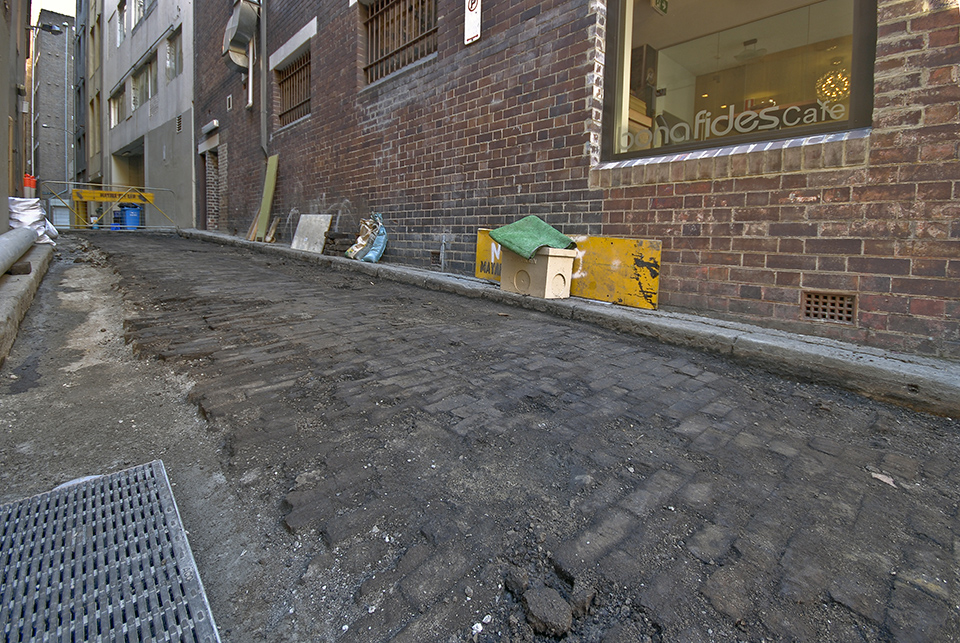 Market Row originally provided rear lane access for the many businesses and warehouses lining York and Clarence streets. The narrow laneway bustled with horse-drawn wagons and carts delivering all manner of goods, such as gramophones, sewing machines, furniture, leathergoods, stationery supplies, china and drapery.
By the early twentieth century, Market Row was becoming increasingly congested,
partly due to it being a cul-de-sac and partly to it being narrow and these defects are aggravated by the vehicles loading and unloading while standing in the lane. [3]
According to the City Surveyor; '... these blind Public Ways ... are an evil from many points of view ...' [4]
However, the lane remained in use, and the access it provided was a selling point for property that backed onto it. In 1929, a Sydney Morning Herald advertisement for the sale of a warehouse in Clarence Street noted its Market Row access, and pointed out:
Woodblocks
One of the key responsibilities for the City of Sydney Council was the maintenance of the road surfaces within Sydney. The use of woodblocks as a road surface was first experimented with in the 1880s following the appointment of Adrien Mountain as the City Surveyor in 1879, with the first experimental woodblock road surface laid in Sydney's King Street in 1880.
From the 1880s onwards, woodblocks were the most popular form of road and pavement surfaces used by the City. Woodblocks were not used as a road surfacing after 1932, although repairs on them continued through until the 1960s. [6]
[media]Following their exposure during drainage works in 2011, the woodblocks in Market Row were photographed and sealed. They were in remarkably good condition for their age and it was decided they should be left exposed. But with regular cleaning of the lane the timber surface soon began to deteriorate, and it was necessary to re-cover the woodblocks with a modern roadway made of asphalt to preserve them.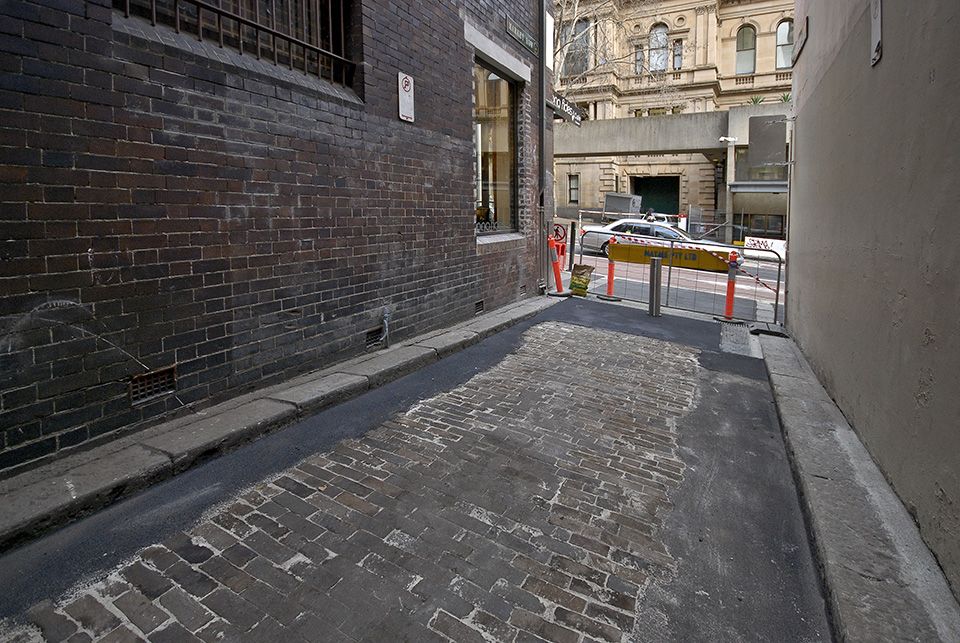 Notes
[1] Sydney Morning Herald, 17 December 1858, p 7, http://nla.gov.au/nla.news-article13022390
[2] Mark Lyons, 'Mullins, John Lane (1857–1939)', Australian Dictionary of Biography, National Centre of Biography, Australian National University, available online at http://adb.anu.edu.au/biography/mullins-john-lane-7680/text13439, viewed 20 July 2011
[3] City Surveyor's Office, Minute Paper, 1912, City of Sydney Archives
[4] City Surveyor's Office, Minute Paper, 1912, City of Sydney Archives
[5] Sydney Morning Herald, 9 November 1929, p 27, http://nla.gov.au/nla.news-article16600388
[6] Shirley Fitzgerald, Sydney 1842–1992, Hale & Iremonger, Sydney, 1992, pp 54–59
.