The Dictionary of Sydney was archived in 2021.
Cite this
Close
Citation
Persistent URL for this entry
http://dictionaryofsydney.org/entry/new_tivoli_theatre
To cite this entry in text
McPherson, Ailsa, New Tivoli Theatre, Dictionary of Sydney, 2010, http://dictionaryofsydney.org/entry/new_tivoli_theatre, viewed
24 Sep 2023
To cite this entry in a Wikipedia footnote citation
cite web | url= http://dictionaryofsydney.org/entry/new_tivoli_theatre | title = New Tivoli Theatre | author = McPherson, Ailsa | date = 2010 | work = Dictionary of Sydney | publisher = Dictionary of Sydney Trust | accessdate =
24 Sep 2023
To cite this entry as a Wikipedia External link
cite web | url = http://dictionaryofsydney.org/entry/new_tivoli_theatre | title = New Tivoli Theatre | accessdate =
2010
| author = McPherson, Ailsa | date = 2010 | work = Dictionary of Sydney | publisher = Dictionary of Sydney Trust
New Tivoli Theatre
[media]The Belmore market site near Central Railway Station, part of which later housed the Hippodrome and the Capitol Theatre, had another section to the east, divided into two lots which had not been developed. In 1911 the City Council auctioned 50-year leases to this land. The allotment on Castlereagh Street on the corner of Campbell Street was purchased by Thomas Rofe. He built a theatre on the site, which was leased to entrepreneur George Marlow. This, named the Adelphi, was the first theatre built in accordance with Theatres and Public Halls Act 1908. It was also the last theatre built in Sydney before World War I.
From Adelphi to Grand Opera House
The Adelphi, which opened on 5 May 1911 with Marlow's production of The Bad Girl of the Family, had been built primarily as a melodrama house but its facilities made it a versatile venue. It had a capacious auditorium, licensed to seat 2,400 people, a scenery store, an 18-metre square stage and three sliding roofs for ventilation. It was also one of the first Australian theatres to use modern cantilever structural techniques, requiring only two supporting posts, one behind the other, in the auditorium.
From 1913 George Marlow's business arrangements became increasingly complex and, while he retained an interest in the theatre until his death in 1939, effectively it came under the control of entrepreneur Benjamin Fuller in 1914. Fuller closed it for renovations in October 1915. The circle and gallery were lowered, thus reducing the seating capacity, and the interior was decorated in the ornate fashion of the times by architect and designer Henry E White. This decor remained until 1954 when White's work was painted over to create a single-colour interior.
From Grand Opera House to New Tivoli
Connors and Paul, a team with considerable managerial skills, had been presenting vaudeville in Brisbane, Melbourne and twice for short seasons in Sydney before their company, Con-Paul Theatres, took over the Grand Opera House. They renamed it the New Tivoli Theatre, in recognition of Harry Rickards's Tivoli theatre, but the 'New' was soon dropped. It opened on 23 July 1932. It was a gamble in depression times but it paid off. The Tivoli had a weekly change of program, a very strong company of performers, including Roy Rene, Syd Beck and Ella Shields, glamorous showgirls and a policy of inexpensive seating – one shilling for matinees, and one to three shillings at night.
After 18 months however, Connors and Paul retired from production. There was a personal tragedy for them of a child's death but also financial upheaval. By late 1935 the Tivoli Circuit Australia Pty Ltd had emerged as the controlling organisation. Until 1940 the Tivoli shows had a considerable increase in imported artists, particularly from the United States. But wartime restrictions led to a more regular pattern of performances by local artists. Leading players included Edgley and Dawe, Jim Gerald and Jenny Howard, and some later 'up and comings' such as Dick Bentley, Peggy Mortimer and Joy and George Nichols.
In 1944 the Tivoli circuit was taken over by David N Martin and returned to a policy of imported stars. British comic Tommy Trinder was the first big tour, followed by vaudevillians Chico Marx from the USA and Wee Georgie Wood and George Formby from Britain. The Tivoli Revues were moved to the Empire Theatre at the end of 1948. [media]The (New) Tivoli theatre became a venue for a mixture of entertainments, including opera, ballet, musical comedy and touring theatre companies. It hosted both the Folies Bergère Company in 1952 and the Old Vic Theatre's 1948 tour, headed by Laurence Olivier and Vivien Leigh.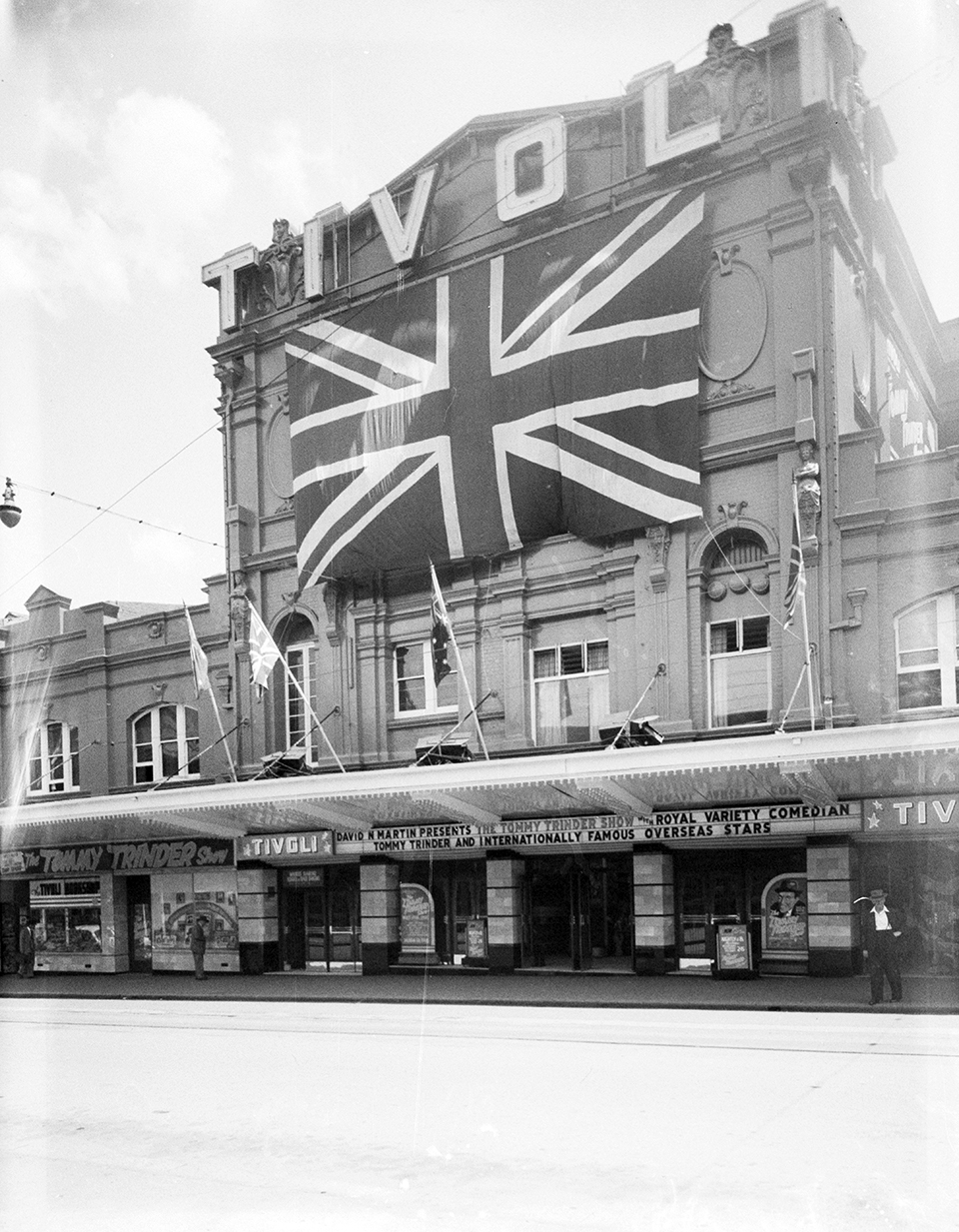 The coming of television in 1956 finally finished vaudeville as an all-year production, and while the Tivoli staggered on until 1966, it finally closed with the revue One Dam' Thing after Another , starring Gwen Plumb. A year later the theatre was badly damaged by fire, and it was demolished in 1969. The developers' promises that the replacement office block would contain a theatre were not fulfilled. It does contain a Tivoli Arcade.
References
Eric Irvin, Dictionary of the Australian Theatre 1788–1914, Hale & Iremonger, Sydney, 1985
Ailsa McPherson, 'The Lost Theatres of Sydney', unpublished lecture, Sydney, 2005
Philip Parsons (ed) with Victoria Chance, Companion to Theatre in Australia, Currency Press in association with Cambridge University Press, Sydney, 1995
Notes