Cite this
Close
Citation
Persistent URL for this entry
http://dictionaryofsydney.org/entry/packer_charles
To cite this entry in text
Skinner, Graeme, Packer, Charles, Dictionary of Sydney, 2008, http://dictionaryofsydney.org/entry/packer_charles, viewed
05 Dec 2021
To cite this entry in a Wikipedia footnote citation
cite web | url= http://dictionaryofsydney.org/entry/packer_charles | title = Packer, Charles | author = Skinner, Graeme | date = 2008 | work = Dictionary of Sydney | publisher = Dictionary of Sydney Trust | accessdate =
05 Dec 2021
To cite this entry as a Wikipedia External link
cite web | url = http://dictionaryofsydney.org/entry/packer_charles | title = Packer, Charles | accessdate =
2008
| author = Skinner, Graeme | date = 2008 | work = Dictionary of Sydney | publisher = Dictionary of Sydney Trust
Packer, Charles
Charles Packer's musical career began conventionally enough, with studies at the Royal Academy of Music in London. Having reputedly come to the attention of the composer Mendelssohn for the quality of his work, in 1839 he came to the attention of the law when he was found guilty of forgery, and sentenced to transportation for life to New South Wales.
[media]Packer served time on Norfolk Island, and later in Hobart, before he was conditionally pardoned in 1850. In 1853, he moved to Sydney where he quickly rose to prominence in amateur and professional musical circles as an organist, conductor, and composer. An early success was his City of Sydney Polka, published in 1854 and 'respectfully dedicated to William Charles Wentworth'. His ballad 'Little Nell' was sung 'with enthusiastic applause' by the visiting diva, Anna Bishop, to whom it was dedicated. In 1859 he began conducting opera performances at the Prince of Wales Theatre, and in 1863 he completed and conducted his most important musical work, the grand oratorio Crown of Thorns.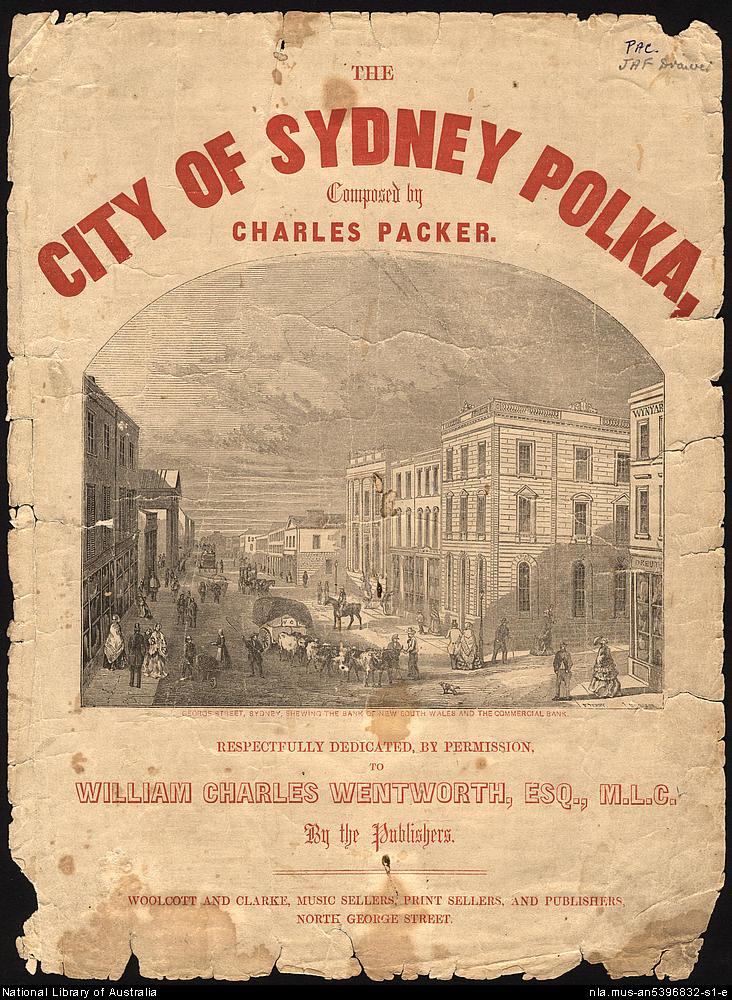 By the end of that same year, Packer was again on the wrong side of the law, having been convicted of bigamy. While in Darlinghurst Gaol, he started a chapel choir for which he composed sacred works. He was released in 1868. He presented his oratorio Crown of Thorns at the Sydney International Exhibition of 1879–1880. According to the Illustrated Sydney News of 4 August 1883, his funeral procession, which included several brass bands, attracted a crowd of 6,000. He is buried in Waverley Cemetery.
Charles Packer was an uncle of the Tasmanian composer, Frederick A Packer, and is also related to the Packers of twentieth-century media fame. Among more recent attempts to uphold the family's musical heritage, in 1946 Frank Packer sponsored a season of Sunday night orchestral concerts in Sydney under the baton of the visiting conductor Maurice Abravanel.
References
EJ Lea-Scarlett, 'Packer, Charles Sandys (Stuart Shipley) (1810–1883)', Australian Dictionary of Biography, vol 5, Melbourne University Press, Melbourne1974, p 387
Elizabeth Wood, 'Charles Packer', Grove Music Online website, subscription only, viewed June 2008
Notes