Cite this
Close
Citation
Persistent URL for this entry
http://dictionaryofsydney.org/entry/peats_ferry
To cite this entry in text
Clugston, Niall, Peats Ferry, Dictionary of Sydney, 2008, http://dictionaryofsydney.org/entry/peats_ferry, viewed
28 Oct 2021
To cite this entry in a Wikipedia footnote citation
cite web | url= http://dictionaryofsydney.org/entry/peats_ferry | title = Peats Ferry | author = Clugston, Niall | date = 2008 | work = Dictionary of Sydney | publisher = Dictionary of Sydney Trust | accessdate =
28 Oct 2021
To cite this entry as a Wikipedia External link
cite web | url = http://dictionaryofsydney.org/entry/peats_ferry | title = Peats Ferry | accessdate =
2008
| author = Clugston, Niall | date = 2008 | work = Dictionary of Sydney | publisher = Dictionary of Sydney Trust
Peats Ferry
Peats Ferry[media] was established by George Peat around 1840, for crossing the Hawkesbury River between Kangaroo Point and Mooney Mooney Point.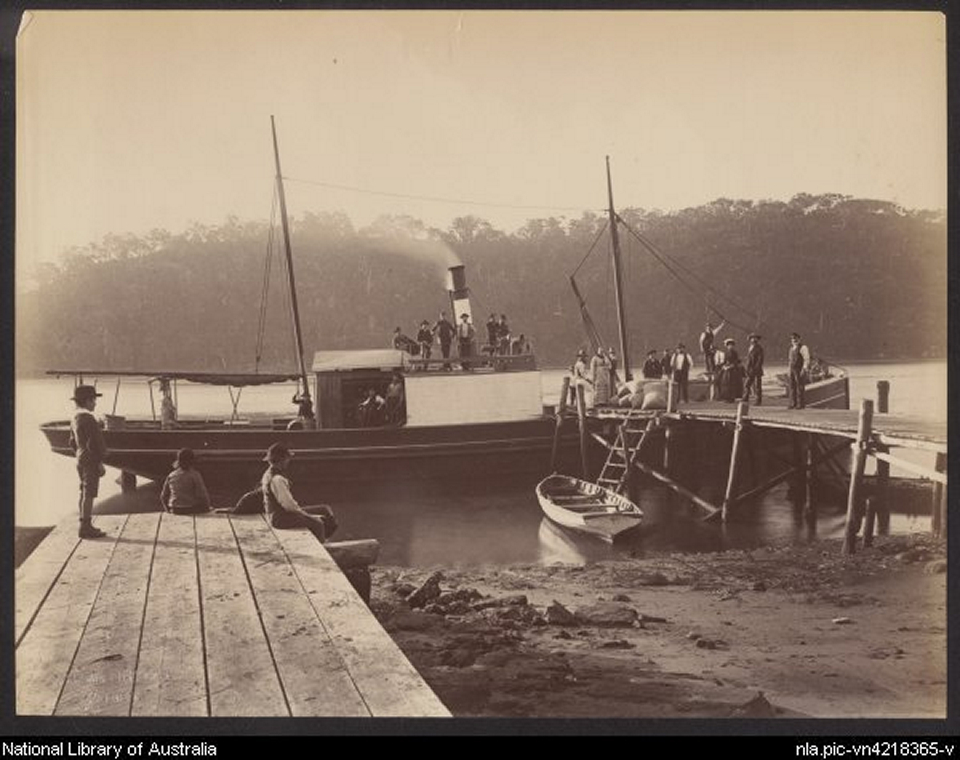 On Peat's suggestion, the government constructed Peats Ferry Road between 1847 and 1852, joining his ferry wharf to Pearces Corner. This provided a Sydney-to-Newcastle route which was an alternative to the Great North Road that crossed the Hawkesbury River at Wisemans Ferry further west. Peats Ferry Road was later renamed the Pacific Highway. In 1945, the ferry was replaced with a road bridge called Peats Ferry Bridge. The two ferries at that time, appropriately named after George Peat and his wife Frances, were retired from service. [1]
After the establishment of the ferry service, the name Peats Ferry was used for the locality around Kangaroo Point and the western part of what is now the village of Brooklyn in Hornsby shire. This had official status as late as 1895, when the Anglican church was opened under the name of St Mary's, Peats Ferry. [2]
Notes
[1] Claire Schofield, The Shaping of Hornsby Shire, Hornsby Shire Council, 1988, pp 41–2, 192–3; Hornsby Shire Historical Society, Pioneers of the Hornsby Shire 1788–1906, North Sydney, 1983, pp 29–30
[2] John P Powell, Placenames of the Greater Hawkesbury Region, Hawkesbury River Enterprises, Berowra Heights, 1994, pp 15, 92, 106
.