Cite this
Close
Citation
Persistent URL for this entry
http://dictionaryofsydney.org/entry/renny_walter
To cite this entry in text
McCormack, Terri, Renny, Walter, Dictionary of Sydney, 2012, http://dictionaryofsydney.org/entry/renny_walter, viewed
26 Jan 2022
To cite this entry in a Wikipedia footnote citation
cite web | url= http://dictionaryofsydney.org/entry/renny_walter | title = Renny, Walter | author = McCormack, Terri | date = 2012 | work = Dictionary of Sydney | publisher = Dictionary of Sydney Trust | accessdate =
26 Jan 2022
To cite this entry as a Wikipedia External link
cite web | url = http://dictionaryofsydney.org/entry/renny_walter | title = Renny, Walter | accessdate =
2012
| author = McCormack, Terri | date = 2012 | work = Dictionary of Sydney | publisher = Dictionary of Sydney Trust
Renny, Walter
[media]Walter Renny was born in England, son of another Walter Renny (d 1866). A letter to his parents, held in Sydney's Mitchell Library, describes his voyage to Australia in 1853, on the Strathfieldsaye. [1] He married Mary Ann White at Balmain in 1857; no children have been identified.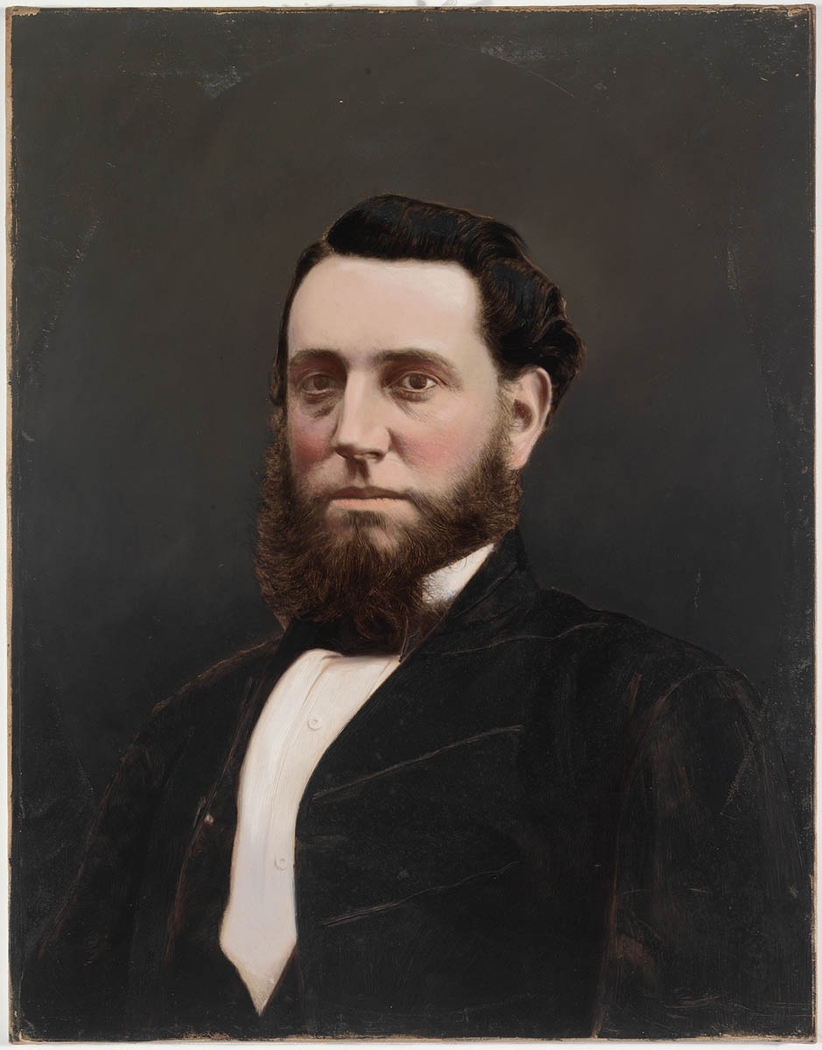 Oil and colour man
[media]In 1858, Walter Renny, painter, had premises at 380 Brougham Street. From October 1860 he was a painter and paperhanger, located at 170 Pitt Street, and his business prospered. By 1863, his birthday celebrations, complete with the christening of the Marion Renny, a schooner he had recently bought, were reported in the Sydney Morning Herald. [2] In 1867 he offered samples of imitation stained glass to Henry Parkes. He was celebrated for the large transparencies painted by him and others he employed, which were used to decorate public buildings, and lit up at night. Several were prepared for the visit of Prince Alfred, Duke of Edinburgh, in 1868. [3]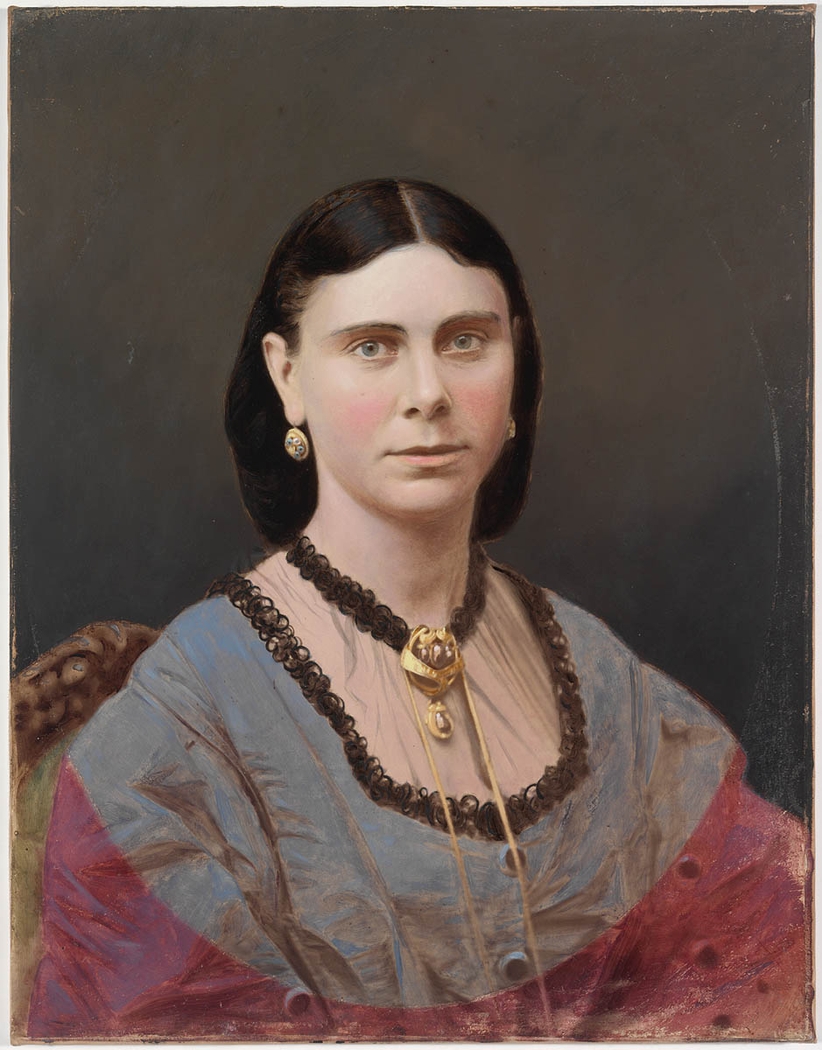 In 1868, a grand house called Strathfieldsaye was built for him at Burwood, the name inspired by the ship he arrived in. The ship's name commemorated the Duke of Wellington's English home, Stratfield Saye. The house was put up for sale in December 1871, with the advertisement stating that Mr Renny was leaving the colony because of ill-health.
In 1873 his business was described as an oil, colour, glass, and paper-hanging warehouse. The flamboyant painter advertised his decorative skills by painting blocks of blue and white on his premises near the corner of Pitt and King streets. This establishment became famous as the Royal Blue House, and earned him the nickname of Royal Blue Renny.
Politics and later life
[media]Walter Renny was Alderman for Bourke Ward, from 1 December 1863 to 30 November 1865 and 1 December 1866 to 30 November 1870. Renny was mayor in 1869–70. His election as mayor was celebrated at Strathfieldsaye with a party, with fireworks and bonfires visible for miles around. During Renny's mayoralty, Prince Alfred, Duke of Edinburgh, was entertained by Sydney Council at a specially erected pavilion in Hyde Park, and later in the year Mr and Mrs Renny hosted the first Mayoral Ball since 1858, for 1,500 guests in the splendid Exhibition Building in Prince Alfred Park. [4] When he left office as mayor in 1870, he was presented with a service of gold and silver plate, worth £200. Unfortunately, it was stolen from his home in Melbourne in 1875. [5]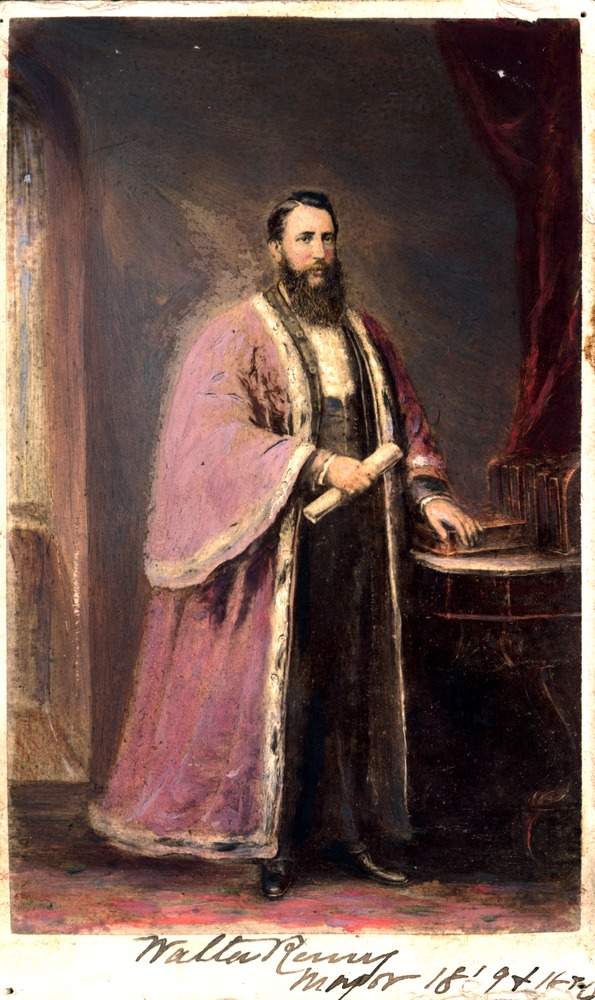 He stood for the Legislative Assembly in a by-election for the seat of East Sydney in 1867, on a strongly protectionist platform, but was defeated. [6]
He seems to have moved to Victoria in the mid-1870s, and was appointed a magistrate there in 1876. [7] He died at Forest Gate, Essex, England, on 24 June 1878, leaving a small estate sworn for probate at under £4,000, most of which he left to charity.
References
City of Sydney Archives, aldermen's files, photo THC 90/011
Joy Hughes (ed), Demolished Houses of Sydney, Historic Houses Trust of NSW, Glebe, NSW, 1999
Leichhardt historical journal: covering Annandale, Balmain, Glebe, Leichhardt, Lilyfield, Rozelle, Annandale Association, Balmain Association, Glebe Society, Sydney, vol 12, 1983
Strathfield District Historical Society Newsletter, Strathfield District Historical Society, Strathfield, vol 10, no 10, June 1988
'Walter Renny', Design and Art Australia Online, http://www.daao.org.au/bio/walter-renny/#artist_biography, viewed 5 July 2012
Notes
[1] Walter Renny, State Library of NSW, Mitchell Library manuscript MLMSS 5627
[2] Sydney Morning Herald, 23 February 1863, p 4
[3] 'Walter Renny', Design and Art Australia Online, http://www.daao.org.au/bio/walter-renny/#artist_biography, viewed 5 July 2012
[4] Sydney Morning Herald, 19 October 1870, p 2
[5] Argus, 6 October 1875, p 4
[6] Sydney Morning Herald, 23 March 1867, p 5
[7] Queanbeyan Age, 27 July 1876