Cite this
Close
Citation
Persistent URL for this entry
http://dictionaryofsydney.org/entry/west_pennant_hills
To cite this entry in text
Rowland, Joan, West Pennant Hills, Dictionary of Sydney, 2008, http://dictionaryofsydney.org/entry/west_pennant_hills, viewed
21 Jan 2022
To cite this entry in a Wikipedia footnote citation
cite web | url= http://dictionaryofsydney.org/entry/west_pennant_hills | title = West Pennant Hills | author = Rowland, Joan | date = 2008 | work = Dictionary of Sydney | publisher = Dictionary of Sydney Trust | accessdate =
21 Jan 2022
To cite this entry as a Wikipedia External link
cite web | url = http://dictionaryofsydney.org/entry/west_pennant_hills | title = West Pennant Hills | accessdate =
2008
| author = Rowland, Joan | date = 2008 | work = Dictionary of Sydney | publisher = Dictionary of Sydney Trust
West Pennant Hills
[media]West Pennant Hills is in the parish of South Colah, in the shire of Hornsby. The traditional owners were the Dharug people, who lived around the springs and waterholes, in heavily wooded country.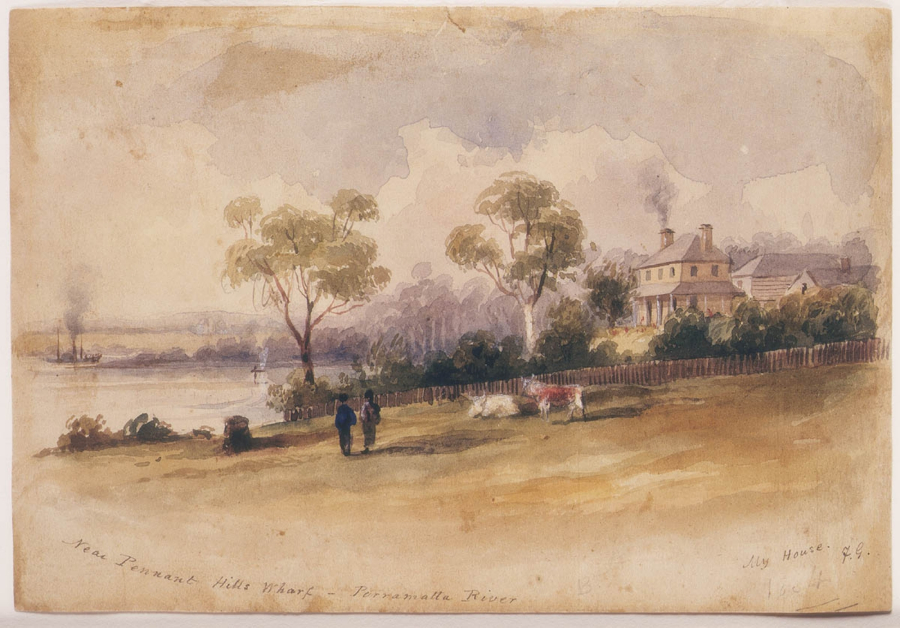 The original township of Pennant Hills started where West Pennant Hills is today. When the first grants of land were made in the district in 1799 by Governor Hunter, the area was referred to as Dundas. By 1818, it was described on plans as Pennant Hills. [1]
Pennant Hills is believed to have been named after the English botanist Thomas Pennant, who was a friend of Sir Joseph Banks. However, some historians attribute the name to the flying of flags or pennants to signal to soldiers at Parramatta that the governor was travelling from Sydney. This may have been the case, but the area was also referred to as Pendant Hills or Pennant Hills as early as 1800. At this time, Pennant Hills included the suburb of Ermington on the Parramatta River.
Once the large trees were removed, the land was cleared for farming, and orchards were planted. In the early 1900s, as the large properties began to be subdivided, dairy farms were established. The remaining orchards also ran poultry to supplement their income and to save on the cost of fertiliser.
Today, tourists come to West Pennant Hills to visit Koala Park, which has been operating as a sanctuary for nearly 80 years. Another attraction is the Cumberland State Forest, which contains a broad collection of native trees.
References
Gwen Millhouse, The Settlers of West Pennant Hills Valley 1799 Onwards, Hills District Historical Society, Sydney, 1987
Notes