The Dictionary of Sydney was archived in 2021.
International Women's Day
March 8 is International Women's Day. And what better way to celebrate the day than to look back and acknowledge the extraordinary contribution women have made to Sydney as a community and a place. Here's my top ten of fabulous women that are featured in the Dictionary of Sydney and have made an extraordinary contribution to Sydney. How many have you heard of?
Maria Lock (c.1805-1878)
Educated at the
Native Institution in Parramatta
, Maria Lock was the first Aboriginal woman officially married to a British convict. They settled on land granted to her in Liverpool and she later successfully petitioned to have the land formerly granted to her brother Colebee in Blacktown transferred to her after his death. Descendants still live in the area.
Harriet (1830-1907) and Helena Scott (1832-1910)
Sisters and botanical illustrators who made a huge contribution to colonial natural science by collecting specimens and recording them meticulously. Harriet and Helena Scott were the foremost natural science painters in New South Wales in the second half of the nineteenth century. Their
illustrations
of native butterflies, moths, plants, reptiles, mammals, shells and flowers, many of which are held by the Australian Museum and Mitchell Library, were scientific and artistic masterpieces that illuminated important scientific publications, and earned them professional recognition in a field of study that was traditionally considered a gentleman's pursuit.
Lucy Osburn (1835-1891)
Trained under Florence Nightingale, Lucy Osburn became the first Lady Superintendent of
Sydney Hospital
in 1868, and despite controversy and ill health, began the process of remaking hospital care and professionalising nursing.
Maybanke Anderson (1845-1927)
Teacher, suffrage campaigner and writer who was described as 'one of Australia's noble and notable women'. A founder of Sydney's women's suffrage movement, Maybanke Anderson was also a writer and teacher, and a lifelong campaigner for the rights of women and children. She advocated for kindergartens, teacher training, adult education at the Worker's Educational Association (where
Rosine Guiterman
also taught) and she lobbied for children's playgrounds in the inner-city.
Eadith Walker (1861-1937)
Born into a privileged life of travel and culture, Eadith Walker became one of Sydney's foremost philanthropists and patrons of the arts, between 1886 (when she inherited her fortune) and her death in 1937.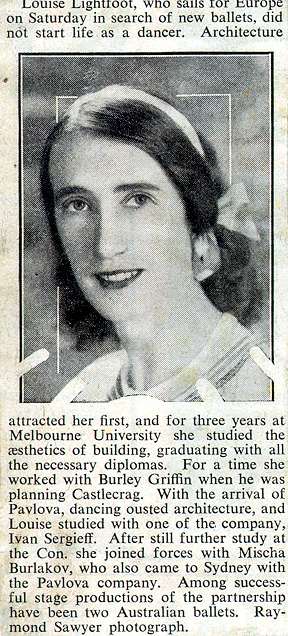 Rosette Edmunds (d.1956)
Pioneering woman architect and town planner. An early graduate in architecture, Rosette Edmunds became lead designer for Clement Glancey, and was involved in designing many Catholic churches and schools in Sydney. She wrote and illustrated a history of world architecture, before moving into town planning.
Marie Byles (1900-1979)
Pioneering woman lawyer, bushwalker and Buddhist. Sydney's first woman lawyer, Marie Byles overcame formal and informal obstacles in order to practise as a solicitor. She mentored other women in law, and became an advocate for women's rights in other fields, as well as an environmental activist and a writer about Buddhism.
Violet McKenzie (1890-1982)
Electrical engineer who taught thousands of women, and soldiers during WWII, to use radio for signalling. A pioneer in Australian radio and electrical engineering, she founded the Wireless Weekly. Violet McKenzie had a lifetime commitment to technical education and training, especially for women.
Louise Lightfoot (1902-1979)
A trained architect who became a dancer and teacher, Louise Lightfoot made major contributions to two forms of dance, classical ballet and Indian dance. She founded the First Australian Ballet, and later was an advocate, teacher and entrepreneur of Indian dance forms.
Eva Buhrich (1915-1976)
German-born architect and writer who was a champion of modernist design in Sydney. Arriving in Sydney in 1939, Eva Buhrich worked in architectural design until the poor pay rates for women architects drove her to writing. She became a well-known commentator on architecture and design, writing for magazines, industry journals and the Sydney Morning Herald. There are many other fabulous women whose histories come to life in the Dictionary of Sydney. Have a browse through our listing of
people mentioned in the Dictionary
to discover more.  Happy International Women's Day.
If you missed Lisa's segment on 2SER this morning, you can catch up here. Listen in each Wednesday morning at 8:20 on 2SER for more Sydney history brought to you by the Dictionary of Sydney.