The Dictionary of Sydney was archived in 2021.
Living Language: Country, Culture, Community
2019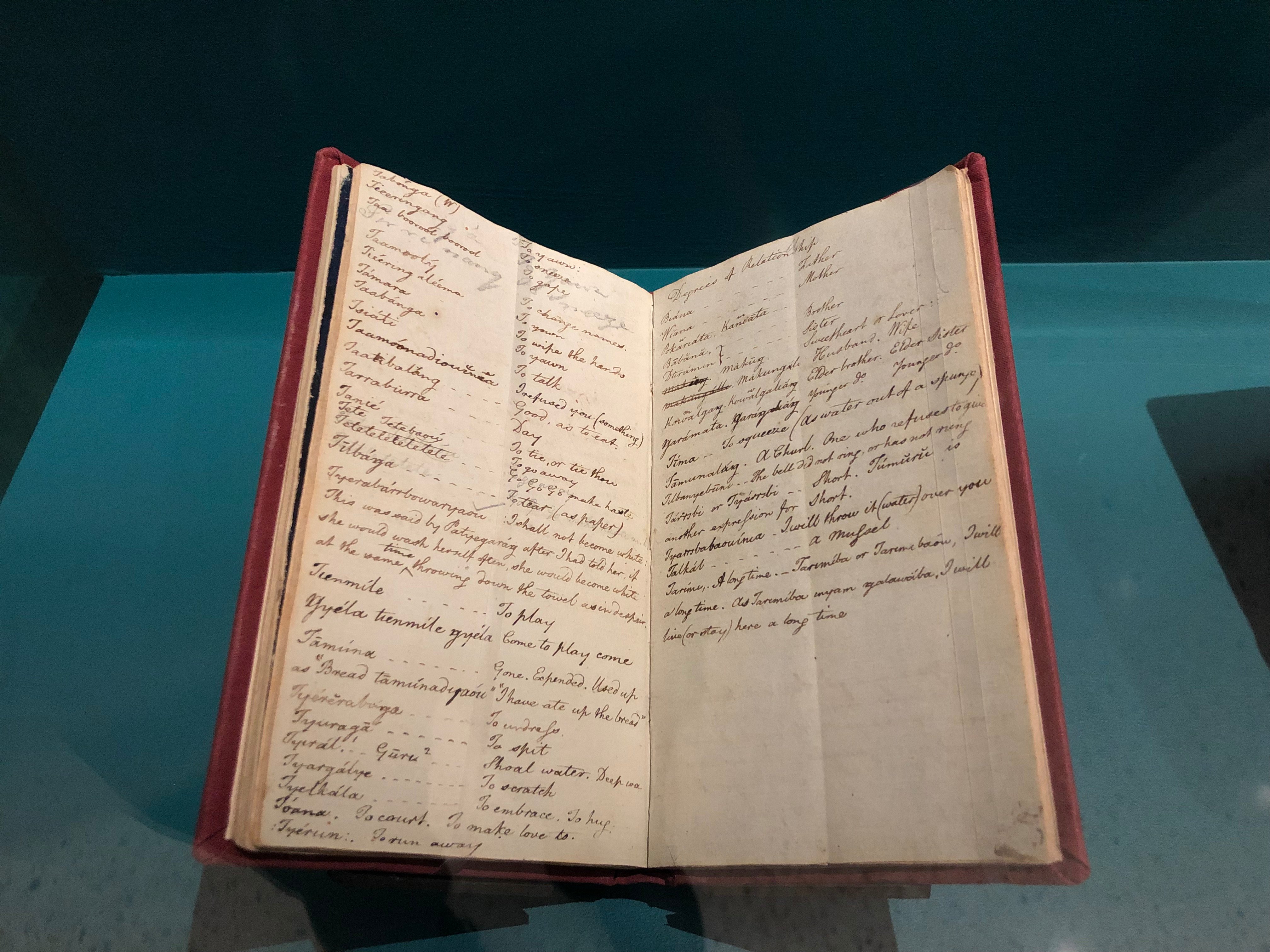 As part of the UNESCO International Year of Indigenous Languages, there's a fascinating exhibition on right now at the State Library of New South Wales that looks at the Aboriginal languages of New South Wales. There are about 35 different languages around New South Wales, and the team behind the exhibition have been travelling around the state talking to communities, language custodians and educators about their work. Today on 2SER Breakfast, curator Ronald Briggs talked to Tess about one of the (many) exhibition highlights.
  Listen to Ronald and Tess on 2SER here 
To put together a language exhibition has been a bit of a challenge. Exhibitions tend to be about something you can see and language is usually something you hear rather than see, but we've come up with a great mix of artefacts, pictures, audio and video that celebrates the resilience of our Aboriginal languages using original documents and interviews with language custodians on Country. As part of this mix, it's very exciting to have the notebooks of
Lieutenant William Dawes
back in the country. Dawes was an officer of the marines on the First Fleet. He was a young man, about 26 or 27, and a scientist and astronomer, but he was also very interested in language and the local Aboriginal people. He became friends with the local people and made lots of notes about his conversations with them. As part of his astronomical work, Dawes moved out of the main part of the colony to the area now known as Dawes Point, where the southern pylon of the Harbour Bridge site. He built an observatory and lived in a small shack where the local people visited him. A young woman named Patyegarang, who we believe was about 15 or 16, became particularly good friends with Dawes, and she taught him the Sydney language.
Other people wrote down Sydney language words like Bondi, Parramatta and Coogee that appear in several contemporary documents.  Dawes didn't just write down the words in his notebooks though, he was speaking it. As well as writing out full sentences, he was working out the grammar and how to communicate. He was the most fluent of the colonists in the Sydney language and helped the local people to converse with other white colonists. Among other things, Dawes recorded the Sydney language names for places around the harbour, our main source of this information. He also noted his interactions with local people and these give us a real insight into their relationships and day to day life in the early colony. In one incident he recorded, he was shaving Bennelong, who told Patyegarang to 'stop making me laugh, can't you see he has a razor?'. Dawes was only here until 1791, and when he left he took his notebooks with him. They are
now held
in the
Archives
of the SOAS University of London, but they are back in Sydney for the exhibition which is a real event. The exhibition is free and will be on until May 2020. It's a beautiful, rich exhibition with lots to explore, so allow a bit of time when you visit. You may want to come back more than once! There are some great associated events too, so keep an eye out for those. The Living Language research day this coming Friday sees guest speakers, linguists and the Library's Indigenous team explore the extensive language collections held at the State Library of NSW (
click here for details
) and you can hear more from Ronald and Melissa Jackson, another part of the team, on 8 August for a special Curator's Choice: Aboriginal Languages of NSW (
details here
).  You can read more about Dawes' notebooks  on the Library's website
here
. Head to the Library website for more information about the exhibition: 
https://www.sl.nsw.gov.au/exhibitions/living-language-country-culture-community
Ronald Briggs is a curator at the State Library of New South Wales.  He is a Gamilaraay man from Moree in NSW. He appears in a voluntary capacity today for the Dictionary of Sydney. Thanks Ronald!
For more, listen to the podcast with Ronald & Tess here, and tune in to 2SER Breakfast with Tess Connery on 107.3 every Wednesday morning to hear more stories from the Dictionary of Sydney.
Categories
Blog
2SER Breakfast
Aboriginal history
Aboriginal languages
community
country
culture
Exhibitions
indigenous history
Living Language: Country
New South Wales
Ronald Briggs
State Library of New South Wales
sydney history
Tess Connery
UNESCO International Year of Indigenous Languages