The Dictionary of Sydney was archived in 2021.
Shirley Beiger: 'All that glittered was not gold'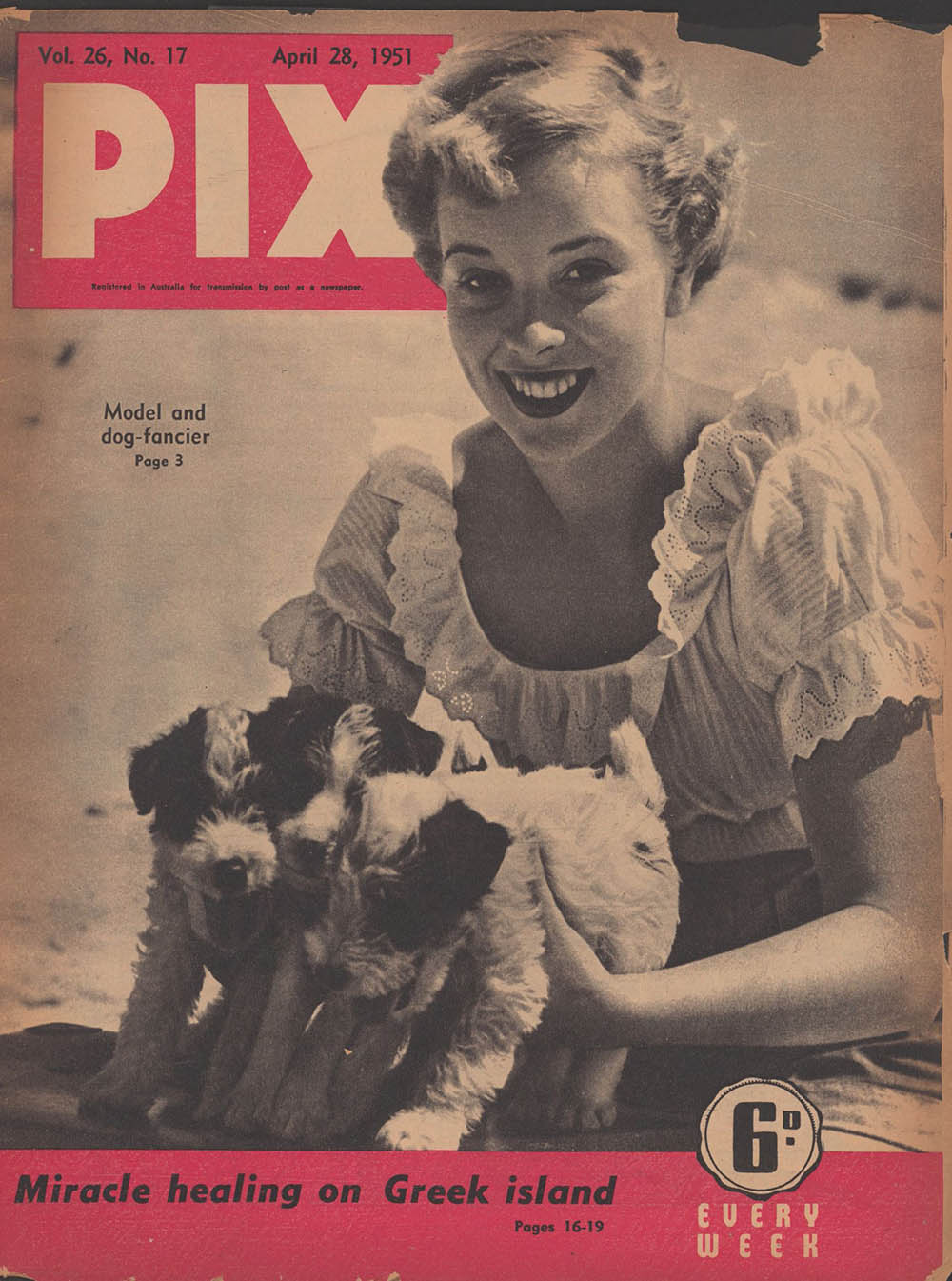 The State Library of NSW have made an enormous amount of historical material available online in recent years. One such resource is the tabloid magazine, PIX , which was published between 1938 and 1972. Among the many famous faces and controversial figures that graced its covers was Shirley Beiger – a model who shot and killed her lover in 1954. Kim Hanna has written about the sensational story in a new article on the Dictionary of Sydney. 
Listen to the whole conversation with Nicole and Tess on 2SER here
Shirley Beiger was born in Sydney in 1932. After her parents' divorce in 1945 she lived with her father for a while, and then with her mother above the shop her mother managed in Redfern. She held various jobs as an office clerk, hairdresser and sales assistant before she got her first modelling job at age 19. She also competed in the Miss Australia beauty pageant. In 1953 Shirley moved into a flat in Kings Cross and soon met Arthur Griffith, a bookmaker's clerk, through a mutual friend, and the pair became lovers. On 9 August 1954 Shirley confronted Griffith at Chequers nightclub in the Strand Arcade after seeing him with another woman. She left, got hold of a repeater rifle and returned, meeting him outside the club on the corner of King and Pitt Streets. Shirley later said: 'He just gave me a push and told me not to be a silly kid....' She claimed she did not hear the gun go off, 'but knew something dreadful must have happened.' Griffith died at the scene from a gunshot wound to his head. Shirley was arrested and incarcerated at Long Bay Gaol. The inquest, bail hearings and trial attracted a lot of attention. Crowds gathered outside the court to support her and newspapers were quick to focus their reporting on her physical appearance and glamorous job. The sensationalist Sydney newspaper,
Truth
, began one of its articles about the events in typical dramatic fashion:
All that glittered was not gold. The change in the life of Shirley Beiger.......The blonde, carefree beauty with the teasing smile, the bright chatter is no longer. In her place is a girl with sombre eyes and a lip that trembles...Shirley Beiger has seen for the first time the stark realities of life—and death
.
Her legal defence argued she had only intended to frighten Griffith and that he had pushed her, which had caused the rifle to discharge.  When the jury returned a verdict of 'not guilty of murder or manslaughter' people inside and outside the court erupted in cheers. The trial was followed by yet more media attention, with the press following her when she left the court, and interviews published with just about anyone who had ever had contact with Shirley, including a gaol wardress. Shirley's own story was serialised over a week in 
Truth
. A note allegedly written by her whilst in gaol was published in the
Daily Telegraph
. In it she concluded, 'I guess I just loved him too much'. By early 1955, Shirley was living quietly in Melbourne. She never gave another interview and eventually her story became like many others – lost in time.
For more, read Kim Hanna's entry on Shirley Beiger on the Dictionary here: https://dictionaryofsydney.org/entry/shirley_beiger
Nicole Cama is a professional historian, writer and curator. She appears on 2SER on behalf of the Dictionary of Sydney in a voluntary capacity. Thanks Nicole!
Listen to the podcast with Nicole & Tess here, and tune in to 2SER Breakfast with Tess Connery on 107.3 every Wednesday morning at 8:15 to hear more from the Dictionary of Sydney.