Cite this
Close
Citation
Persistent URL for this entry
http://dictionaryofsydney.org/entry/bochsa_nicholas
To cite this entry in text
Skinner, Graeme, Bochsa, Nicholas, Dictionary of Sydney, 2008, http://dictionaryofsydney.org/entry/bochsa_nicholas, viewed
24 May 2022
To cite this entry in a Wikipedia footnote citation
cite web | url= http://dictionaryofsydney.org/entry/bochsa_nicholas | title = Bochsa, Nicholas | author = Skinner, Graeme | date = 2008 | work = Dictionary of Sydney | publisher = Dictionary of Sydney Trust | accessdate =
24 May 2022
To cite this entry as a Wikipedia External link
cite web | url = http://dictionaryofsydney.org/entry/bochsa_nicholas | title = Bochsa, Nicholas | accessdate =
2008
| author = Skinner, Graeme | date = 2008 | work = Dictionary of Sydney | publisher = Dictionary of Sydney Trust
Bochsa, Nicholas
Bochsa is another instrumental wonder. The harp in his hands is full of splendid effects; it is capable of infinite variety in power and quality of tone, full of delicacy and of lyric fire. [1]
Having previously been Napoleon's personal harpist, Nicholas Bochsa left France under a cloud in 1817, after being convicted of forgery. He worked as an opera conductor in London in the 1820s and 1830s, where his otherwise successful musical career was tarnished by accusations of bigamy and bankruptcy.
In 1839 he scandalised London by eloping with the soprano Anna Bishop (wife of the composer Henry Bishop, of Home Sweet Home fame). The two spent the next 15 years successfully touring the major operatic centres of Europe and America.
Sailing from San Francisco on the ship Kit Carson, the lovers arrived in Sydney late in December 1855. Bochsa gave one Sydney concert before he became ill and died at the Royal Hotel, on 6 January 1856.
Later accounts of his death, as reported by EJ Lea-Scarlett, state that he composed a requiem for himself on his deathbed. But a contemporary report suggests that he simply wrote out a 'mournful refrain' on a scrap of manuscript paper, which was then used by the choir and instrumentalists as the basis for the music performed at his funeral service and procession to his grave. [2] If a tune of his own composition, it was quite possibly a theme from the grand Requiem Bochsa had composed in Paris in 1816 for the official reinterment of the French king, Louis XVI.
Anna Bishop erected an elaborate [media]monument, including a statue of herself in mourning, on Bochsa's grave in the cemetery at St Stephen's, Newtown.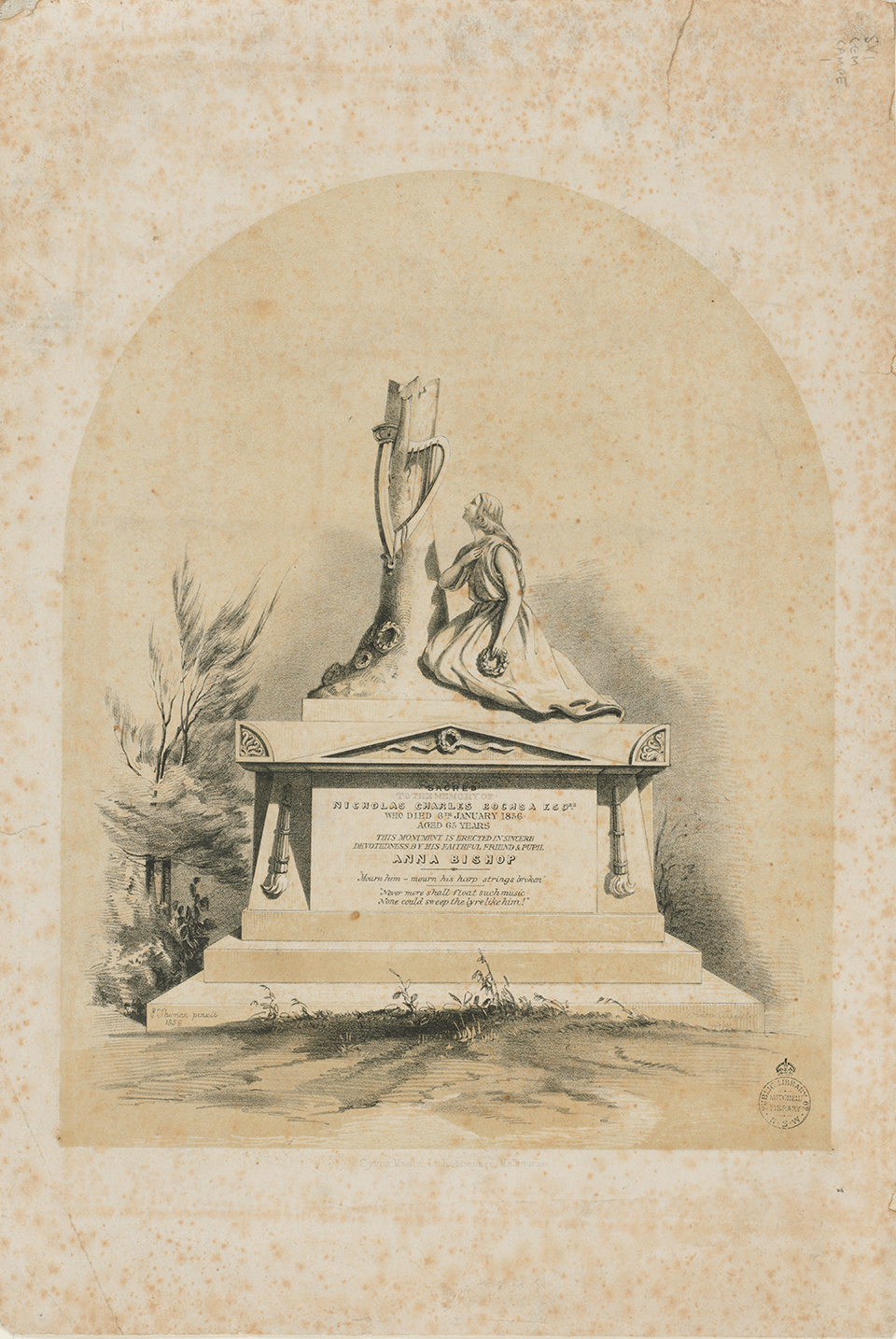 Apart from his compositions, Bochsa is primarily remembered today for the harp method he published before he left France. But according to his Australian biographer, EJ Lea-Scarlett, Bochsa's
inflated reputation, coupled with the circumstances of his death, have given him an undeserved eminence in Australian musical history.
Nevertheless, he was widely regarded in his own day as a fine performer.
References
EJ Lea-Scarlett, 'Robert Bochsa', Australian Dictionary of Biography, vol 3, Melbourne University Press, Melbourne, 1969, pp 187–88
Nicholas Temperley, 'Anna Bishop', Grove Music Online, viewed August 2008, www.oxfordmusiconline.com
Nicholas Temperley, 'Nicholas Bochsa', Grove Music Online, viewed August 2008, www.oxfordmusiconline.com
Notes