The Dictionary of Sydney was archived in 2021.
Canterbury Park Racecourse
Cite this
Close
Citation
Persistent URL for this entry
http://dictionaryofsydney.org/entry/canterbury_park_racecourse
To cite this entry in text
Muir, Lesley, Madden, Brian, Canterbury Park Racecourse, Dictionary of Sydney, 2013, http://dictionaryofsydney.org/entry/canterbury_park_racecourse, viewed
29 May 2023
To cite this entry in a Wikipedia footnote citation
cite web | url= http://dictionaryofsydney.org/entry/canterbury_park_racecourse | title = Canterbury Park Racecourse | author = Muir, Lesley, Madden, Brian | date = 2013 | work = Dictionary of Sydney | publisher = Dictionary of Sydney Trust | accessdate =
29 May 2023
To cite this entry as a Wikipedia External link
cite web | url = http://dictionaryofsydney.org/entry/canterbury_park_racecourse | title = Canterbury Park Racecourse | accessdate =
2013
| author = Muir, Lesley, Madden, Brian | date = 2013 | work = Dictionary of Sydney | publisher = Dictionary of Sydney Trust
Canterbury Park Racecourse
Horseracing in Canterbury
Horseracing [media]was popular in Canterbury from the early days of the Sugarworks village in the 1840s, when Cornelius Prout cleared part of his property for use as a racecourse [1]. Race meetings were organised regularly by the local publicans for the entertainment of their patrons, and the contests were frequently between their own horses [2].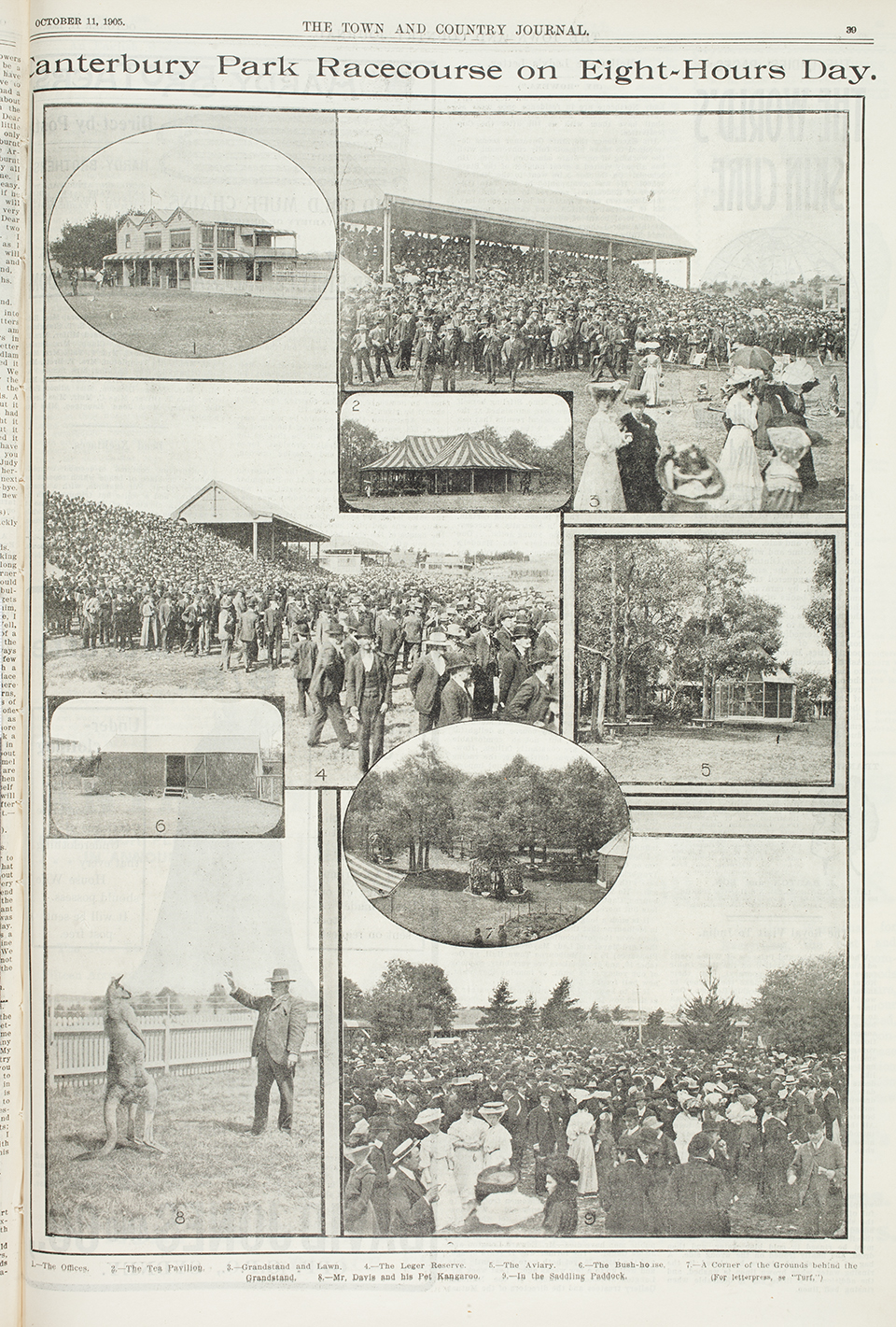 After a lapse of some years, racing began again in 1871, when Frederick Clissold and Thomas Austen Davis organised a meeting on land leased by Davis in the vicinity of the present racecourse [3]. Of the 300 people who attended, most were local residents.
In 1878, a crowd of 3,000 attended a meeting to celebrate Queen Victoria's Birthday [4]. As there was no satisfactory public transport to the course, most caught the train to Ashfield and walked from there. Some special coaches ran from Sydney, but the rough roads must have given passengers an uncomfortable ride.
Death and despair
[media]By 1884, the present site was leased from the Jeffrey's estate as the headquarters of the Canterbury Park Race Club and gardens. A recreation park and a racetrack seven furlongs in circumference was laid out, and a grandstand capable of holding 700 people [5]. The directors of the race club were Frederick Clissold and William Lovel Davis.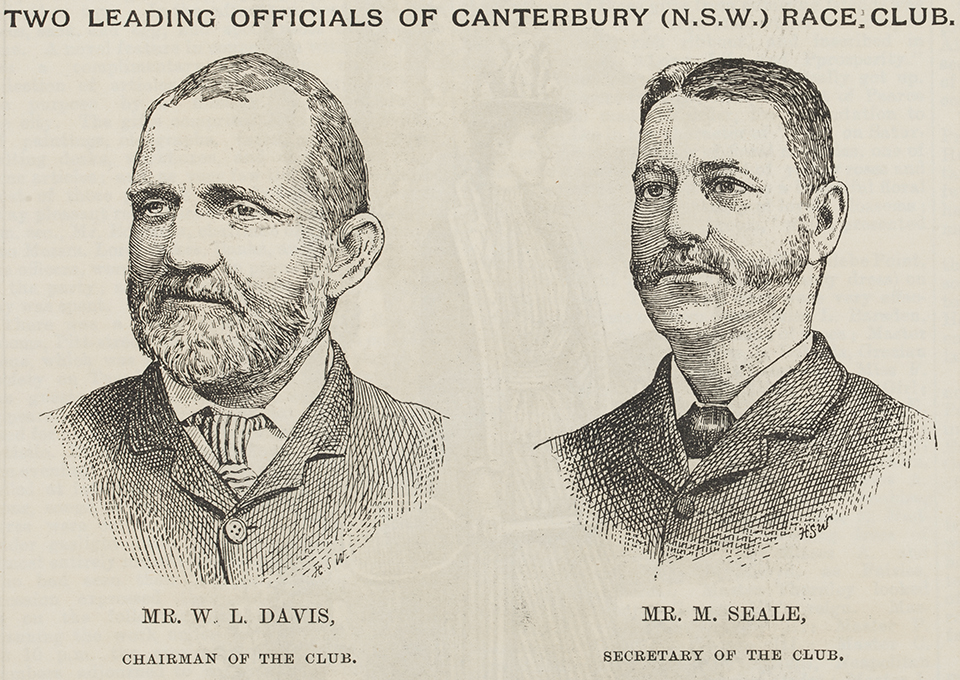 The first meeting on Saturday 19 January 1884 was very successful, with an attendance of approximately 3,000 people [6]. Ordinary and special trains to Ashfield were crowded, and horse buses carried the visitors to the course [7]. In 1886, Davis visited Arthur Jeffreys' son, John, who had inherited the land and who then lived in Salisbury, England, and purchased almost 53 acres at £200 per acre for the use of the Club [8].
On 6 May 1893, a jockey named Death was riding a horse called Despair when the horse fell in a hurdle race at Canterbury [9]. The Bulletin said that the combination was gruesome and they should be parted [10].
A recreational park and zoo
[media]For the first 11 years, the racecourse and park was looked after by George Monk, a gardener of great talent, whose specialty was growing pansies. He lived in the rustic gothic gatehouse which had been built for Canterbury House near Unwin Street. George's son Jim took over as caretaker when he was 18 years of age, and held the job for sixty years until his retirement. Jim was in charge of a zoo that was on the racecourse until World War I and held kangaroos, wallabies, emus, brolgas, curlews, pheasants and kookaburras.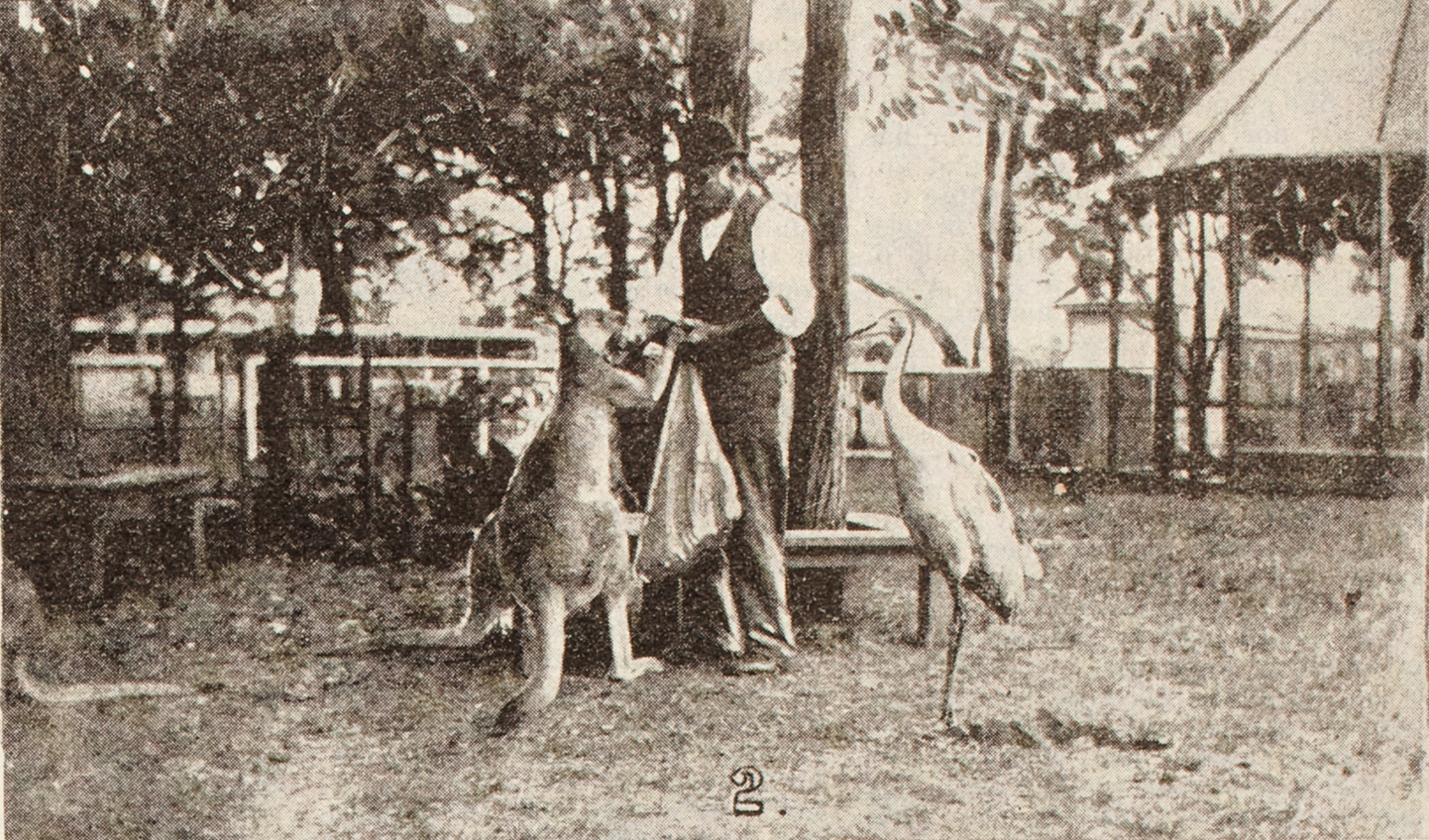 Stables, blacksmiths, saddlers and harness makers
Many horse and pony trainers moved on to large blocks of land surrounding Canterbury, and by the 1890s there was quite a flourishing network, especially in Minter, Church, King, and Broughton streets, and over the river in Northcote Street. Remnants of some of these stables can still be seen, but many more have been demolished. For instance, the Andrew family's stables in Church Street were sold to provide land to extend Canterbury Girls High School.
There were other related industries in the area: the Foord family ran the local blacksmith's shop, while Edwin Crump, saddler and harness-maker, located his store in Canterbury Road near Unwin Street. Some of the shopkeepers made money on the side as illegal bookmakers. For a great many years, the racecourse gave a marked stimulus to the economic life of the Canterbury community.
Races during World War II
[media]During World War II, Canterbury Park Racecourse was requisitioned by the Australian Army and from 1940 to 1944 used for a number of purposes, although race meetings continued to be held [11].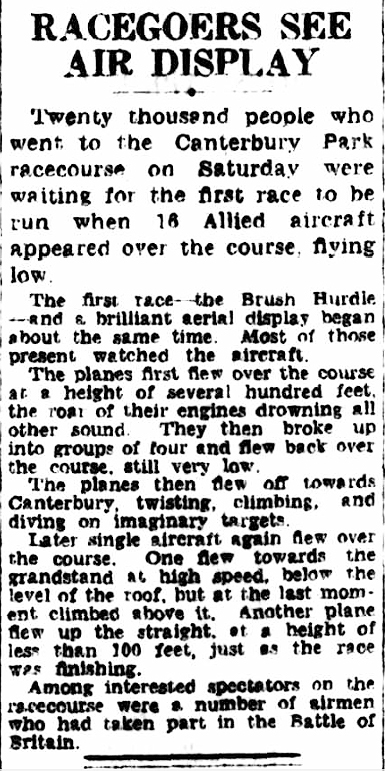 [media]On Saturday 18 April 1942, just after the start of the first race, sixteen American fighter planes buzzed the course, presumably to let the Australians know that they had arrived to defend them from possible Japanese invasion. The effect back-fired because the sports loving Aussies were annoyed (war or no war) at the races being disrupted. One horse fell during the race and had to be destroyed, and race club officials protested to the Air Force headquarters about the incident [12]. The Sydney Morning Herald called it 'a brilliant aerial display [13]'.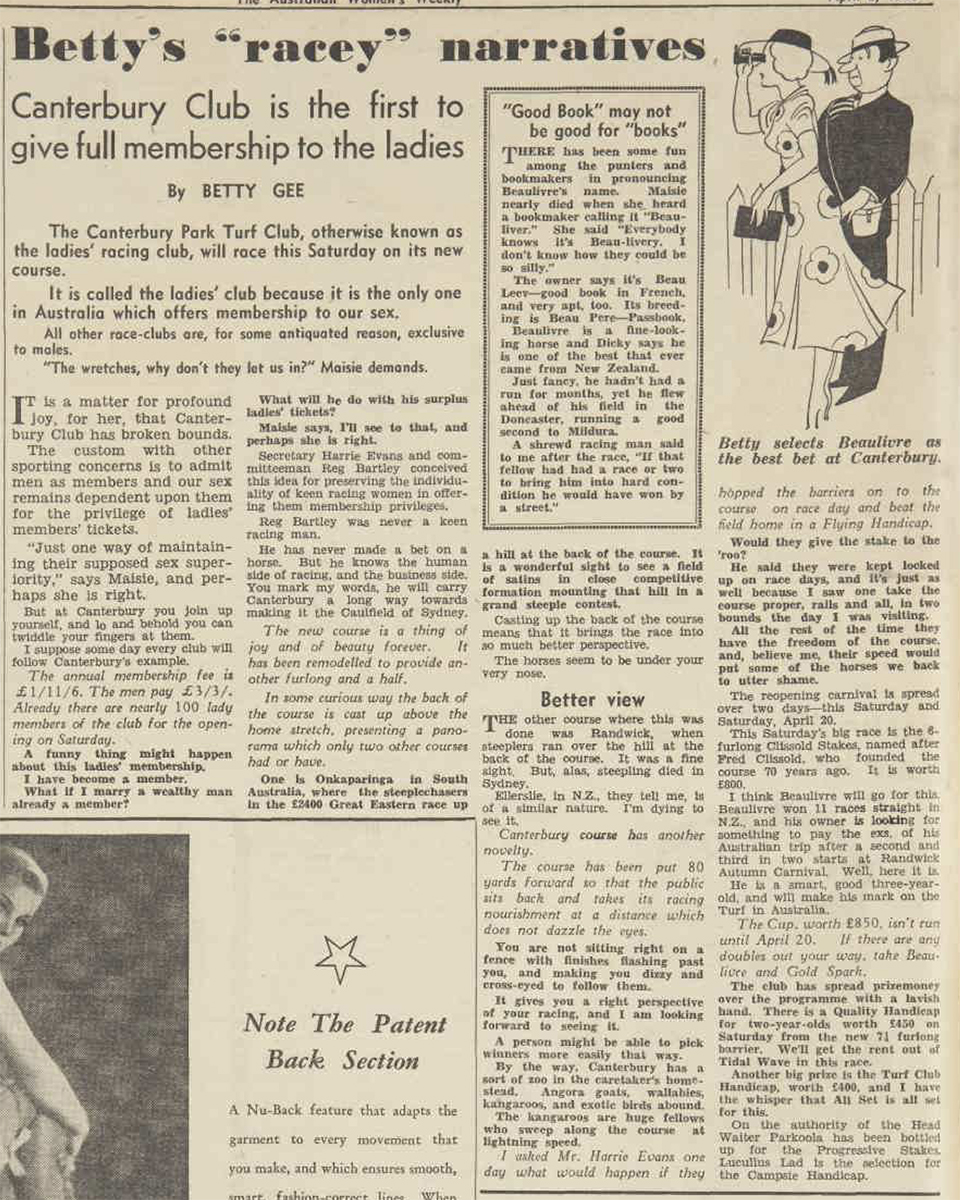 Sydney Turf Club
[media]In 1943, the McKell Government legislated to discontinue 'proprietary' licenses (of which the Canterbury Park Racecourse Company Ltd was one) and to constitute the Sydney Turf Club to direct all profits from operations back into the sport through prize money and the development of facilities and amenities. [14] In 1944, the club purchased Canterbury Park Racecourse and took possession on 1 January 1945. Facilities have been much improved over the years.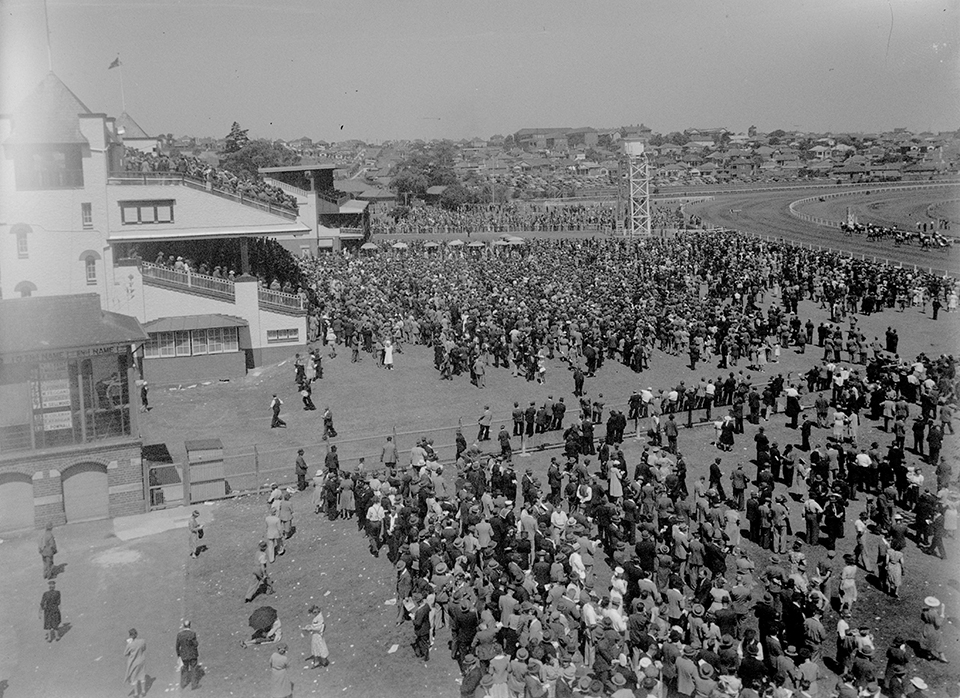 Innovation
Canterbury Park Racecourse has been the scene of many innovations: the first photo finish camera in 1946, the first mobile barrier stalls in Sydney in 1948, the first metropolitan racing success for a woman trainer in 1957, Sydney's first TAB meeting in 1964, and the first night racing meeting in Sydney in 1999 (despite strong local opposition to the latter).
Canterbury ceased to be used for training in 1998.
Australian Turf Club
Following [media]state legislation in 2010, in February 2011 the Sydney Turf Club (founded in 1943, which held race meetings at Rosehill and Canterbury) merged with the Australian Jockey Club (founded in 1842, which held race meetings at Randwick and Warwick Farm) to form the Australian Turf Club. A 2009 report by Ernst and Young to the state government had recommended the merger, and also recommended the sale of the Canterbury course, but the sale did not proceed.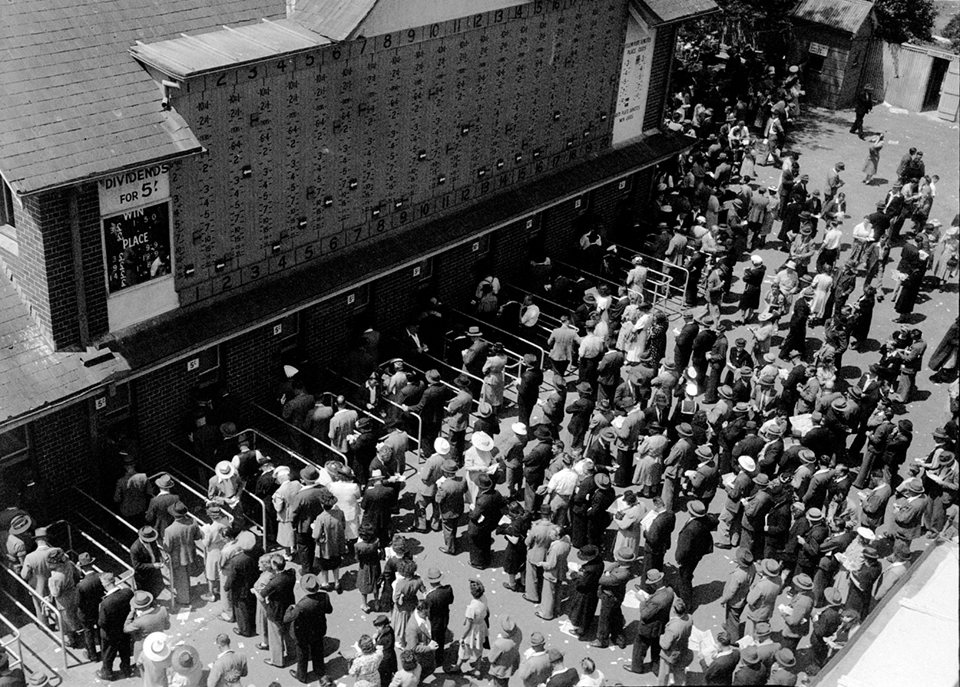 Lesley Muir, They're Racing at Canterbury, Canterbury and District Historical Society, 1985
IE Currey, 'The Centenary of Canterbury Racecourse 1871–1971', Canterbury and District Historical Society Journal, 2, no 3
James Jervis, A History of the Municipality of Canterbury, Canterbury Municipal Council, 1951
Frederick Arthur Larcombe, Change and Challenge: A History of the Municipality of Canterbury, NSW, Canterbury Municipal Council, 1979
Notes
[1] Bell's Life in Sydney, 15 April 1854, p 3 and Bell's Life in Sydney, 3 June 1854, p 3
[2] Lesley Muir, They're Racing at Canterbury, Canterbury and District Historical Society, 1985, p 5
[3] Lesley Muir, They're Racing at Canterbury, Canterbury and District Historical Society, 1985, p 7
[4] Lesley Muir, They're Racing at Canterbury, Canterbury and District Historical Society, 1985, p 10
[5] The Sydney Morning Herald, 10 January 1884, p 6
[6] The Sydney Morning Herald, 21 January 1884, p 7
[7] Lesley Muir, They're Racing at Canterbury, Canterbury and District Historical Society, 1985, p 12
[8] Lesley Muir, They're Racing at Canterbury, Canterbury and District Historical Society, 1985, p 14
[9] The Sydney Morning Herald, 8 May 1893, p 6
[10] The Bulletin, 13 May 1893, p 17
[11] National Archives of Australia, Hirings Index cards (Canterbury Racecourse)
[12] The Sunday Telegraph, 19 April 1942, p 4
[13] The Sydney Morning Herald, 20 April 1942, p 4
[14] Lesley Muir, They're Racing at Canterbury, Canterbury and District Historical Society, 1985, p 29