The Dictionary of Sydney was archived in 2021.
Cite this
Close
Citation
Persistent URL for this entry
http://dictionaryofsydney.org/entry/dixson_william
To cite this entry in text
Gilchrist, Catie, Dixson, William, Dictionary of Sydney, 2015, http://dictionaryofsydney.org/entry/dixson_william, viewed
07 Jun 2023
To cite this entry in a Wikipedia footnote citation
cite web | url= http://dictionaryofsydney.org/entry/dixson_william | title = Dixson, William | author = Gilchrist, Catie | date = 2015 | work = Dictionary of Sydney | publisher = Dictionary of Sydney Trust | accessdate =
07 Jun 2023
To cite this entry as a Wikipedia External link
cite web | url = http://dictionaryofsydney.org/entry/dixson_william | title = Dixson, William | accessdate =
2015
| author = Gilchrist, Catie | date = 2015 | work = Dictionary of Sydney | publisher = Dictionary of Sydney Trust
Dixson, William
I have a number of valuable pictures packed away … and it would be a good thing if they were placed where those interested could see them. [1] William Dixson, 1919.
[media]William Dixson was one of Sydney's most generous benefactors in the twentieth century. From his mid-twenties until his death in 1952, aged 82, Dixson's leisure hours were given over to the all-consuming task of collecting and building one of the richest and most extensive Australiana collections. Like David Scott Mitchell before him, his passion for gathering history, art, books, manuscripts and coins resulted in a collection that was eventually bequeathed to the people of Sydney and of Australia.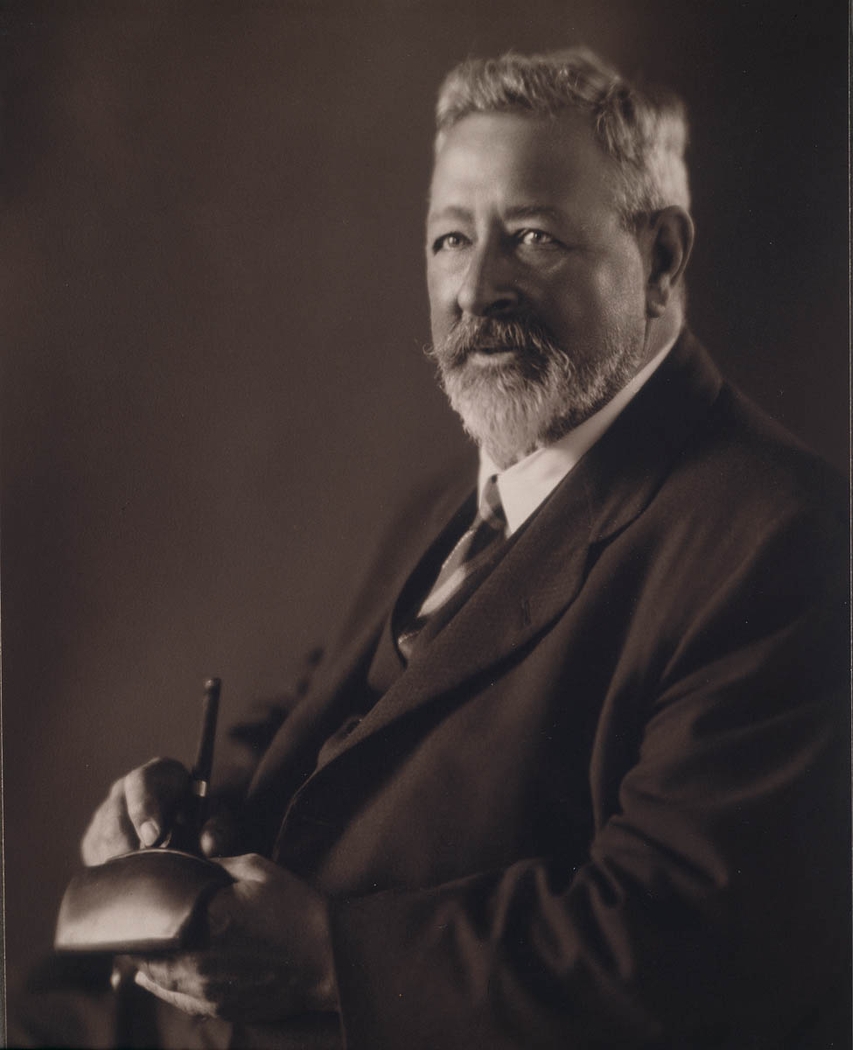 Early life
Dixson [media]was born on 18 April 1870 in Sydney. His father was Hugh Dixson, a tobacco merchant and wealthy businessman whose company eventually merged in 1904 into the British-Australasian Tobacco Company. Hugh was a well-known philanthropist, interested in educational and medical causes, and his charitable work was acknowledged with a knighthood in 1921. William's mother, Lady Emma Elizabeth Dixson (born Shaw) was also a very prominent and active philanthropist; a life governor of the Queen Victoria Homes for Consumptives, the Women's Hospital at Crown Street, Royal Prince Alfred Hospital and the Infants' Home, Ashfield, a life vice-president of the British Empire League in Australia, the National Council of Women of New South Wales, and the Victoria League. Lady Emma was also president of the women's auxiliary of the Sydney City Mission and the Veterans' Home of New South Wales, and vice-president of the New South Wales Home for Incurables, Ryde (to which the Dixsons gave £20,000), [2] and the Fresh Air League; she also founded the Sydney Medical Mission. William inherited his parents' commitment to philanthropic causes.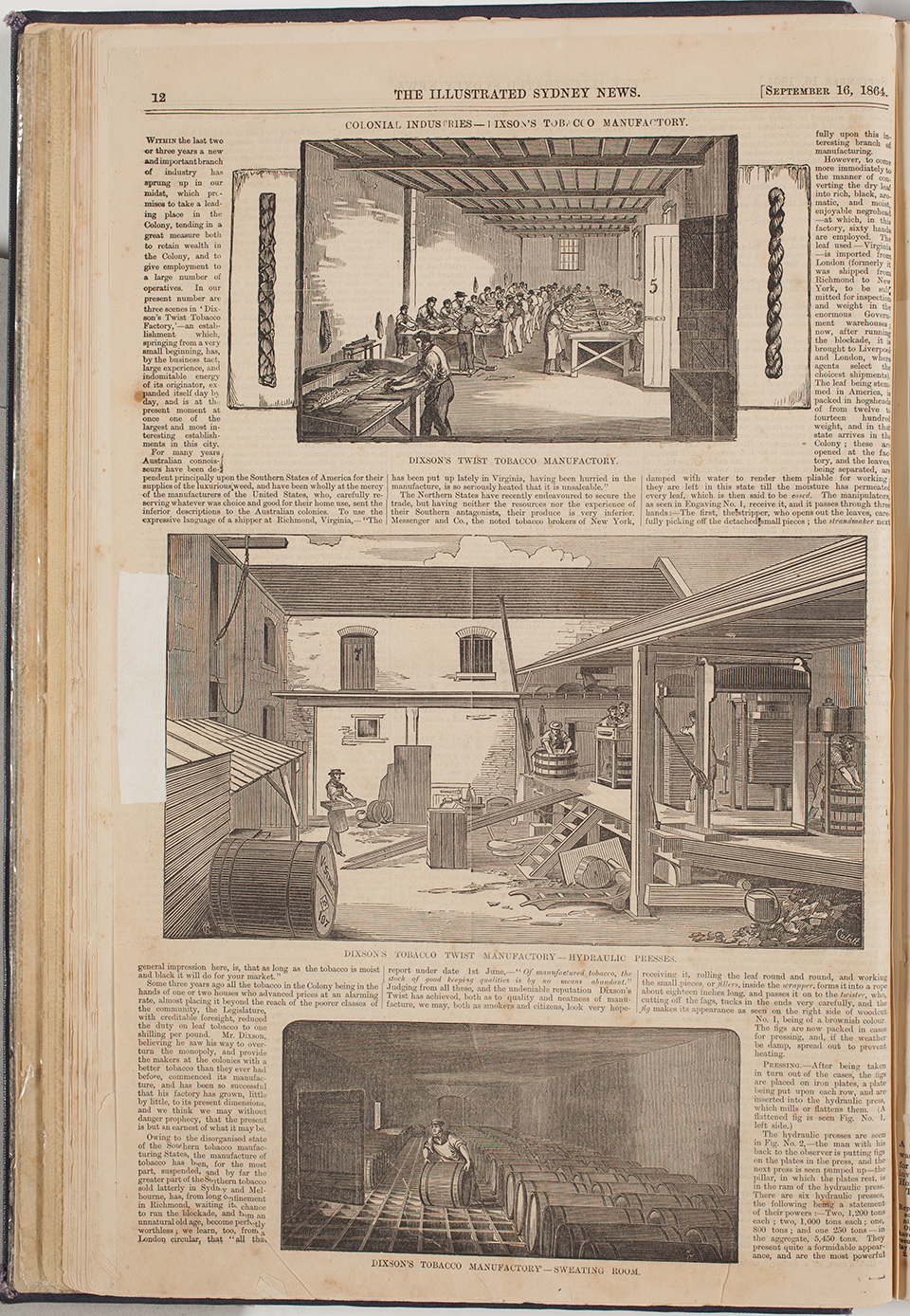 He was educated at All Saints College in Bathurst. In 1889 he travelled to Scotland where he qualified as an engineer. He returned to Sydney in 1896, and worked as an engineer with Norman Selfe for some years, but by 1904 was actively involved in his father's tobacco company. In 1909 the Dixson Trust Ltd was established, and William remained a director until his death. [3] In the late 1910s he bought Merridong, a mansion in Killara near his beloved golf club, where his extensive Australiana collections were first housed. William Dixson would remain unmarried yet he had an active social life and he was famous among his friends for enjoying golf and good food; he also had a penchant for a regular glass of whiskey or two. [4]
Becoming a collector
In the 1890s Dixson began collecting paintings, rare books and manuscripts to use for his own historical research. Like David Scott Mitchell, he developed close relationships with Sydney's booksellers, and during this time he spent up to £200 each month at Angus & Robertson. Early purchases included foundational books such as David Collins's An Account of the English Colony in New South Wales and The Voyage of Governor Phillip to Botany Bay. [5] Later on, as a benefactor and fellow of the Royal Australian Historical Society, Dixson contributed many articles to its Journal. His three part 'Notes on Australian Artists', published between 1919 and 1923, was considered to be a pioneering compilation of early colonial artists. Other articles included the first translations of eighteenth- and nineteenth-century French explorers' texts about Australia and the Pacific area. [6]
Yet while he was busily building up his collection, he was also slowly giving some of it away. In 1912 he gave 944 Aboriginal artefacts to the Australian Museum. He continued to make gifts to the museum until 1951, including some 1500 anthropological specimens from Australasia, New Guinea and the Bismarck Archipelago. One of his first donations to the Public Library of New South Wales (now the State Library) was a portrait bust of explorer Charles Sturt, given in 1914. When he learned that the Mitchell bequest to the Public Library of New South Wales could not be spent on art or paintings, he decided to remedy this cultural anomaly. Dixson first offered his pictures to the library in 1919 and again in 1924, adding that he would bequeath the remainder of his pictures and collections of Australiana, including manuscripts, books, coins and stamps, to the library on conditions similar to those of Mitchell's bequest: that a dedicated wing be built to house them at the Mitchell Library.[media] After much procrastination and official inertia, 10 years after his original offer, the Dixson Wing (the Dixson Galleries) finally opened on 21 October 1929. His first donation included 195 paintings, and in 1930 he presented Joseph Lycett's 1822 [media]watercolour North View of Sydney. In 1934 he gave the library £4000 for the commission of the beautiful bronze sculptured doors which today stand proud and tall at the front of the Mitchell Library. The doors depict Aboriginal people and important early figures in Australian history. Dixson wished to present the doors as a memorial to DS Mitchell and in a letter to the Premier, Bertram Stevens, he explained his reasons:
I am anxious in this way, as a student and collector of Australiana, making my collection ultimately for the benefit of this institution and the State, to do something to commemorate the magnificent work and public spirit of the great collector who founded the Mitchell Library. The work and gift of David Scott Mitchell have both inspired me and will, I feel sure, inspire other students, in future generations, to follow his lead. [7]
Patron, benefactor and philanthropist
Dixson's generosity to the people of New South Wales (and Australia) was really quite remarkable. In 1937 he purchased Joseph Lycett's exquisite Corroboree at Newcastle for an estimated £1000 and gave it to the Dixson Galleries in June 1938. [8] By 1943 he had added more than 150 paintings to the galleries. He also gave the three magnificent stained glass windows in the Mitchell Library Reading Room, which are dedicated to Geoffrey Chaucer.
In 1951 the process of transferring the rest of his collections from the walls and bursting cellars of his Killara mansion to the Library began. This collection is now known as the Dixson Library, which opened in 1959. It was an enormous gift of the utmost national importance from a man whose life had been dedicated to collecting Australiana, including 21,000 books, 42 linear metres of manuscripts, 300 framed paintings, 1500 prints, drawings and watercolours, 205 albums of pictures, 250 museum objects, 8000 coins and medals and nearly 10,000 postage stamps. [9] Among this rich and culturally significant collection were three First Fleet journals, very early images of Sydney by a variety of artists, the drawings and etchings of Lionel and Norman Lindsay (among many others) and the drawings made by John Webber, the official artist on Captain James Cook's last voyage. [10]
His cultural philanthropy was not confined to the Public Library. In the late 1930s, Dixson gave £5000 to assist in establishing the library at the New England University College, Armidale (now the University of New England), which is named in his honour. Like his parents, he also aided various hospitals and institutions, and he was treasurer and later president of the Queen Victoria Home for Consumptives. [media]He was knighted in 1939.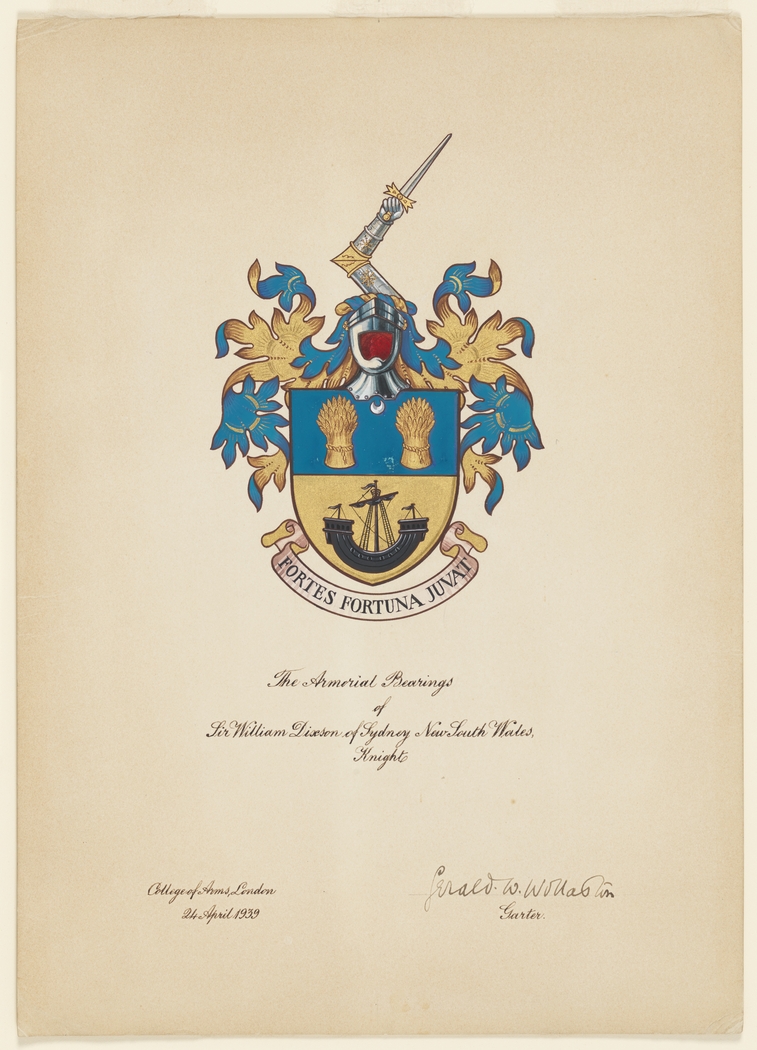 Sir William died in hospital at Chatswood on 17 August 1952 and was cremated with Anglican rites. His estate was valued for probate at £429,132. In addition to his promised bequests, he left all his shares in the British Tobacco Co (Australia) Ltd, worth about £115,00, to the trustee of the Public Library to set up the William Dixson Foundation. This was to focus on publishing primary historical documents and manuscripts relating to Australasia and the Pacific, reprinting rare books and translating manuscripts into English. The foundation has allowed hundreds of thousands of historic documents to be microfilmed and made available to users in Australia and overseas. Sixteen historical books were also published, from a reprint of the New South Wales Calendar and General Post Office Directory for 1832 to a facsimile of William Bradley's First Fleet Journal, A Voyage to New South Wales. [11]
Dixson recognised and acknowledged the importance of using primary sources to write history. Indeed, he was committed to the idea that when historical manuscripts were published 'there should be no editing permitted'. [12] William Dixson's dream was to make Australia's history better known. His passion for collecting and his enormous generosity made this dream a reality and a lasting legacy for the cultural and historical records of Australia.
References
Cook, B. 'Dixson, Sir William (1870–1952),' Australian Dictionary of Biography. National Centre of Biography, Australian National University. http://adb.anu.edu.au/biography/dixson-sir-william-6343/text10211. Published in hardcopy 1981. Viewed 12 December 2013.
Jones, DJ. A Source of Inspiration and Delight: The Buildings of the State Library of New South Wales since 1826. Sydney: Library Council of New South Wales, 1988.
Neville, R. A Passion for Collecting: Sir William Dixson. Sydney: State Library of NSW, 2013.
Notes
[1] William Dixson, 1919 quoted in R Neville, A Passion for Collecting: Sir William Dixson (Sydney: State Library of NSW, 2013), 27
[2] B Cook, 'Dixson, Sir William (1870–1952),' Australian Dictionary of Biography, National Centre of Biography, Australian National University, http://adb.anu.edu.au/biography/dixson-sir-william-6343/text10211, published in hardcopy 1981, viewed 6 June 2015
[3] R Neville, A Passion for Collecting: Sir William Dixson (Sydney: State Library of NSW, 2013), 8
[4] R Neville, A Passion for Collecting: Sir William Dixson (Sydney: State Library of NSW, 2013), 8–10
[5] R Neville, A Passion for Collecting: Sir William Dixson (Sydney: State Library of NSW, 2013), 13
[6] R Neville, A Passion for Collecting: Sir William Dixson (Sydney: State Library of NSW, 2013), 19
[7] Quoted in DJ Jones, A Source of Inspiration and Delight: The Buildings of the State Library of New South Wales since 1826 (Sydney: Library Council of New South Wales, 1988), 87
[8] R Neville, A Passion for Collecting: Sir William Dixson (Sydney: State Library of NSW, 2013), 1
[9] R Neville, A Passion for Collecting: Sir William Dixson (Sydney: State Library of NSW, 2013), 37
[10] R Neville, A Passion for Collecting: Sir William Dixson (Sydney: State Library of NSW, 2013), 38
[11] R Neville, A Passion for Collecting: Sir William Dixson (Sydney: State Library of NSW, 2013), 45
[12] R Neville, A Passion for Collecting: Sir William Dixson (Sydney: State Library of NSW, 2013), 45