Luna Park Ghost Train fire 1979
Cite this
Close
Citation
Persistent URL for this entry
http://dictionaryofsydney.org/entry/luna_park_ghost_train_fire_1979
To cite this entry in text
Wyndham, Darrienne , Luna Park Ghost Train fire 1979, Dictionary of Sydney, 2021, http://dictionaryofsydney.org/entry/luna_park_ghost_train_fire_1979, viewed
27 Jan 2022
To cite this entry in a Wikipedia footnote citation
cite web | url= http://dictionaryofsydney.org/entry/luna_park_ghost_train_fire_1979 | title = Luna Park Ghost Train fire 1979 | author = Wyndham, Darrienne | date = 2021 | work = Dictionary of Sydney | publisher = Dictionary of Sydney Trust | accessdate =
27 Jan 2022
To cite this entry as a Wikipedia External link
cite web | url = http://dictionaryofsydney.org/entry/luna_park_ghost_train_fire_1979 | title = Luna Park Ghost Train fire 1979 | accessdate =
2021
| author = Wyndham, Darrienne | date = 2021 | work = Dictionary of Sydney | publisher = Dictionary of Sydney Trust
Luna Park Ghost Train fire 1979
The Luna Park Ghost Train was one of the original rides installed at the popular amusement park, which opened in 1935. The children's ride, which snaked through a dark tunnel of black-painted timber, had been inspected by the local council and fire brigade in 1977 and found to be a fire risk. Luna Park's management was given two years to adopt ten fire-protective measures. These measures had not been undertaken by May 1979, and the Luna Park company was granted another twelve months to install emergency lighting, mark emergency exits and add a hose reel inside the ride.[1]
[media]Just a month later, a blaze broke out inside the Ghost Train ride. The fire on 9 June 1979 claimed the lives of seven people; four young students at Waverley College, aged between twelve and thirteen, and three members of the Godson family. Jenny Godson, who lost her husband and two young sons in the accident, had left the line for the Ghost Train to buy icecreams.[2]

A coronial inquiry was established at the Glebe Coroner's Court in August 1979 under Coroner Kevin Anderson, who severely criticised the actions of Luna Park staff before, during and after the fire. Witnesses claimed to have smelled smoke drifting from the Ghost Train several minutes before the fire was discovered, which was initially dismissed as a special effect; the usual attendant within the ride, who could have easily detected the difference, was not on patrol.[3] The cause of the fire could not be conclusively stated, though it was possible that a lit cigarette or a wiring fault may have ignited the timber inside the ride. The disorientating tunnel inside the Ghost Train, still unmarked with exit signage, meant that the possibility of escape, especially for young children, was severely limited. A fire ventilation expert, who inspected the Ghost Train in 1977, described the interior: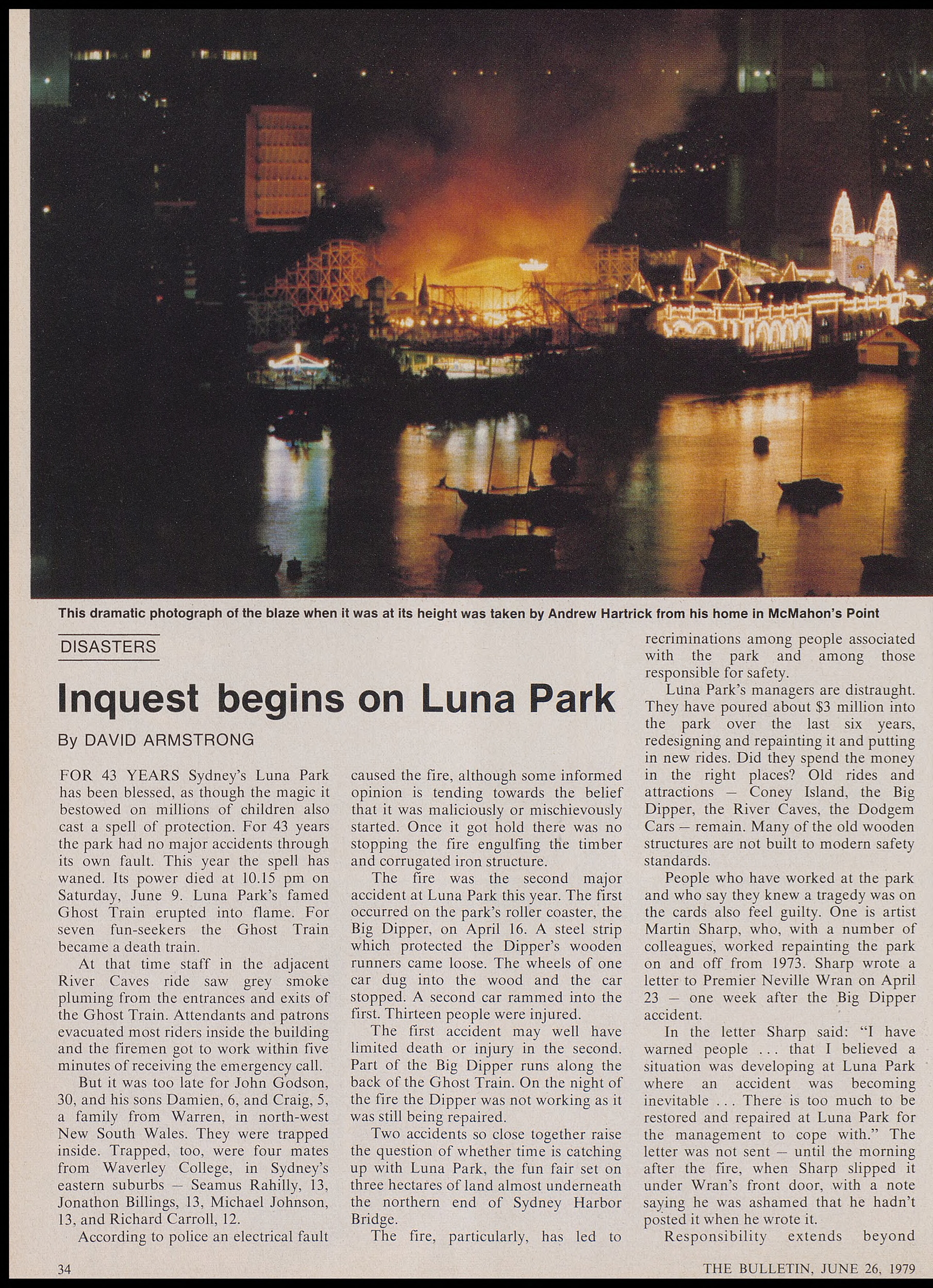 'It was a maze, I think most people know what a maze is, pitch dark, I went in there when the maintenance lights are on and I had to find out what material was being used in there. It was timber, all painted black…as a matter of fact even with the light on I was bumping into the partitions and the wall. It was a timber ceiling, I would have got lost even with the lights on. The only way I could keep going was to follow the railway track.' [4]
The coroner's findings reported that the Luna Park company had failed in its duty of care due to cost-cutting and recommended further examination of all the rides at the amusement park. The inquiry found that the seven deaths were caused by carbon monoxide poisoning and burns, but that the deaths were ultimately accidental.
Though the case was reopened by the coroner in 1987, no new findings were made. [5]
Notes
[1] Coroner Kevin Anderson, SM, 1979. Coronial Inquiry into the Fire and Deaths at Luna Park. NSW Coroner's Court.
[2] 'Luna Park Tragedy: 36th Anniversary', Daily Telegraph website 9 June 2015. https://www.dailytelegraph.com.au/news/nsw/luna-park-tragedy-36th-anniversary-of-the-fire-that-killed-seven-riders-on-the-ghost-train-in-1979/news-story/6e70f4ea61959d1d393ce597da253c78 viewed 19 November 2020
[3] 'Court reports deaths accidental "care failure" at Luna Park', The Canberra Times 4 September 1979,10 http://nla.gov.au/nla.news-article110595026 viewed 19 November 2020
[4] Coroner Kevin Anderson, SM, 1979. Coronial Inquiry into the Fire and Deaths at Luna Park. NSW Coroner's Court. ;
[5] 'Luna Park fire still mystery', The Canberra Times 22 October 1985, 8. http://nla.gov.au/nla.news-article132373438 viewed 19 November 2020