Cite this
Close
Citation
Persistent URL for this entry
http://dictionaryofsydney.org/entry/wynyard_park
To cite this entry in text
Whitaker, Anne-Maree, Wynyard Park, Dictionary of Sydney, 2008, http://dictionaryofsydney.org/entry/wynyard_park, viewed
22 May 2022
To cite this entry in a Wikipedia footnote citation
cite web | url= http://dictionaryofsydney.org/entry/wynyard_park | title = Wynyard Park | author = Whitaker, Anne-Maree | date = 2008 | work = Dictionary of Sydney | publisher = Dictionary of Sydney Trust | accessdate =
22 May 2022
To cite this entry as a Wikipedia External link
cite web | url = http://dictionaryofsydney.org/entry/wynyard_park | title = Wynyard Park | accessdate =
2008
| author = Whitaker, Anne-Maree | date = 2008 | work = Dictionary of Sydney | publisher = Dictionary of Sydney Trust
Wynyard Park
[media]Wynyard Park is bounded by York, Carrington, Margaret and Barrack streets. Between 1792 and 1818, military barracks were erected on the eastern, southern and western sides of the future park site, leaving a large open square in the centre. [media]This became known as Barracks Square or the Parade Ground. It was from here that the New South Wales Corps marched to arrest Governor Bligh in 1808, an event later known as the Rum Rebellion.
In 1848 the new Victoria Barracks in Paddington were erected and the original barracks moved. [media]The Wynyard land was subdivided for the construction of private dwellings and shops. Provision was made for a square to remain on the higher part of the former Barrack Square. It was named Wynyard Square after General Edward Buckley Wynyard, commander of the British forces in Australia from 1848 to 1853.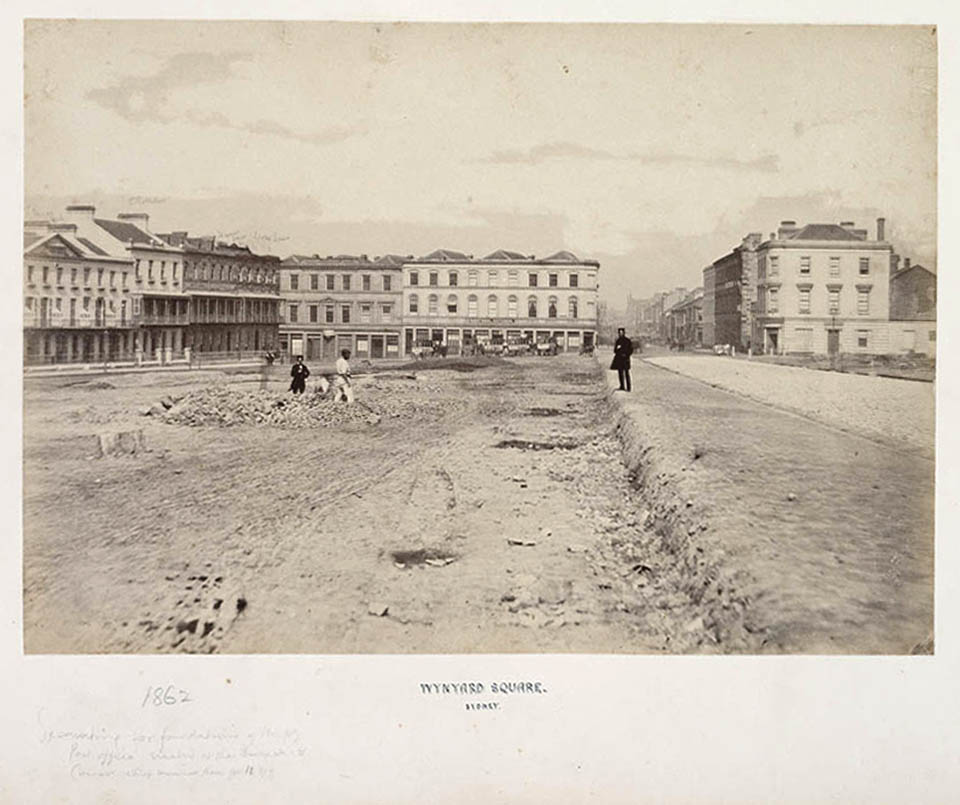 [media]The square was dedicated as a recreation ground in 1875 and it was fenced and landscaped. Like similar squares in England, its use was confined to residents who held keys to the gates. By 1907 however, the American trend of removing fences around parks had been copied here. During the 1880s a bus terminus was established for passengers from the southern suburbs. And so began the area's long association with public transport. The building of a railway station here was first suggested in 1881 but it was 1932 before Wynyard Station opened.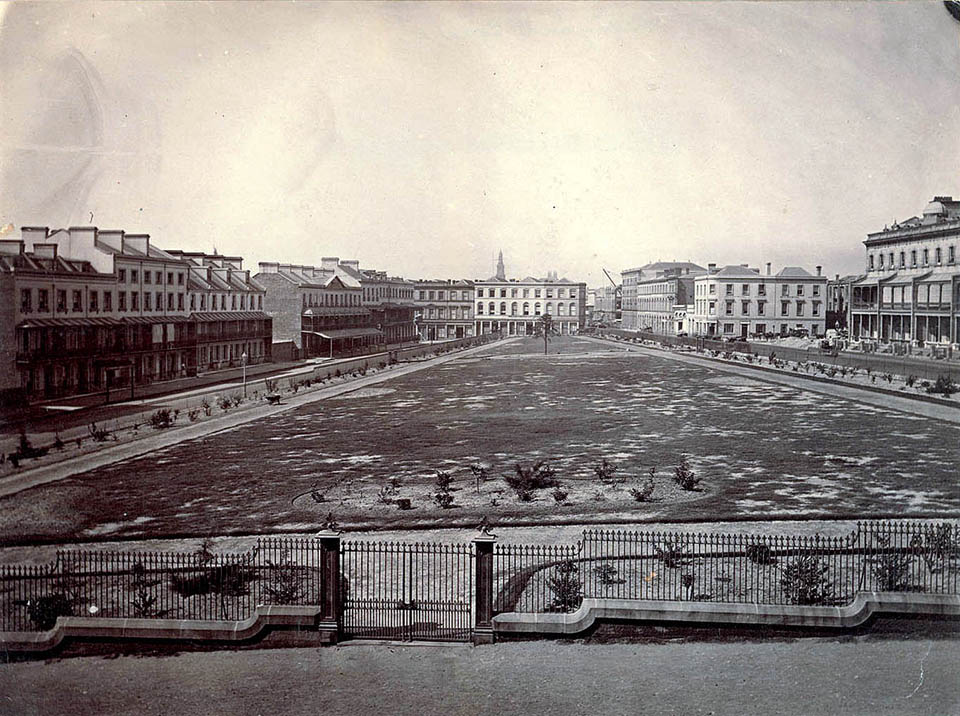 The square became a public park in 1887 and the following year a bandstand was erected in the centre of the park. In 1893 Canary Island palm trees were planted and a memorial statue to John Dunmore Lang was [media]erected in 1891. Dr Lang, the controversial Presbyterian pioneer, had lived at Wynyard Square and was responsible for the erection of the Scots Church on its northern side. The statue was sculpted by Giovanni Fontana.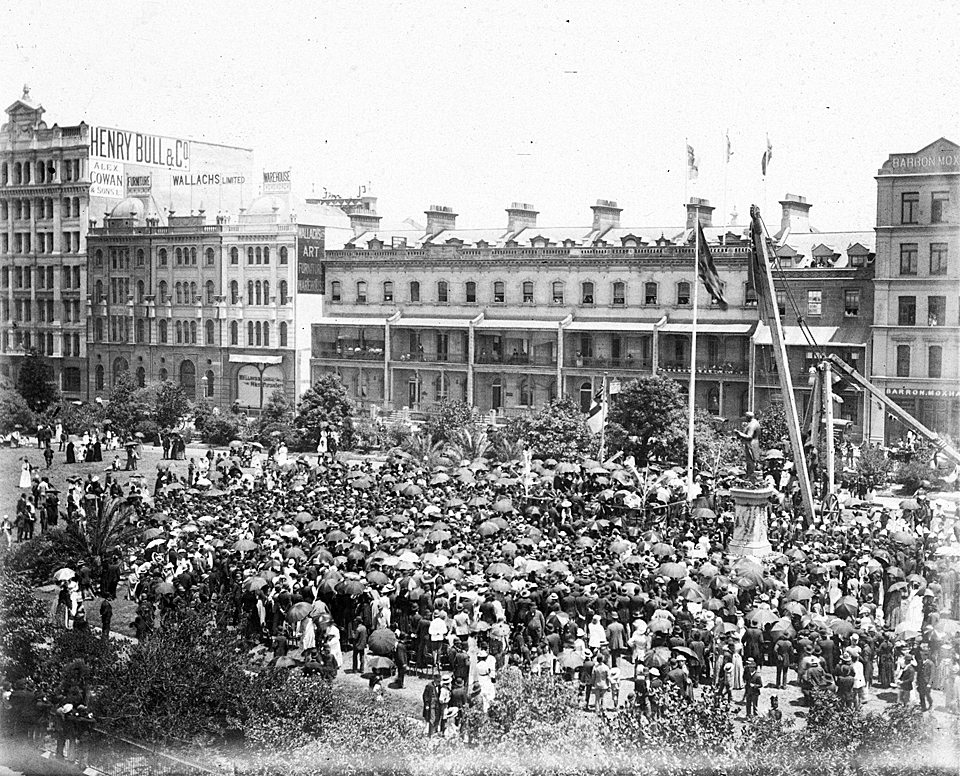 [media]The ornate underground men's lavatory with a domed glass roof was built in 1912. It is similar to others at Hyde Park, Taylor Square and Macquarie Place.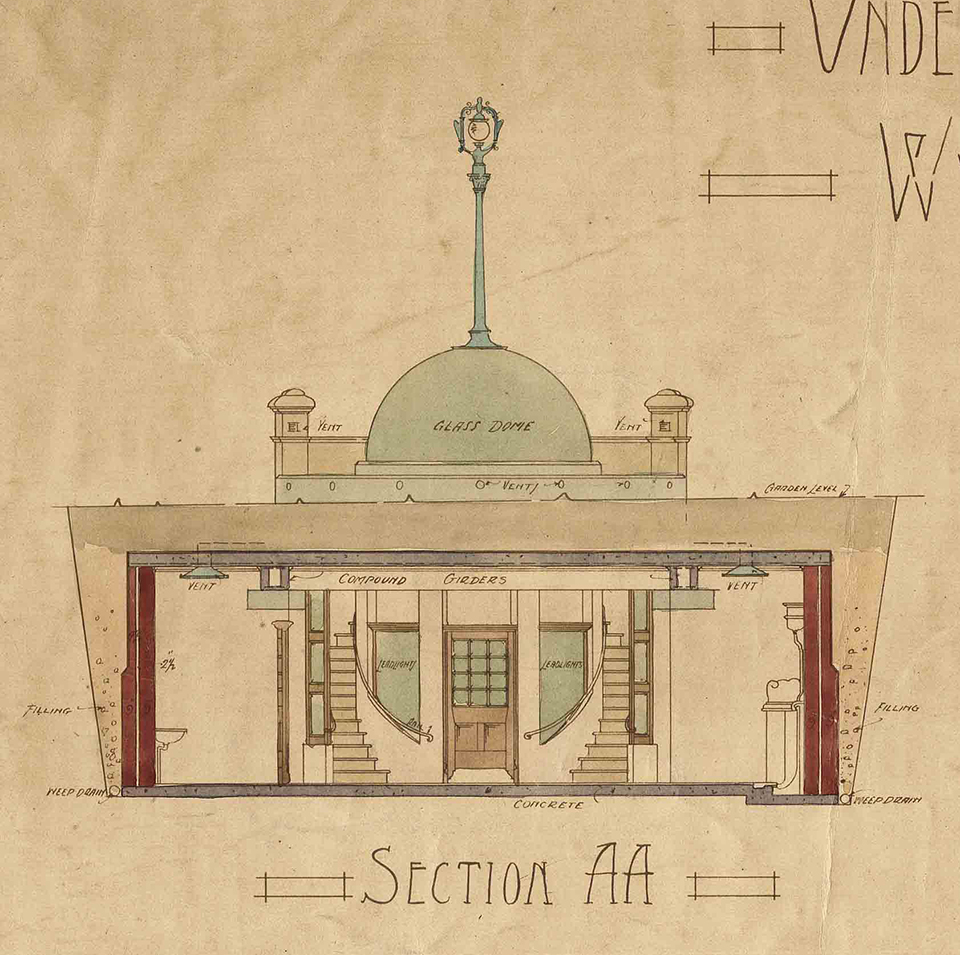 The park was almost completely dug up in 1925 to build the city circle rail line, with reconstruction beginning in 1933. From this time, the train station created a demand for [media]bus parking which came to dominate the streets surrounding the park.
Major changes to Wynyard Park occurred in 1996 when a new entrance to Wynyard Station was built in the centre of the park. In 1998 a new restoration programme for the park began, including conservation of the statue and the men's lavatory.
References
Conybeare Morrison and Partners, Wynyard Park Draft Plan of Management, 1992
Conybeare Morrison and Partners, Wynyard Park Draft Plan of Management, 1993, revised by Council of the City of Sydney, 1996
Notes