The Dictionary of Sydney was archived in 2021.
Cite this
Close
Citation
Persistent URL for this entry
http://dictionaryofsydney.org/index.php/entry/indonesians
To cite this entry in text
McCormack, Terri, Indonesians, Dictionary of Sydney, 2008, http://dictionaryofsydney.org/index.php/entry/indonesians, viewed
08 Dec 2022
To cite this entry in a Wikipedia footnote citation
cite web | url= http://dictionaryofsydney.org/index.php/entry/indonesians | title = Indonesians | author = McCormack, Terri | date = 2008 | work = Dictionary of Sydney | publisher = Dictionary of Sydney Trust | accessdate =
08 Dec 2022
To cite this entry as a Wikipedia External link
cite web | url = http://dictionaryofsydney.org/index.php/entry/indonesians | title = Indonesians | accessdate =
2008
| author = McCormack, Terri | date = 2008 | work = Dictionary of Sydney | publisher = Dictionary of Sydney Trust
Indonesians
The earliest visitors to Australia from the islands that now constitute Indonesia were trepang fishermen from Macassar in Sulawesi who established trading contact with Indigenous communities in northern Australia in the late seventeenth century. From the 1870s, Javanese and 'Koepangers' from West Timor were recruited for the pearling and sugar industries. From 1901, under the Immigration Restriction Act, most were returned home. The 1933 Census recorded only 227 Indonesian-born residents in Australia.
[media]In 1942, many Indonesians as well as Dutch were evacuated to Australia but most of the Indonesians were repatriated after the war. On 17 August 1945, Indonesia, an archipelago of more than 13,000 islands and many ethnic groups, declared independence from its colonial Dutch overlord. Bahasa Indonesia, very similar to Malay, is the official language, but there are more than 500 other languages and dialects. As near neighbours with vastly different cultures, Australia and Indonesia have a close but often tense relationship, particularly after the Indonesian takeover of Portuguese East Timor in 1975, and after Timor L'Este's declaration of independence in 2002.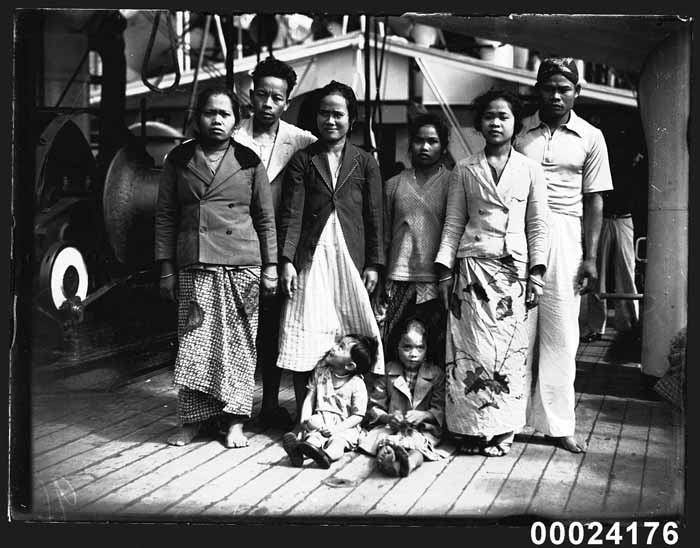 Students and settlers
[media]From the 1950s, Indonesian students became temporary residents under the Colombo Plan but it was not until the White Australia policy was dismantled in the early 1970s that increasing numbers arrived in Sydney. Some were from East Timor, escaping the Indonesian annexation of the former Portuguese colony in 1975. In the 1961 census, there were 6,000 Indonesian speakers in Australia. In 2001, there were 47,160 Indonesian-born persons in Australia, an increase of 7 per cent from the 1996 Census. The 2001 distribution by State and Territory showed New South Wales had the largest number with 21,010.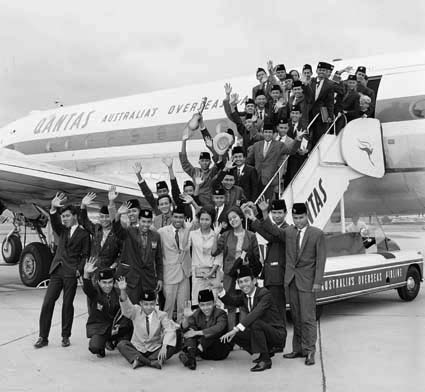 Dutch Indonesians
About 10,000 Dutch Indonesians settled in Australia between 1945 and 1965. Of these, 1,000 were war refugees and 4,000 came via the Netherlands. Together with those of mixed race – Indo-Europeans – they were discouraged from migrating by Australia's stringent immigration policy until the 1970s. The 1986 census identified 5,051 people born in Indonesia with Dutch ancestry.
Sydney's Indonesians
Sydney's ethnic Indonesian community is the largest of any capital city, being about 19,725 in 2001. Many live near the University of New South Wales or near work locations in the western suburbs. Wealthy Chinese-Indonesian business migrants prefer to live in the St Ives area, and do not participate in Indonesian community activities.
Religion and language
The religious and linguistic diversity of the Indonesian-born community in Sydney reflects their multi-racial background. Islam is the major religion of Indonesia. [media]Muslim Indonesians in Sydney pray at the Al Hijrah Mosque in Tempe and are members of the Global Islamic Youth Centre in Liverpool. They speak Bahasa Indonesia and this is broadcast on SBS radio programs. The majority of migrants, however, are Chinese, many of whom escaped discrimination in Indonesia. They speak Cantonese, Mandarin and English, and are Buddhist or Christian. An Indonesian Christian Fellowship provides church services at Stanley Street, an Indonesian Family Church at Redfern, and an Indonesian Buddhist Association at Lewisham and Wentworthville.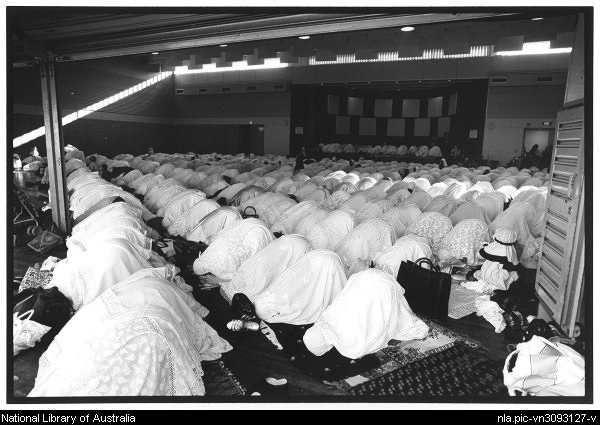 Community organisations
The Indonesian Association of NSW Inc (Perhimpunan Indonesia Inc) at Eastwood is an umbrella organisation for a number of Indonesian social, cultural and religious organisations. Other groups are the Indonesian Welfare Association at Burwood and the Australia Indonesia Association (NSW). With offices at Botany, Rockdale and Campsie, the Indonesian Community Council assists new settlers deal with unfamiliar challenges and provides a place for social interaction.
Music and food
The Indonesian Cultural Centre (Balai Budaya Indonesia) at the University of Sydney provides information on Indonesian language and culture. The diversity of Indonesian culture is reflected in the many groups teaching and performing music and dance. These include Galura Bandung (Sundanese) at Daceyville, Garis Music Productions (Javanese) at Dulwich Hill, Kalooma Promotions (Sundanese) at Lewisham, and the Langen Suka Sydney Gamelan Association. The Arimba Culture Exchange at Petersham promotes collaboration between Australian and Indonesian artists.
Major community events include celebrations for Indonesian Independence Day on 17 August, an annual food and cultural festival, and the end of Ramadan, enjoyed by Muslims and non-Muslims alike.
Sydney has long had Indonesian restaurants, such as Borobadur in Oxford Street in the 1970s, while today, Kensington, near the University of New South Wales, is a hub of Indonesian culture with a range of restaurants serving such typical Indonesian dishes as satay ayam (chicken satay), rendang (dry beef), kari ikan (fish curry), nasi goreng, hot sambals, and very fiery Padang food. Rijstafel, a feast of rice with multiple dishes, is a Dutch contribution to Indonesian cuisine.
References
Janet Penny, 'Indonesians in Australia: from migration to integration 1947–1986', unpublished PhD Thesis, La Trobe University, 1993
Loes Westerbeek-Veld, 'Dutch Indonesians in Australia: second-generation identity in the diaspora', unpublished PhD thesis, Deakin University, 2006
Notes