The Dictionary of Sydney was archived in 2021.
Cite this
Close
Citation
Persistent URL for this entry
http://dictionaryofsydney.org/index.php/entry/lucas_nathaniel
To cite this entry in text
Matthew, Kate, Lucas, Nathaniel, Dictionary of Sydney, 2011, http://dictionaryofsydney.org/index.php/entry/lucas_nathaniel, viewed
06 Jun 2023
To cite this entry in a Wikipedia footnote citation
cite web | url= http://dictionaryofsydney.org/index.php/entry/lucas_nathaniel | title = Lucas, Nathaniel | author = Matthew, Kate | date = 2011 | work = Dictionary of Sydney | publisher = Dictionary of Sydney Trust | accessdate =
06 Jun 2023
To cite this entry as a Wikipedia External link
cite web | url = http://dictionaryofsydney.org/index.php/entry/lucas_nathaniel | title = Lucas, Nathaniel | accessdate =
2011
| author = Matthew, Kate | date = 2011 | work = Dictionary of Sydney | publisher = Dictionary of Sydney Trust
Lucas, Nathaniel
Nathaniel Lucas was born around 1764 in Surrey, England. [1] Convicted for stealing women's clothing, Nathaniel was transported with the First Fleet to Sydney Cove on the Scarborough. As a skilled master carpenter, he quickly found responsibility and professional success in various colonial positions once his Ticket of Leave was granted, and his rapidly growing Lucas clan was clearly positioned for success. Nathaniel's death by drowning in 1818 has long been attributed to drunkenness; however, there is now speculation that he may have suffered from a form of facial cancer, and that this previously teetotal man had used rum as a pain-killer.
Early life in England
Very little is known about Nathaniel's early life. A letter survives in the Mitchell Library from Nathaniel to his father, John, indicating that Nathaniel was literate and had at least some education. [2] Nathaniel was a carpenter, a skill that provided an avenue for rapid advancement in the colony, and implies that he underwent an apprenticeship of some form. Nathaniel sent money to his mother in England on at least two known occasions, so it is clear that his English family was still very much intact and in touch with Nathaniel some decades after his transportation. [3] Despite this, Nathaniel shows no indication of ever wanting to return home.
The trial at the Old Bailey
Nathaniel's trial is an interesting case study of a conviction based on what would now be considered circumstantial evidence. From 1773 until July 1784, Nathaniel shared a room in a boarding house with another single man, and therefore the door was never locked. [4] The evidence presented to the court was that a quantity of women's clothing was found in his bed, hidden in the mattress. The fact that anyone else could have gained access to that room was not given much weight in the decision. Part of Nathaniel's defence included his statement that he always went to bed by 9 pm and did not go to the landlord's pub to get drunk, which supports the hypothesis that he was not a habitual drinker.
Professional life in Sydney
Nathaniel disembarked with the rest of the Scarborough convicts at Sydney Cove in late January 1788. Within a few weeks, he was one of 15 convicts chosen to accompany Lieutenant-Governor Philip Gidley King to Norfolk Island to establish a settlement there. He soon met and formed a relationship with fellow-convict Olivia Gascoigne, though they were not formally married until 1791. When the convicts staged a rebellion in January 1789, Nathaniel was one of three men who did not support them, and it seems to have been assumed by the rebels that he was too close to King to be allowed any inkling of the plot beforehand. [5]
Even after his time expired in December 1789, Nathaniel and his family chose to stay on Norfolk. In a relatively short time, he obtained positions of responsibility on the island, such as Master Carpenter in 1795 and Superintendent of Carpenters in 1804, usually acting in the role on the departure of the previous holder of the position until his appointment could be confirmed by the governor in Sydney. [6] On Norfolk Island, Nathaniel also gained experience as a supervisor, using 40 men to construct a water mill in three months. [7] Despite his obvious success, his temper did get him into trouble occasionally, and he was suspended twice from roles on Norfolk Island for misconduct or impertinence: both situations involved Lieutenant-Governor Foveaux. [8] Yet despite his temper, Nathaniel and his family showed an early industriousness that set them up for long-term success. They appear to have been farming very successfully, selling approximately £450 worth of supplies to the colony in 1802–03. [9]
[media]Nathaniel was well respected by Lieutenant-Governor King and when Norfolk Island was to be evacuated in 1805, King suggested that Nathaniel return to Sydney instead of accompanying the majority of Island residents to Van Diemens Land. [10] By this time, the family had been on Norfolk Island for 16 years, and there were undoubtedly better opportunities for their rapidly maturing sons in Sydney than in Van Diemens Land. In Sydney, Nathaniel was given a 14-year lease on land at Church Hill for a home for his family, and land near the Domain, where the Mitchell Library now stands, to build a mill of his own. [11] This was the first post mill constructed in the Sydney Cove area, and was capable of grinding, with the aid of a sufficiently strong wind, more than six bushels per hour. [12] The mill is thought to have been where the Shakespeare Memorial is now outside the Mitchell Library, and once completed it was leased to Henry Kable. This arrangement disintegrated a few years later, when Nathaniel had to sue Kable for unpaid rent and evict him from the mill. [13] The property was reclaimed by the Governor a few years later, and Nathaniel was compensated with a land grant near Liverpool.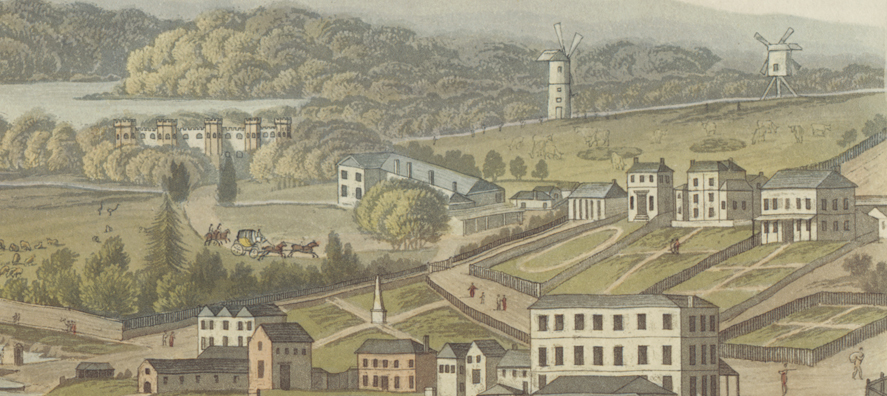 [media]Nathaniel was, by then, running the Government Mill that he had built under contract for Governor King. [14] In 1809, he was granted a liquor license, and opened a hotel in The Rocks. [15] It represented the first serious diversification of business interests for his family; however it was a short-lived venture, as the business declined in the hands of his eldest son William. Another sideline for the family business was boat-building. It is unclear where Nathaniel learnt these particular skills, but perhaps it was as part of his carpentry training. Two boats were advertised for sale in his name in April 1809. [16] Nathaniel also seems to have been engaged in some private business for himself, as he is recorded as being paid from the Police Fund for a toll-house and five watch-houses in 1811, and for fitting up two rooms in the General Hospital for temporary courts in 1815. [17]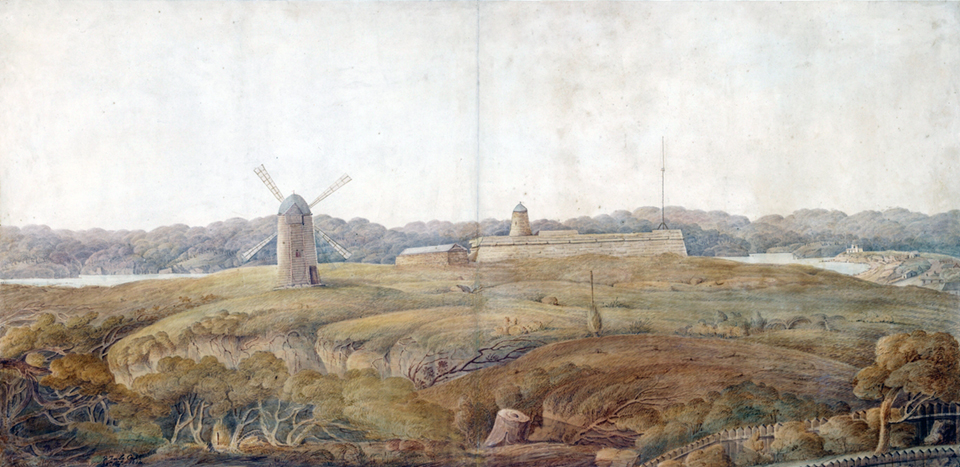 He also held a number of government roles. From 1805 until December 1814 he was Superintendent of the government lumber yard, with a salary of £50 per year and the privilege of drawing victuals from the government store for himself and his family. [18] He is also believed to have had some involvement in the building of the Sydney Hospital, although it is not clear in what capacity. It is likely that this involvement first brought him into contact with Francis Greenway, the celebrated convict architect. The two men did not get along, and the relationship was fraught with difficulty.
Family life in Sydney
Olivia Gascoigne, who arrived with the First Fleet on the Lady Penrhyn, was also one of the convicts chosen to accompany King to Norfolk Island. Olivia and Nathaniel married in a ceremony officiated by the Reverend Richard Johnson when he visited the Island in November 1791. [19] Their first nine children were born on Norfolk Island, including twin daughters – Sarah and Mary – who were killed when a tree-felling operation went wrong and a large tree fell on the house. Olivia, who was also inside and holding their baby son William at the time, was seriously hurt in the accident and is believed to have suffered some form of disability from it for the rest of her life. A further two children were born following the family's return to Sydney.
By early in 1817, Nathaniel and Olivia's marriage appears to have broken down. It is possible that, just before this, Nathaniel had started drinking to control the pain from the facial cancer, but this sudden intake of alcohol after a lifetime of abstinence, as well as ongoing pain, may have made him difficult to live with. [20] Olivia joined those of her children who had emigrated to Tasmania, leaving Nathaniel at the farm at Liverpool. At least two of his sons were also in Sydney at this time.
Nathaniel's death
Large families for many of their children followed, although Nathaniel did not live to meet many of his grandchildren. He died on 28 April 1818, drowned near Liverpool. [21] The newspaper account of his death suggests that he may have died at his own hand; however, there is no other evidence to support this. He had quarreled with Francis Greenway a couple of days previously regarding a stone quarry in the Liverpool area, during which Greenway accused Nathaniel of being drunk, and Greenway later reported to Governor Macquarie that Nathaniel had been served a writ of execution a few hours prior to his death. [22] It is not clear how Greenway came by this information and no further evidence is available. However, as it was provided to Governor Macquarie in response to some rumours in circulation that Greenway might be at least connected with Nathaniel's death, it is reasonable to assume that Greenway may have been indulging in a little misdirection in his own interest. Nathaniel was buried at St Luke's Church of England, Liverpool, described on his headstone as 'a Kind Husband and an Indulgent Father'. [23]
References
MH Ellis, Francis Greenway, Angus & Robertson, Sydney, 1978 (1949)
Historical Records of Australia, Series 1, Vol II – VIII, The Library Committee of the Commonwealth Parliament, 1914–16
Peter McKay, A Nation Within a Nation, the author, Geelong, 2001
The Proceedings of The Old Bailey, http://www.oldbaileyonline.org/index.jsp
Valda Rigg, 'Convict Life: A 'Tolerable Degree of Comfort'?', in Raymond Nobbs (ed), Norfolk Island and its First Settlement, 1788–1814, North Sydney, 1988, pp 97–111
Notes
[1] Peter McKay, A Nation Within a Nation,the author, Geelong, 2001, p 15
[2] Nathaniel Lucas to John Lucas, letter, 1796, Governor PG King's Papers, State Library of New South Wales, Mitchell Library manuscripts collection
[3] Peter McKay, A Nation Within a Nation, the author, Geelong, 2001, p 23
[4] The Old Bailey Transcripts incorrectly show Nathaniel's surname as 'Lucus'. The Proceedings of the Old Bailey, Reference Number: t17840707-59, http://www.oldbaileyonline.org/browse.jsp?id=t17840707-59-defend630&div=t17840707-59#highlight, 20 April 2011
[5] Valda Rigg, 'Convict Life: A 'Tolerable Degree of Comfort'?', in Raymond Nobbs (ed), Norfolk Island and its First Settlement, 1788–1814, North Sydney, 1988, p 103
[6] 'General Order', The Sydney Gazette, 9 September 1804, p 1; Reginald Wright, 'Land Usage', in Raymond Nobbs (ed), Norfolk Island and its First Settlement, 1788–1814, North Sydney, 1988, p 119
[7] Eric Martin & Philip Cox, 'The First Buildings of Norfolk Island', in Raymond Nobbs (ed), Norfolk Island and its First Settlement, 1788–1814, North Sydney, 1988, p 132
[8] Acting Governor King to The Duke of Portland, letter, 10 March 1801, Historical Records of Australia, Series 1, Vol III – 1801-1802, The Library Committee of the Commonwealth Parliament, 1915, p 54; Reg Wright, The Forgotten Generation of Norfolk Island and Van Diemens Land, Library of Australian History, North Sydney, 1986, p 45
[9] Lord Hobart to Governor King, letter, 30 November 1803, Historical Records of Australia, Series 1, Vol IV – 1803 to June 1804, The Library Committee of the Commonwealth Parliament, 1915, p 437
[10] Governor King to Lieutenant-Governor Foveaux, letter, 1 October 1804, Historical Records of Australia, Series 1, Vol V, The Library Committee of the Commonwealth Parliament, 1915, p 221; Valda Rigg, 'Convict Life: A 'Tolerable Degree of Comfort'?', in Raymond Nobbs (ed), Norfolk Island and its First Settlement, 1788–1814, North Sydney, 1988, pp 110-111
[11] Governor Bligh to The Right Hon William Windham, letter, 31 October 1807, Historical Records of Australia, Series 1, Vol VI – August 1806 to December 1808, The Library Committee of the Commonwealth Parliament, 1916, p 155
[12] 'Sydney', Sydney Gazette, 23 June 1805, p 2
[13] 'Sales by Auction', Sydney Gazette, 17 August 1811, p 2
[14] 'Sydney', Sydney Gazette, 16 February 1806, p 2
[15] 'Sydney', Sydney Gazette, 26 February 1809, p 1
[16] 'Sales by Auction', Sydney Gazette, 30 April 1809, p 2
[17] 'Public Notice', Sydney Gazette, 20 April 2011, p 2; 'Government and General Orders', Sydney Gazette, 22 April 1815, p 2
[18] Governor Macquarie to Viscount Castlereagh, letter, 10 April 1810, Historical Records of Australia, Series 1, Vol VII – January 1809 to June 1813, The Library Committee of the Commonwealth Parliament, 1916, p 328; Governor Macquarie to Earl of Liverpool, letter, 17 November 1812, Historical Records of Australia, Series 1, Vol VII, p 641; 'The Memorial of the Superintendents, Overseers, Head Constables and Jailors, serving under the Government of New South Wales', 9 September 1814, Historical Records of Australia, Series 1, Vol VIII, pp 323-4; 'Government and General Orders', Sydney Gazette, 31 December 1814, p 1; Eric Martin & Philip Cox, 'The First Buildings of Norfolk Island', Norfolk Island and its First Settlement, 1788-1814, edited by Raymond Nobbs, Chapter 8, North Sydney, 1988, p 131
[19] Valda Rigg, 'Convict Life: A 'Tolerable Degree of Comfort'?', in Raymond Nobbs (ed), Norfolk Island and its First Settlement, 1788–1814, North Sydney, 1988, p 98
[20] Peter McKay, A Nation Within a Nation, the author, Geelong, 2001, p 26
[21] 'Sydney', Sydney Gazette, 9 May 1818, p 3
[22] Francis Greenway to Governor Lachlan Macquarie, letter, 12 May 1818, Colonial Secretary Correspondence – In, pp 205-206, Mitchell Library; MH Ellis, Francis Greenway, Angus & Robertson, Sydney, 1978 (1949), pp 95–97
[23] Peter McKay, A Nation Within a Nation, the author, Geelong, 2001, p 27