The Dictionary of Sydney was archived in 2021.
Cite this
Close
Citation
Persistent URL for this entry
http://dictionaryofsydney.org/index.php/entry/nathan_isaac
To cite this entry in text
Skinner, Graeme, Nathan, Isaac, Dictionary of Sydney, 2008, http://dictionaryofsydney.org/index.php/entry/nathan_isaac, viewed
10 Dec 2023
To cite this entry in a Wikipedia footnote citation
cite web | url= http://dictionaryofsydney.org/index.php/entry/nathan_isaac | title = Nathan, Isaac | author = Skinner, Graeme | date = 2008 | work = Dictionary of Sydney | publisher = Dictionary of Sydney Trust | accessdate =
10 Dec 2023
To cite this entry as a Wikipedia External link
cite web | url = http://dictionaryofsydney.org/index.php/entry/nathan_isaac | title = Nathan, Isaac | accessdate =
2008
| author = Skinner, Graeme | date = 2008 | work = Dictionary of Sydney | publisher = Dictionary of Sydney Trust
Nathan, Isaac
Isaac Nathan, [media]composer, conductor, publisher and printer, was born in Canterbury, England, in 1790. Despite being the English-born son of a Polish synagogue cantor, from as early as 1922, Nathan has been proudly hailed as 'Australia's first composer'. [1]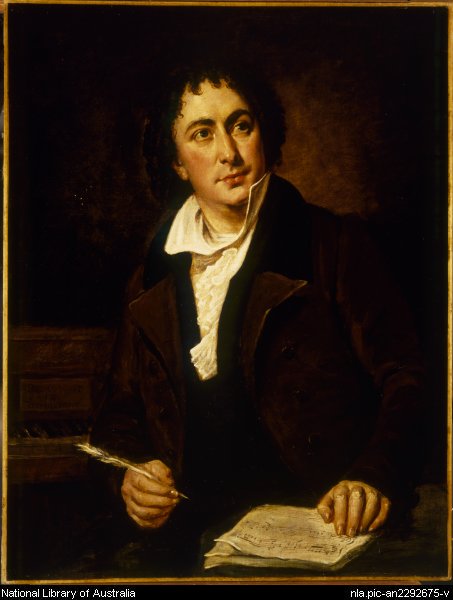 Life as a spy
In London in 1814, Nathan met the poet Byron, leading to their joint publication Hebrew Melodies (1815–19), in which Nathan set Byron's poems to Jewish chants. Nathan was later music librarian to King George IV, and also a royal spy, at least according to his biographer and descendent Catherine Mackerras (mother of the conductor Charles). Involved in 'an important affair of trust' on behalf of William IV, he ran into serious financial trouble and judiciously opted to emigrate to Australia. [2]
Australia's first opera
Nathan arrived in Sydney in April 1841 after a brief stopover in Melbourne, and quickly became the city's leading singing instructor. He formed a musical society at St Mary's Cathedral. On the occasion of the dedication of a new organ on 30 June 1841, he conducted a choir in performances of two fugues, one from Beethoven's Mass in C, and another from Mozart's Twelfth Mass. He later also formed a musical society at St James's church, and in 1844 directed the music at the dedication of the York Street Synagogue.
[media]In the ensuing decade he composed several operas, the first and most famous of which was his Spanish romance, Don John of Austria. As he later described it in his 'Australian miscellany', The Southern Euphrosyne (1849): [3]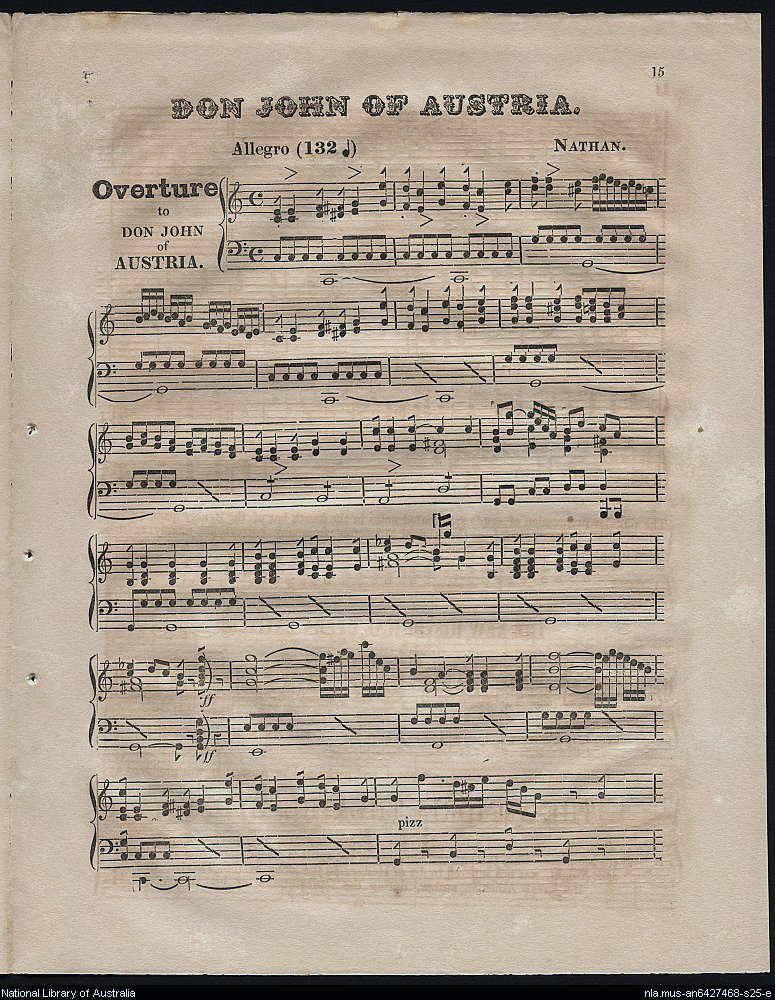 This Opera, the first ever written, composed, and performed in Australia, was produced at The Victoria Theatre, Sydney, to an elegantly crowded and delighted auditoria on Monday, May 7th, 1847, under the direction of the composer – who, through the liberality of the spirited Proprietors, Messers Wyatt and Knight, was not suffered to die of Hunger in the lobby of the Theatre, like the great Athenian author, during the representation of his labours.
Today, the opera's overture is regularly played. In his original score Nathan provided only a piano accompaniment, however today it is usually performed in the excellent orchestration made by Nathan's great-great-great-great-grandson, Charles Mackerras.
Creating a national musical culture
[media]According to James Hall, 'During his 23 years in Sydney, [Nathan] put a solid foundation to its nebulous musical life, and set its course towards artistic maturity.' [4] His many compositions contributed not only to the city's, but to the colony's national musical culture. This can be seen in such patriotic vocal odes as Australia the Wide and Free (to verses by WA Duncan), to celebrate the inaugural Sydney City Council in 1842 ('Composed and respectfully inscribed to The Right Worshipful John Hosking, Mayor of Sydney'), and the musical entertainment Currency Lasses, for the 58th anniversary of the founding of Sydney in 1846.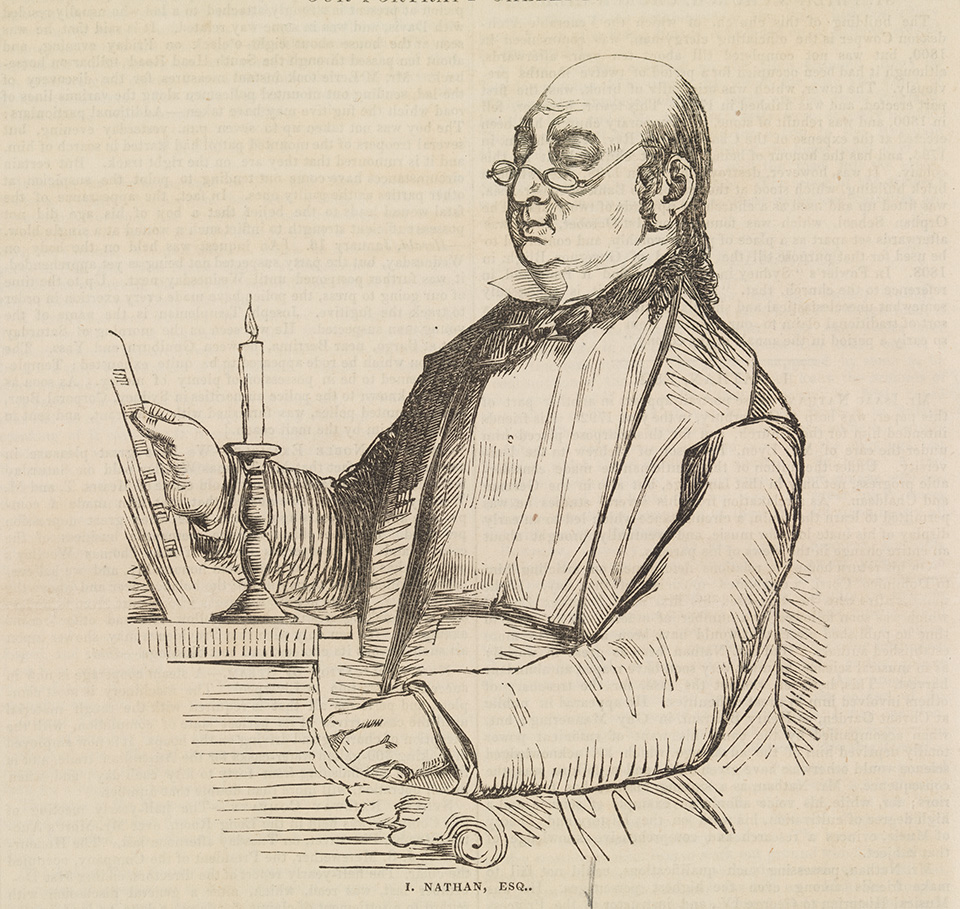 Nathan's writings reveal a man of boundless energy and optimism. Composing music was far from being his only occupation. 'Composing' printing type for his self-published musical and literary works was still a major occupation at the age of 70: [5]
The most High and Wonderful Geometrician of the Universe has in His infinite mercy and goodness granted me that health and strength which enables me to stand over my letter-press and music found, nightly and daily, week after week, for at least twenty hours of every four and twenty.
A tragic end
The circumstances of Nathan's accidental death in Sydney were graphically reported in London's Jewish Chronicle on 25 March 1864:
Mr Nathan … a passenger by No 2 tramway car … alighted from the car at the southern end, but before he got clear of the rails the car moved onwards … he was thus whirled round by the sudden motion of the carriage and his body was brought under the front wheel.
In addition to his musical legacy, Nathan is remembered for having built Byron Lodge in Randwick (named after his erstwhile literary collaborator). He also once lived and operated his printing press at Ada Cottege [sic], Prince Street. Nathan was invited to stand for the New South Wales parliament in 1856, but declined, telling the Sydney Morning Herald that he could not
pledge myself to any particular party ... I bar every attempt to force me into a promise to perform a solo or take part in canon, fugue or chorus of any composition not in unison with my theatrical notions of harmony and time.
References
Charles Bertie, 'Isaac Nathan: Australia's first composer, a lecture delivered at the Conservatorium of Music', Angus & Robertson, Sydney, 1922
James Hall, 'A history of music in Australia (15)', The canon, vol 5 no 8, March 1952, pp 261–364
Catherine Mackerras, The Hebrew melodist: a life of Isaac Nathan, Currawong Publishing Co, Sydney, 1963
Catherine Mackerras, 'Isaac Nathan', Australian Dictionary of Biography, vol 2 Melbourne University Press, Melbourne, 1967, pp 279–80
Elizabeth Wood, 'Isaac Nathan', Grove Music Online, http://www.oxfordmusiconline.com/, accessed June 2008, viewed June 2008
Notes
[1] Charles Bertie, 'Isaac Nathan: Australia's First Composer, a lecture delivered at the Conservatorium of Music', Angus & Robertson, Sydney, 1922
[2] James Hall, 'A History of Music in Australia (15)', The Canon, vol 5 no 8, March 1952, p 362
[3] James Hall, 'A History of Music in Australia (15)', The Canon, vol 5 no 8, March 1952, pp 363–64
[4] James Hall, 'A History of Music in Australia (15)', The Canon, vol 5 no 8, March 1952, p 364
[5] Charles Bertie, 'Isaac Nathan: Australia's First Composer, a lecture delivered at the Conservatorium of Music', Angus & Robertson, Sydney, 1922, p 16