Cite this
Close
Citation
Persistent URL for this entry
http://dictionaryofsydney.org/entry/balmain_william
To cite this entry in text
Vincent, Alison, Balmain, William, Dictionary of Sydney, 2008, http://dictionaryofsydney.org/entry/balmain_william, viewed
26 Jan 2022
To cite this entry in a Wikipedia footnote citation
cite web | url= http://dictionaryofsydney.org/entry/balmain_william | title = Balmain, William | author = Vincent, Alison | date = 2008 | work = Dictionary of Sydney | publisher = Dictionary of Sydney Trust | accessdate =
26 Jan 2022
To cite this entry as a Wikipedia External link
cite web | url = http://dictionaryofsydney.org/entry/balmain_william | title = Balmain, William | accessdate =
2008
| author = Vincent, Alison | date = 2008 | work = Dictionary of Sydney | publisher = Dictionary of Sydney Trust
Balmain, William
[media]Born in Scotland and educated at Edinburgh University, William Balmain was commissioned assistant surgeon to New South Wales in October 1786 and sailed in the transport Alexander the next May, reaching Port Jackson in January 1788.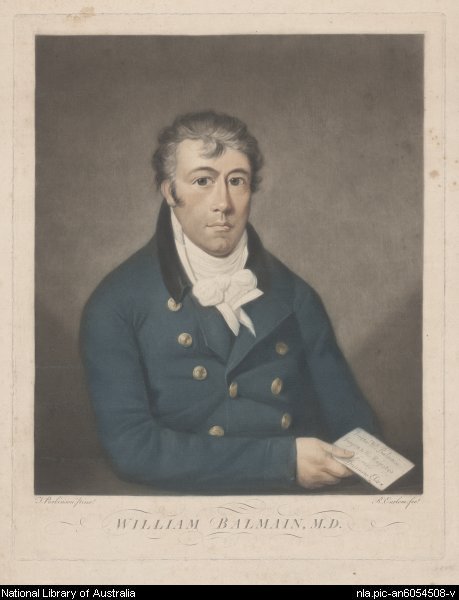 He worked hard in the early days of the new colony, distinguishing himself when he removed a spear from the shoulder of Governor Phillip. Philip was sufficiently impressed to promote him to senior surgeon at Norfolk Island in October 1791.Once there, he was also appointed a civil magistrate. When the principal surgeon, John White, returned to England on leave in 1794, Balmain was recalled to Sydney to act in his place, and was eventually appointed principal surgeon in August 1796. Balmain had never been on good terms with White, and once he was in charge he set about reforms, requesting more medical staff and supplies to minister to the ever-increasing population of the colony. He was also active in the administrative affairs of the colony with his magisterial duties, which saw him involved in the inquiry into the attempted Irish convict conspiracy against the administration in 1800, and service on the gaol and orphan committees.
Balmain was first granted land at the Field of Mars in December 1794, and in 1800 received a grant of 550 acres (223 hectares) which was to become the suburbs of Balmain and Rozelle. Farming contributed to his finances but he also involved himself in the trade in liquor in the colony.
In 1801 Balmain returned to England with his de facto wife Margaret Dawson and their son John. Back in London he corresponded with Sir Joseph Banks outlining his criticisms and suggesting reforms to be made to the courts in the colony and the structuring of the civil administration. Although Governor King regarded him as a communicative and sensible man, Balmain did not have a high regard for the governor and in 1802 applied to retire on a pension rather than return to the colony. On 17 November 1803 he died in London leaving his property to Margaret and their three children.
References
BH Fletcher, 'Balmain, William (1762–1803)', Australian Dictionary of Biography, vol 1, Melbourne University Press, Melbourne, 1966, pp 51–52
Peter L Reynolds, and Paul V Flottman, Half A Thousand Acres: Balmain – a history of the land grant, The Balmain Association, 1976
Peter L Reynolds, William Balmain and John Gilchrist: Family and Property, Balmain Historical Society Monograph No 5, Leichhardt Historical Journal Inc., Balmain, 2003
State Library of New South Wales manuscript catalogue
Notes