The Dictionary of Sydney was archived in 2021.
Castle Hill convict rebellion 1804
Cite this
Close
Citation
Persistent URL for this entry
http://dictionaryofsydney.org/entry/castle_hill_convict_rebellion_1804
To cite this entry in text
Whitaker, Anne-Maree, Castle Hill convict rebellion 1804, Dictionary of Sydney, 2009, http://dictionaryofsydney.org/entry/castle_hill_convict_rebellion_1804, viewed
06 Dec 2023
To cite this entry in a Wikipedia footnote citation
cite web | url= http://dictionaryofsydney.org/entry/castle_hill_convict_rebellion_1804 | title = Castle Hill convict rebellion 1804 | author = Whitaker, Anne-Maree | date = 2009 | work = Dictionary of Sydney | publisher = Dictionary of Sydney Trust | accessdate =
06 Dec 2023
To cite this entry as a Wikipedia External link
cite web | url = http://dictionaryofsydney.org/entry/castle_hill_convict_rebellion_1804 | title = Castle Hill convict rebellion 1804 | accessdate =
2009
| author = Whitaker, Anne-Maree | date = 2009 | work = Dictionary of Sydney | publisher = Dictionary of Sydney Trust
Castle Hill convict rebellion 1804
The Castle Hill rebellion, [media]which occurred in Sydney in 1804, originated in the 1798 Rebellion in Ireland. This rebellion has been described as one of the most concentrated episodes of violence in Irish history, with a death toll on all sides estimated at 30,000. In turn it grew from the seeds of the American Revolution of 1776 and the French Revolution of 1789. It was the first nationally organised rebellion in Ireland, and is generally considered the startof the modern phase of Ireland's struggle for self-government. The 1798 Rebellion culminated at the Battle of Vinegar Hill, outside Enniscorthy in County Wexford, although military and legal mopping-up operations continued until 1801. In the aftermath of the rebellion, 400 or more participants were transported to New South Wales.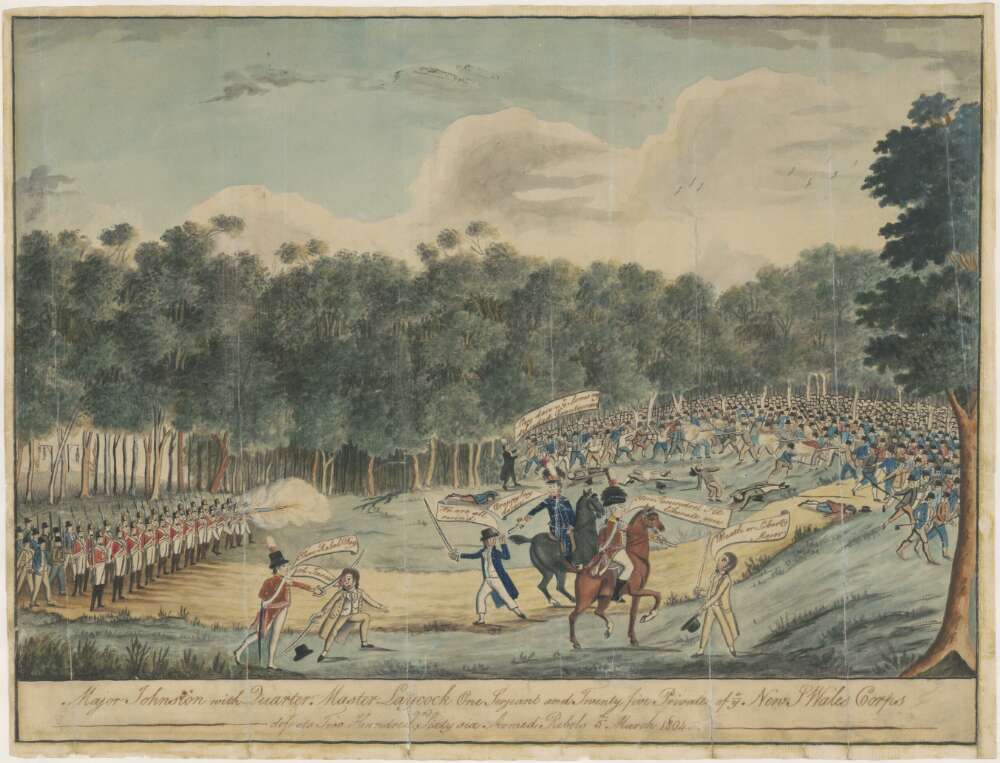 The impact of the 1798 exiles in their destination was profound. In 1800, when the Minerva and Friendship arrived from Ireland, Sydney Town was a 12-year old settlement with a population of some 2,500, of whom 43 per cent were convicts. The combined population of Parramatta and Toongabbie was slightly under 1,500, of whom over two-thirds were convicts. The Hawkesbury was predominantly a free settlement, with convicts comprising only 13 per cent of its 1,100 residents. The military were mainly concentrated in Sydney, with small garrisons at the other settlements.
The Irish could scent the vulnerability of their place of exile, and as a result their rebelliousness continued. In New South Wales it was coupled with the desire to escape, return to their homeland and assist in the anticipated renewal of rebellion. There were disturbances throughout 1800: in February a seditious gathering was broken up in Sydney, and in May another plot was reported. In September and October further conspiracies were investigated, and supposed participants flogged or sent to Norfolk Island. In December, a plot on Norfolk Island was forestalled by the execution of two of its leaders.
More ships arrived from Ireland – the Anne in 1801, followed by the Atlas I , Atlas II and Hercules in 1802. Each of them brought more veterans of the 1798 Rebellion, and more news of continuing unrest in the Irish countryside. On Sunday 22 January 1804 a whaling ship arrived in Sydney: the Ferret, five months out of London, with newspapers as recent as 22 August 1803. These brought first reports of the new uprising in Dublin, led by Robert Emmet.
Rebellion at Castle Hill
Exactly six weeks after New South Wales first heard of Emmet's failed insurrection, on Sunday 4 March 1804, the Irish prisoners at Castle Hill staged a rebellion. The sun set at 6.28 pm, and the rebels made their move at seven o'clock as darkness fell. The house of one of the leaders at Castle Hill was set alight as a signal that the rising had begun.
The 200 convicts at Castle Hill were guarded only by a few convict constables, most of whom joined the rising. Led by Philip Cunningham, a former United Irish captain and recruiting officer, now overseer of Government stonemasons, the convicts raided all the houses in Castle Hill for weapons. Then Cunningham gathered them together and gave a rousing speech: he assured the prisoners that Sydney and Parramatta were ready to be taken, and that after scouring the settlements for arms he would lead them to the Hawkesbury, where they would form a combined force of 1,100 men. This army would return to Castle Hill on Tuesday morning for breakfast, and then proceed to capture Parramatta. After planting a Tree of Liberty at Government House, the rebels would go to Sydney where they would embark on the ships which would be waiting for them. He ended with the rallying cry, 'Now, my boys, Liberty or Death!' Cunningham then led them to the top of a nearby hill, where they divided into parties to raid the surrounding settlements for more arms and volunteers.
Shortly after 9 pm, word of the rising reached Parramatta. The settlers believed their plan was to draw most of the garrison of 50 out of the barracks and enable the rebels to take the arsenal it contained. Instead the main group of rebels assembled on Constitution Hill at Toongabbie. The crest of the hill, three and a half kilometres north-west of Parramatta across the Government Domain, provided a panoramic view, enabling the rebels to see anyone approaching with torches from Sydney or Parramatta. Equally, any fires on the hill were visible from a great distance. It was a spot well chosen to create an intimidating presence and ensure the rebels had early warning of any large-scale troop movements overnight. In addition it dominated the road between Parramatta and the Hawkesbury.
The authorities respond
The general alarm was given in Sydney town at 11.30 pm with the firing of cannons and the beating of drums. At midnight Major George Johnston of the New South Wales Corps was awakened by a trooper at his home in Annandale and told that the governor was on his way. Shortly afterwards Governor King rode up with word that 500 to 600 Croppies were in arms and that troops were on their way from Sydney. At 1.30 am a company of 55 soldiers arrived at Annandale, where Major Johnston took command and led them to Parramatta. The Governor arrived at Parramatta at four o'clock and announced the imminent arrival of Major Johnston and 100 soldiers. The sun rose on 5 March at 5.46 am, so it was not long after five o'clock when Major Johnston reached the Parramatta barracks 'at the dawn of the day'.
The troops then divided. Lieutenant Davies led half of them north towards Castle Hill. The other half under Major Johnston headed west to the rebel camp at Toongabbie. When he reached the camp, Johnston was told that 400 rebels were on the top of Constitution Hill. He sent an advance guard of five soldiers and six or eight settlers armed with muskets along the Hawkesbury Road to flank the rebels, while he and Quartermaster Laycock led the remaining 20 troops and nearly 40 armed volunteers up the hill. They found that the rebels had retreated towards the Hawkesbury. After a forced march through the night, the troops now faced a pursuit on a day which was 'intensely hot'. Johnston and Trooper Thomas Anlezark rode ahead while the main party proceeded on foot. After a chase of 16 kilometres Johnston finally received word that the rebels were less than two kilometres ahead. It was about 10.30 am on Monday 5 March.
Demands and defeat
Johnston and Anlezark galloped after the rebels and asked to speak to their leaders. The estimated rebel force of 250 called to Major Johnston to come among them. He replied that he was within pistol shot so was no threat, and their commanders should come out and speak to him. Eventually after some delay Philip Cunningham and William Johnson advanced from the rebel lines. Major Johnston told them he wanted to avoid bloodshed and offered to bring Father Dixon to speak to them. Their response was a modification of the usual slogan: 'Death or Liberty, and a ship to take us home'. Major Johnston rode back to the advancing troops and returned with Father Dixon to the rebels who were forming into a line on the 'second hill this side of the last Halfway Pond' under the command of Johnson and Cunningham. Major Johnston called for the two men he had spoken to earlier to come forward again. Major Johnston, apparently unarmed, renewed his call for them to surrender, Father Dixon adding his own appeal to avoid bloodshed. The reply was the same as before.
At that moment, however, Quartermaster Laycock and his force came into view. With the rebels distracted, Major Johnston produced a pistol he had concealed in his sash and clapped it to the head of one of the rebel leaders, telling him he would 'blow his soul to hell'. Trooper Anlezark did the same to the other. Retreating with his captives, Johnston ordered the troops to open fire and charge. Firing commenced on both sides, although the rebels offered little resistance and soon scattered and ran. In the initial stages, nine rebels were killed at the Last Pond, many wounded and seven prisoners taken. Soon after, three more were killed and another 19 captured. There is no report of any deaths or injuries among the soldiers and their volunteer supporters. The rebels were pursued in all directions until an 'excessive dark' night fell.
In the aftermath, nine rebels were executed and some 30 were exiled to the Coal River (Newcastle) chain gang. Many were also flogged or placed in irons.
The location of Sydney's Battle of Vinegar Hill remained contentious until research by local historian Kevin Moore was confirmed by a Commission of Inquiry in 1982. The site in Castlebrook Memorial Park, Rouse Hill, is marked by a memorial designed by Vladimir Sitta and Ivan Polak and unveiled in 1988.
References
Kevin Moore, 'Behind Vinegar Hill', Blacktown and District Historical Society Quarterly Journal, March 1982
Kevin Moore, 'The Road to Vinegar Hill', Blacktown and District Historical Society Quarterly Journal, vol 2, no 4, December 1981
Objections made to the proposal to make a permanent conservation order in respect of land in the vicinity of Windsor Road at the Second Ponds Creek as being a site associated with the Battle of Vinegar Hill, Proposed Permanent Conservation Order No 192, report by Commissioner of Inquiry Charles O'Connell, Sydney, 1982
Official Program, 200th Anniversary of the Castle Hill Rebellion and the Battle of Vinegar Hill, Blacktown City Council, Blacktown NSW, 2004
Anne-Maree Whitaker, Unfinished Revolution: United Irishmen in New South Wales 1800–1810, Crossing Press, Sydney, 1994
Notes