Cite this
Close
Citation
Persistent URL for this entry
http://dictionaryofsydney.org/entry/fort_phillip
To cite this entry in text
Dunn, Mark, Fort Phillip, Dictionary of Sydney, 2008, http://dictionaryofsydney.org/entry/fort_phillip, viewed
21 May 2022
To cite this entry in a Wikipedia footnote citation
cite web | url= http://dictionaryofsydney.org/entry/fort_phillip | title = Fort Phillip | author = Dunn, Mark | date = 2008 | work = Dictionary of Sydney | publisher = Dictionary of Sydney Trust | accessdate =
21 May 2022
To cite this entry as a Wikipedia External link
cite web | url = http://dictionaryofsydney.org/entry/fort_phillip | title = Fort Phillip | accessdate =
2008
| author = Dunn, Mark | date = 2008 | work = Dictionary of Sydney | publisher = Dictionary of Sydney Trust
Fort Phillip
[media]In January 1804, work began on a citadel on a hill above The Rocks, on the western edge of Sydney Town, at a spot known as Windmill Hill. This site gave the proposed fort a grand view across the developing town, up the harbour and across the Parramatta River. Guns had already been placed at Dawes Point to protect the entrance to Sydney Cove, and the Windmill Hill emplacement would act in unison in the event of any threat.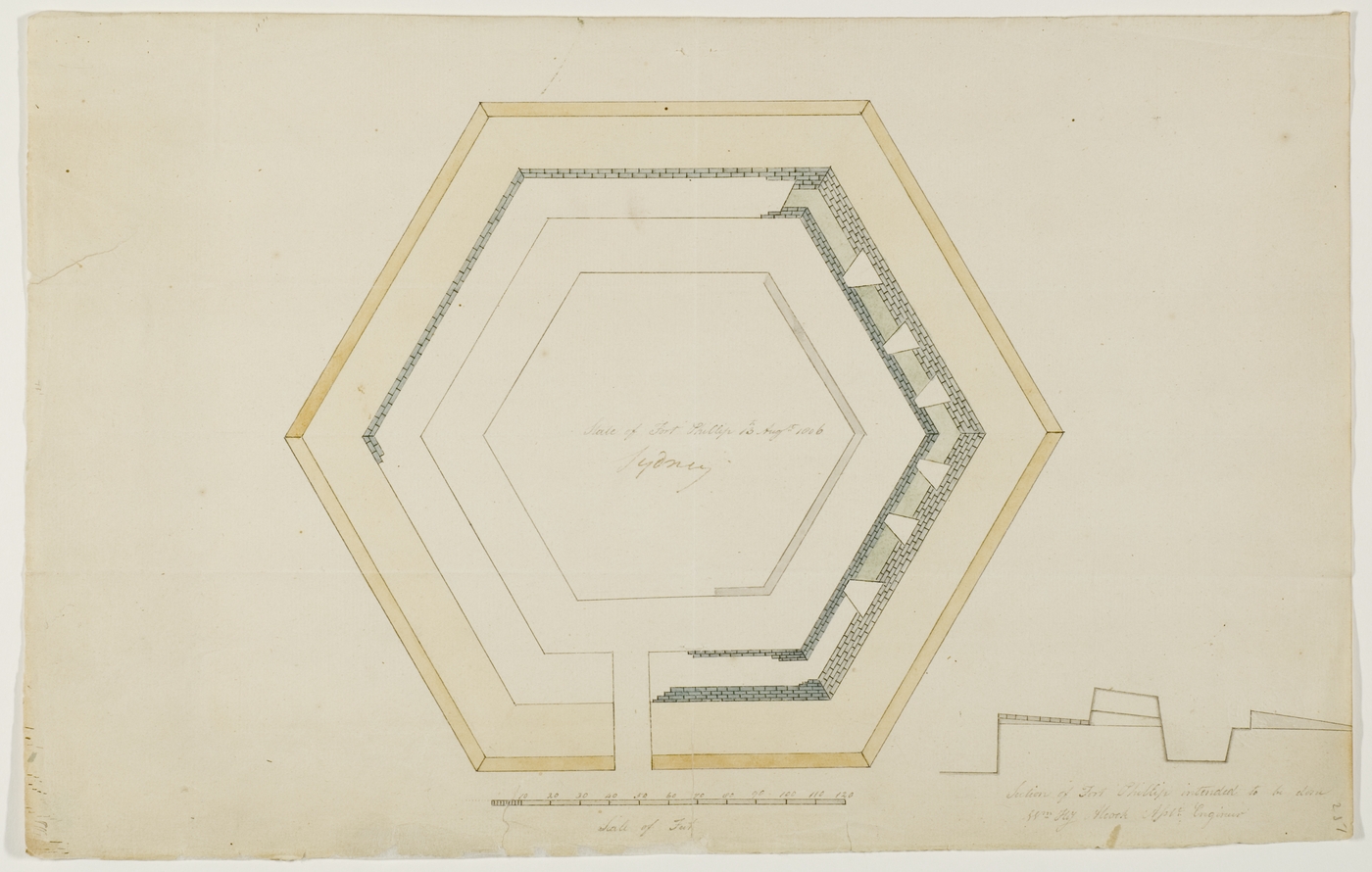 [media]In August 1804, Governor King reported on the progress of the fort, noting that construction was underway and that the position commanded the town and country and the approaches of the harbour. The new citadel appears to have been designed not only as a defence against possible foreign attackers but also as a deterrent to domestic troubles from the Indigenous population or the convicts. An armed uprising by convicts at Castle Hill, west of Sydney, in February 1804 had focused the minds of colonial rulers on the potential for internal disturbance in the colony and the need to defend the town against it. [1]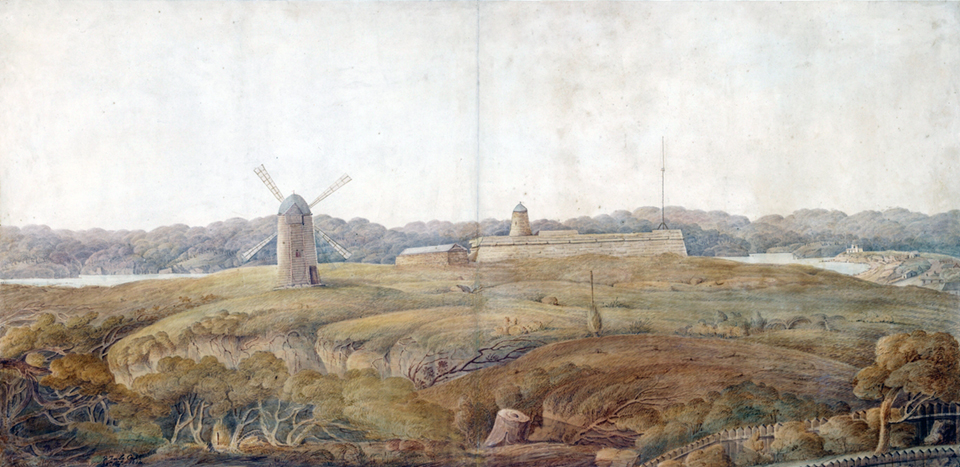 [media]In September 1804, Governor King laid the foundation stone and in March 1805 the new citadel was officially named Fort Phillip. The fort was hexagonal, with 30-metre-long sides and embrasures on each of them. A ditch 2.7 metres deep and 3.6 metres wide surrounded the fort, with the earth from the ditch used, along with stone, to build a 9-metre-high rampart, with the three sides facing the town, the harbour and the road to Parramatta. Provision for 20 guns was made, including the guns salvaged from the wrecked HMS Sirius.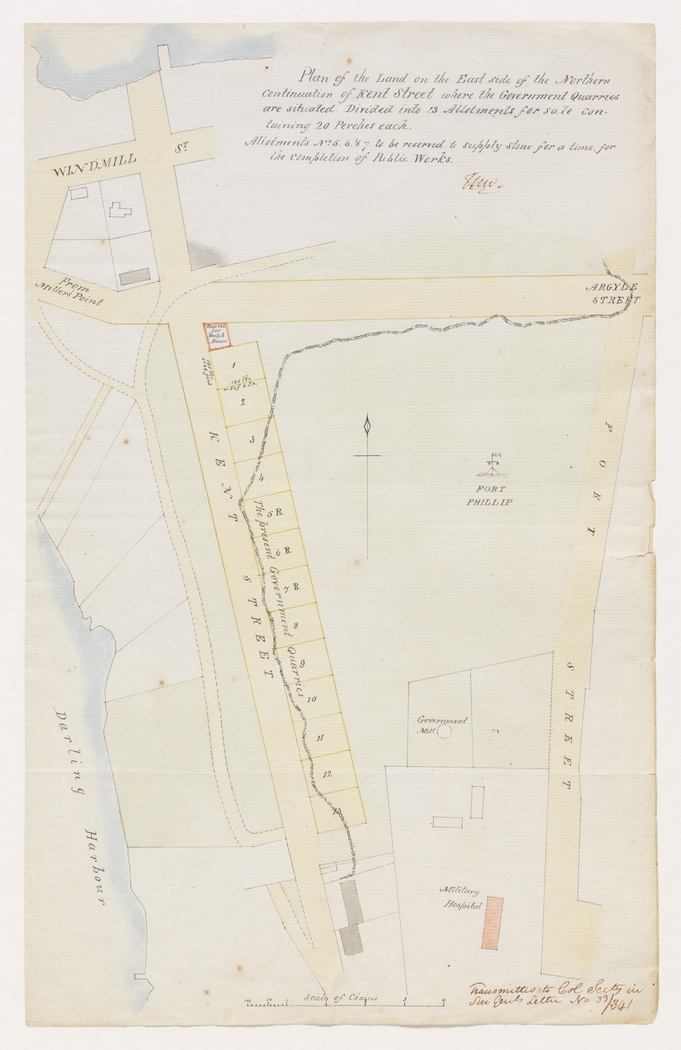 [media]Despite the perceived need for the new fort, work only continued in fits and starts, and by 1807 the project had been abandoned. In part, this was because of its prime location. By 1807, as The Rocks developed, houses were already beginning to encroach. The houses interfered with the firing lines of the fort, reducing its effectiveness.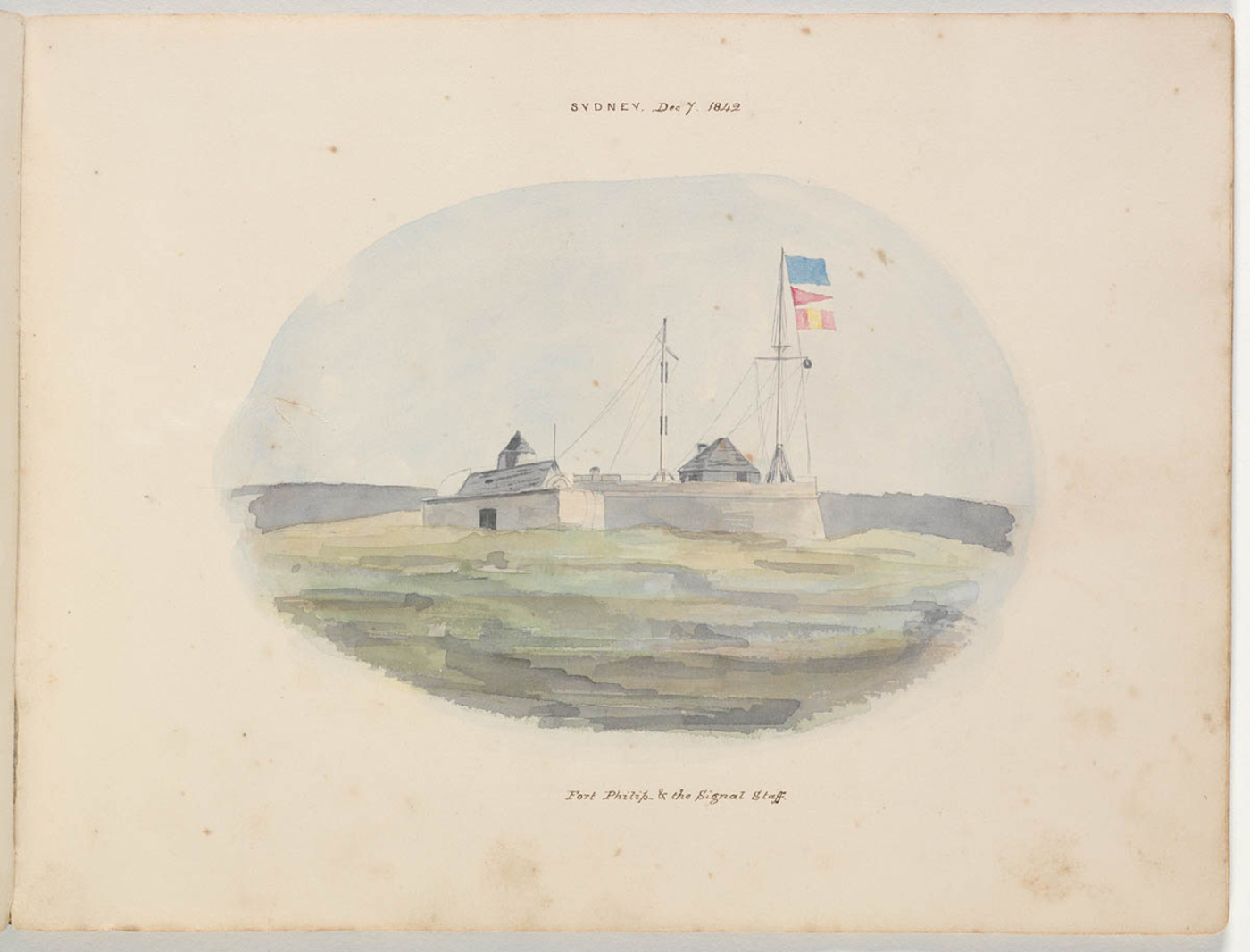 Although work on the fort effectively stopped in 1807, the guns placed there remained until the 1820s. By 1821, the fort was storing gunpowder in its bombproof magazine, which held 200 barrels of gunpowder. [2] The fort was removed from the list of effective forts in the colony in 1827, and by 1839 was being used as a telegraphic station. [3] This was a role it had performed since 1825, as it had a direct line of sight to the signal station at South Head.
In 1840, part of the fort was demolished and a new signal station was erected, itself later incorporated into the Sydney Observatory, which was built on the site in 1857.
Notes
[1] P Oppenheim, The Fragile Forts: The Fixed Defences of Sydney Harbour 1788–1963, Army History Unit, Canberra, 2004, p 14
[2] P Oppenheim, The Fragile Forts: The Fixed Defences of Sydney Harbour 1788–1963, Army History Unit, Canberra, 2004, p 22
[3] P Oppenheim, The Fragile Forts: The Fixed Defences of Sydney Harbour 1788–1963, Army History Unit, Canberra, 2004, p 30