Cite this
Close
Citation
Persistent URL for this entry
http://dictionaryofsydney.org/entry/hornby_lighthouse
To cite this entry in text
Dictionary of Sydney staff writer, Hornby lighthouse, Dictionary of Sydney, 2008, http://dictionaryofsydney.org/entry/hornby_lighthouse, viewed
22 Jan 2022
To cite this entry in a Wikipedia footnote citation
cite web | url= http://dictionaryofsydney.org/entry/hornby_lighthouse | title = Hornby lighthouse | author = Dictionary of Sydney staff writer | date = 2008 | work = Dictionary of Sydney | publisher = Dictionary of Sydney Trust | accessdate =
22 Jan 2022
To cite this entry as a Wikipedia External link
cite web | url = http://dictionaryofsydney.org/entry/hornby_lighthouse | title = Hornby lighthouse | accessdate =
2008
| author = Dictionary of Sydney staff writer | date = 2008 | work = Dictionary of Sydney | publisher = Dictionary of Sydney Trust
Hornby lighthouse
[media]The entrance to Port Jackson is four-fifths of a nautical mile (1.5 kilometres) wide and seems to be a good broad entrance. However, as events proved, it was fraught with danger.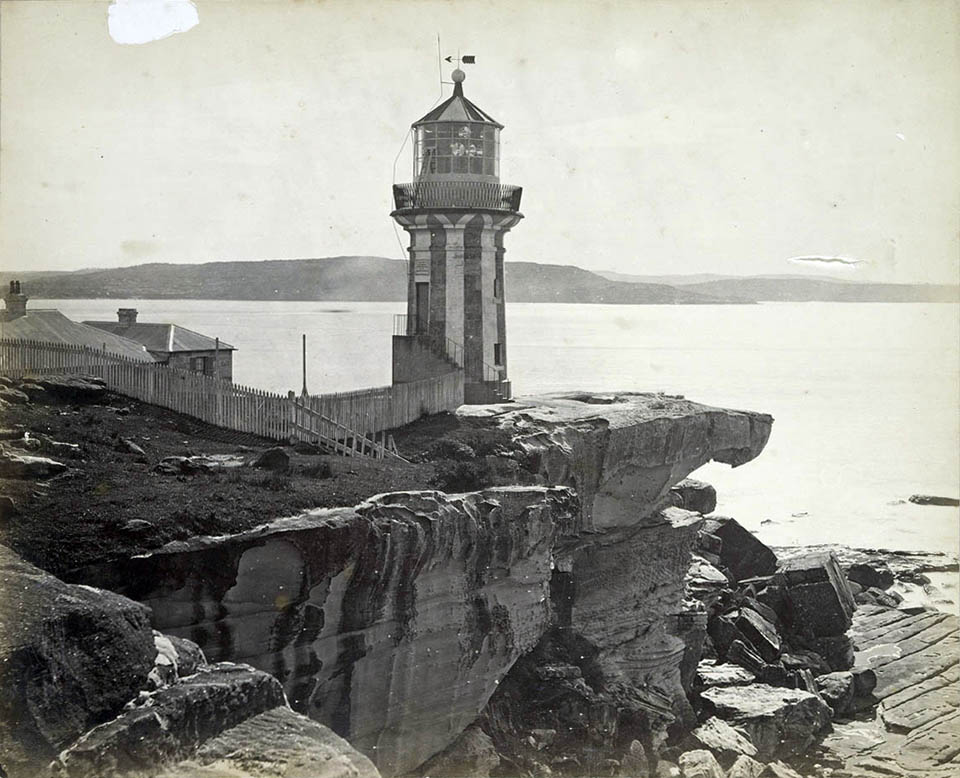 There has been a signal warning light, and later a lighthouse, on the coast just south of the entrance to Sydney Harbour since the beginning of the colony, but its location reflected past needs. This was the Macquarie Lighthouse, originally placed at a spot where it was visible from Sydney Town. It was only after two disastrous shipwrecks that a decision was made to build a new lighthouse closer to the southern entrance to Port Jackson, to improve navigational safety by more exactly marking the entrance to Jacksons Bay.
The first was the Dunbar in August 1857, and then in October that same year the Catherine Adamson, a clipper ship, went down off North Head. Twenty-one lives were lost, including the pilot who was guiding the ship in.
After these disasters, it was decided that a better-located lighthouse was needed, and this was built in 1858 low down on the extreme point of Inner South Head. It was opened by the governor, Sir William Denison, and was initially known as the Lower Light to distinguish it from the nearby Macquarie Light. Its official name was taken from the family of the governor's wife.
[media]Designed by colonial architect Alexander Dawson, it was a circular tapered tower made of curved dressed sandstone, with the light nine metres above ground level. The sandstone was quarried from the local cliff faces. Cottages for staff, including the head keeper, were built nearby.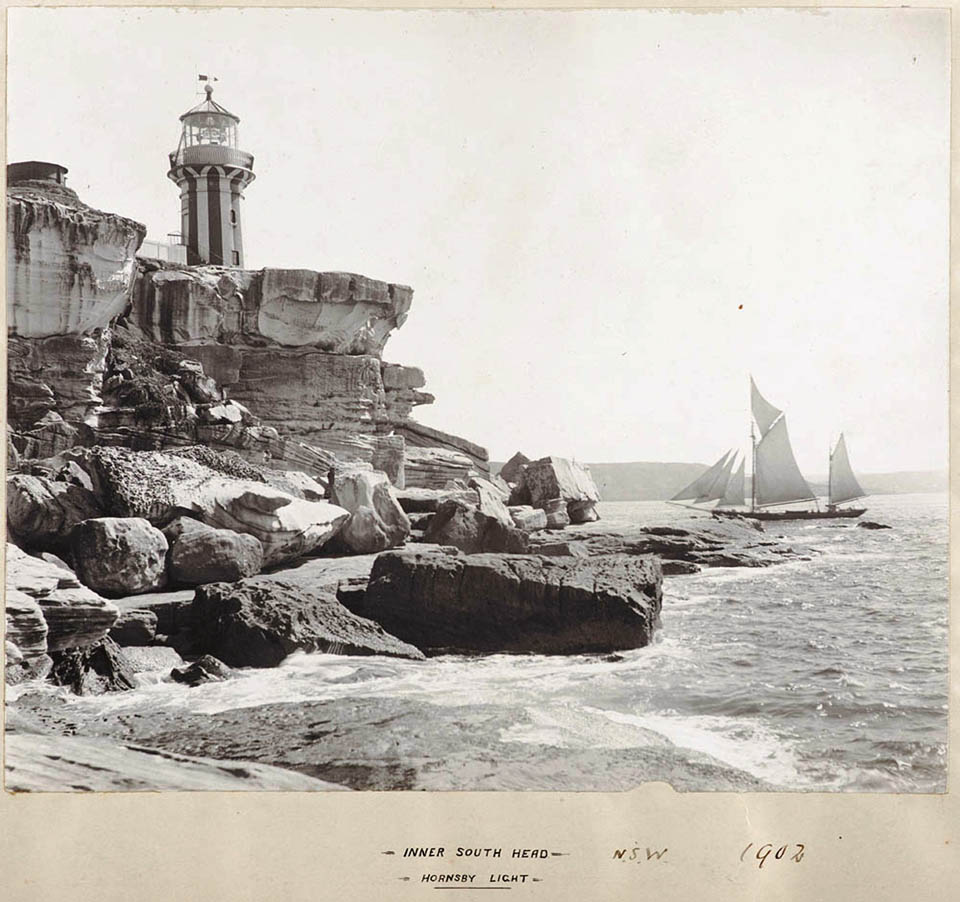 Because of its strategic position, it has seen a continuous update of its technology. The original lamp was powered by kerosene, the latest lighthouse technology of the day. It was converted to incandescent gas in early 1904, which was safer, brighter and cheaper. In 1933 it was automated and converted to electricity. In 1948 the light became an oscillating beacon, when a Chance Brothers' catadioptric lens was installed: this was recycled from the lightship Bramble and had since been in use in the light tower at Shark Island.
The Sydney Harbour Trust assumed responsibility for the Hornby light in 1900 and undertook further renovations. The light was not transferred to the Commonwealth in 1915 as it was considered to be a harbour light. The National Trust classified the site in 1975.
[media]The lighthouse has distinctive red and white vertical stripes.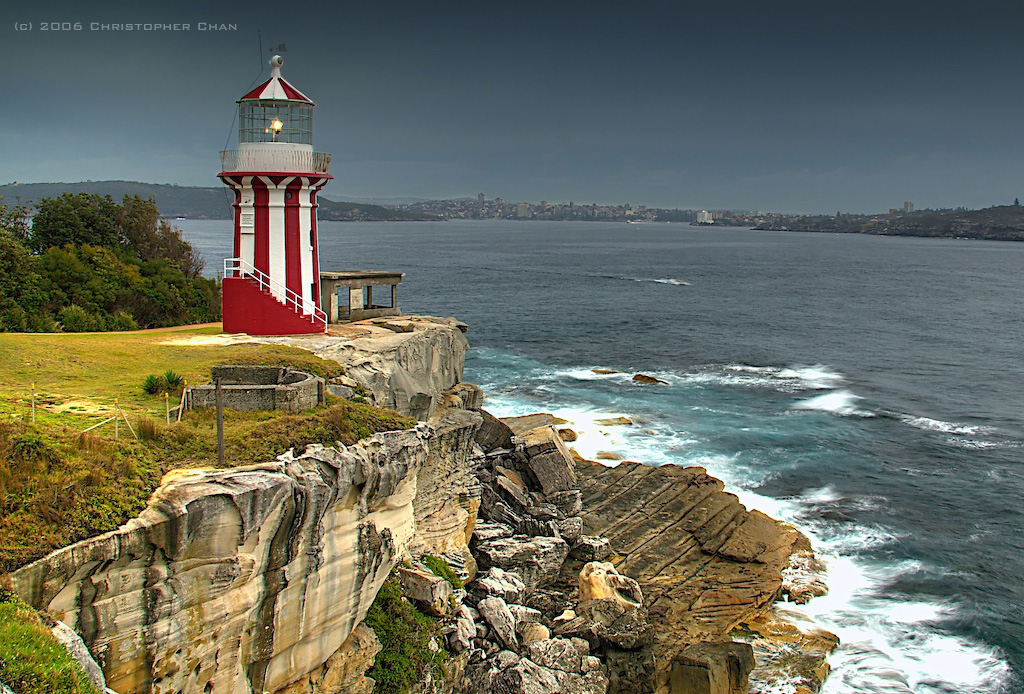 References
Lighthouses of Australia Inc website, 'The Hornby Lighthouse at South Head', http://www.lighthouse.net.au/lights/NSW/Hornby/Hornby%20Lighthouse.htm, viewed 18 February 2009
Notes