The Dictionary of Sydney was archived in 2021.
Cite this
Close
Citation
Persistent URL for this entry
http://dictionaryofsydney.org/index.php/entry/public_lavatories
To cite this entry in text
Ludlow, Christa, Public lavatories, Dictionary of Sydney, 2008, http://dictionaryofsydney.org/index.php/entry/public_lavatories, viewed
07 Jun 2023
To cite this entry in a Wikipedia footnote citation
cite web | url= http://dictionaryofsydney.org/index.php/entry/public_lavatories | title = Public lavatories | author = Ludlow, Christa | date = 2008 | work = Dictionary of Sydney | publisher = Dictionary of Sydney Trust | accessdate =
07 Jun 2023
To cite this entry as a Wikipedia External link
cite web | url = http://dictionaryofsydney.org/index.php/entry/public_lavatories | title = Public lavatories | accessdate =
2008
| author = Ludlow, Christa | date = 2008 | work = Dictionary of Sydney | publisher = Dictionary of Sydney Trust
Public lavatories
In late nineteenth-century Sydney social concerns about public respectability increasingly focused on undesirable street behaviour. It was not uncommon to see men urinating in public because of the absence of public lavatories in the city.
Women were even worse off, because although they were part of the city's workforce and frequented the city streets, they often did not have lavatories provided by their employers, and the City Council was slow in recognising their needs.
[media]In 1880 the council bought two cast-iron urinals for male use and added to them during the 1880s. One of these early 'pissoirs' can still be seen in The Rocks under the Harbour Bridge. It was originally located on Observatory Hill.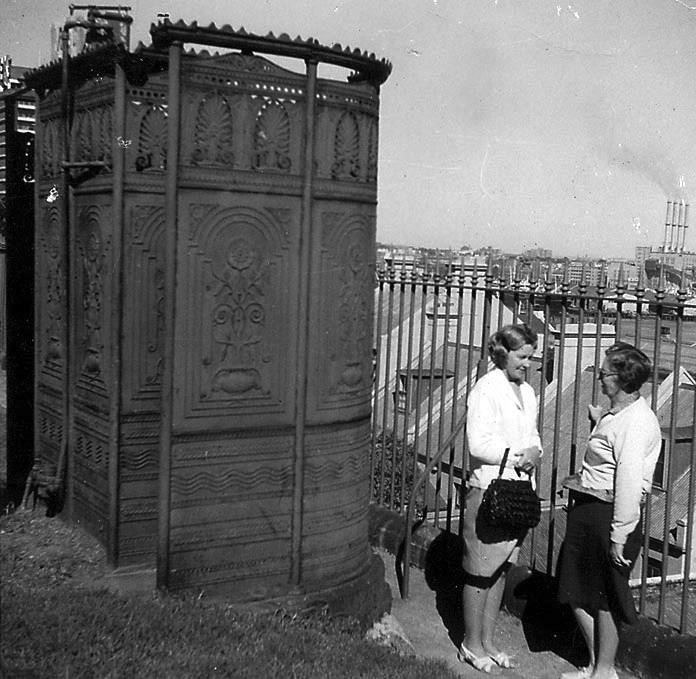 The outbreak of bubonic plague in 1900 focused the attention of state and local government on public health and sanitation in the city. [media]During the course of the plague it became clear that many houses in the inner urban areas had faulty sewerage connections, while others had none at all and relied on earth closets and cesspits.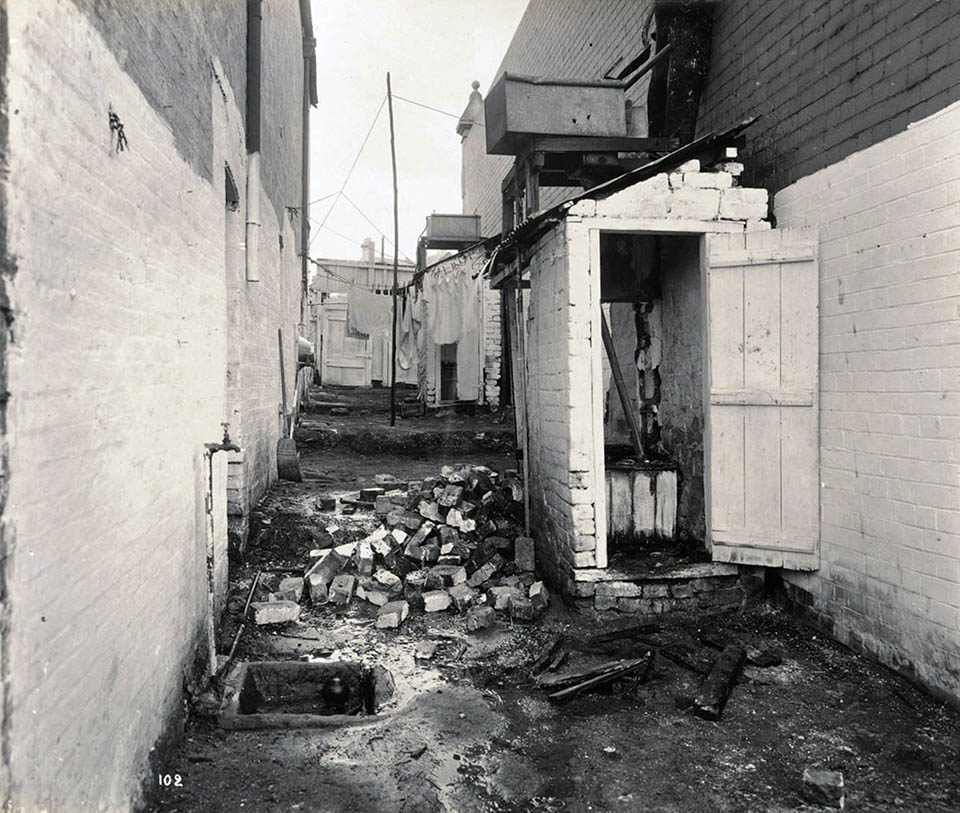 Underground facilities
The first underground public convenience opened on 24 May 1901 in Moore Street, between Pitt and Castlereagh streets. Others were opened in 1901 in Darlinghurst Road, near William Street, and at the intersection of Liverpool and Oxford streets. These were all for men. There was one ladies' lavatory in Parker Street. A sum of £850 was allotted for a ladies' convenience underground but difficulties were encountered in obtaining a suitable site. It was suggested finally that one be installed in the Queen Victoria Market Buildings.
[media]In 1904, two more were constructed, in Wharf Street near the Pyrmont Bridge and in George Street South. The one in George Street was underground, and was the first to use the fire clay urinal ranges, which were considered more sanitary. Underground lavatories were built in Druitt Street, near the Town Hall, in 1905 and at the corner of Bourke and Forbes streets, Darlinghurst, in 1907. [media]The latter still survives.
Nevertheless, the council was slow to construct lavatories for women. A deputation from the Women's Progressive Association waited on the Lord Mayor in 1902 requesting that a ladies' public convenience be provided.
In 1907, shopkeepers from Circular Quay requested that the mayor take action to provide lavatories for men and women at the quay, but this does not seem to have occurred. [media]Contracts were entered into in 1908 for construction of men's lavatories at Macquarie Place, alteration of existing lavatories dating from 1892 at the intersection of George Street and Barton Street, and in 1909 in Hyde Park in Park Street, near Elizabeth Street. An underground lavatory similar to that at Bourke Street was constructed in Martin Place.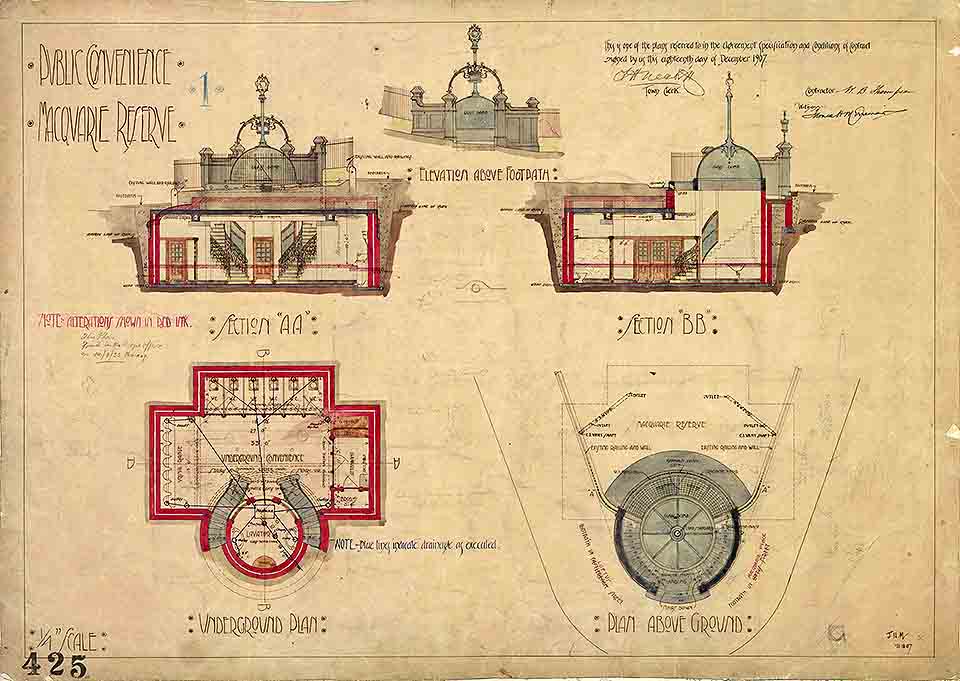 Above-ground lavatories
A contract for the first ladies' above-ground public lavatory was finally entered into in September 1910, for construction in Hyde Park on the south-eastern corner of Park and Elizabeth streets. This contained provision for children and a parcels counter, but only two water closet compartments. Despite the many complaints made to the council about lack of lavatories for women, this compared poorly with (for example) Macquarie Place, which had six water closets and seven urinals, or the men's Hyde Park lavatory, which had four water closets and seven urinals. Up to the end of 1914, according to a council publication, only £1,064 was spent on women's public lavatories, while more than £15,000 was spent on public lavatories for men. [1]
Operation and staffing
The Town Clerk's report for 1903 stated that public conveniences were open from 5am until midnight. Two attendants worked shifts each day at each, and eight attendants were employed in total. [media]The underground lavatories were tiled with white glass tiles in an 'opalite' or 'florite' pattern. The floors were concrete and covered with red 'arkilite' or 'ironite' paving. All the doors, frames and fittings were of polished Tasmanian blackwood or cedar. They were lit throughout with electricity. Ventilation appears to have been a concern, and this was usually addressed by having two staircases, one for entering and one for leaving.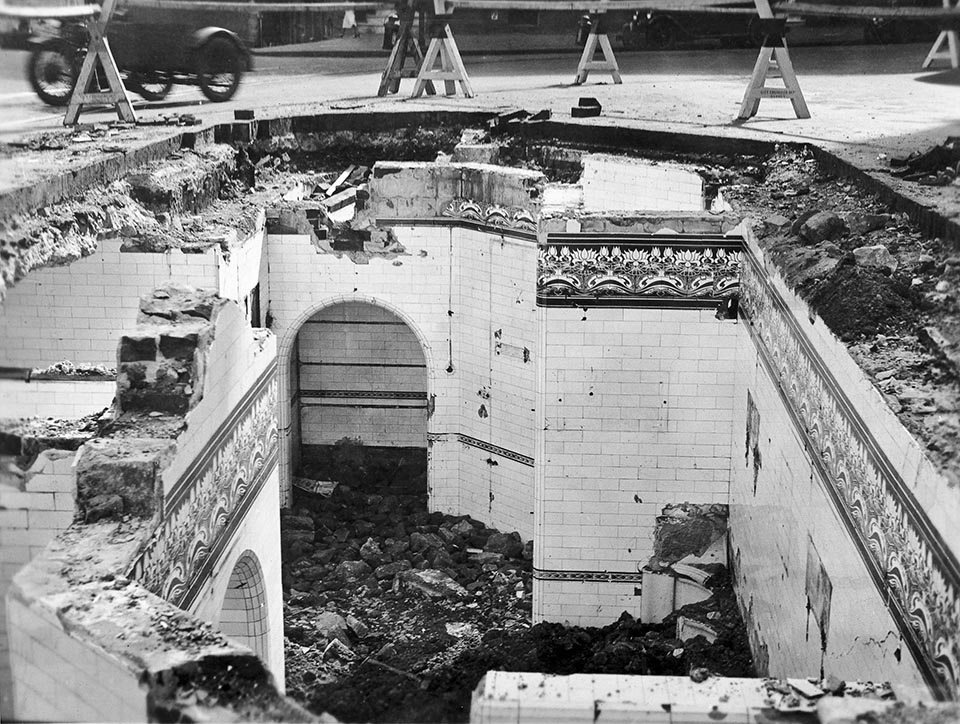 Subsequent developments
The historic public lavatories that survive in the city constitute significant evidence of urban street life. The move to locate them underground shows a desire to remove personal activities seen as undesirable in the modern, sanitary city from public view, but also reflected the improvements in the sewerage system. Public lavatories continued to be associated with undesirable behaviour, and were patrolled by police, as they became known as homosexual meeting places. Underground conveniences were expensive to build and to maintain and as the twentieth century progressed the council reverted to building more utilitarian above-ground toilets. [media]In 1999 the Council installed self-cleaning toilets in public places such as Wynyard Park.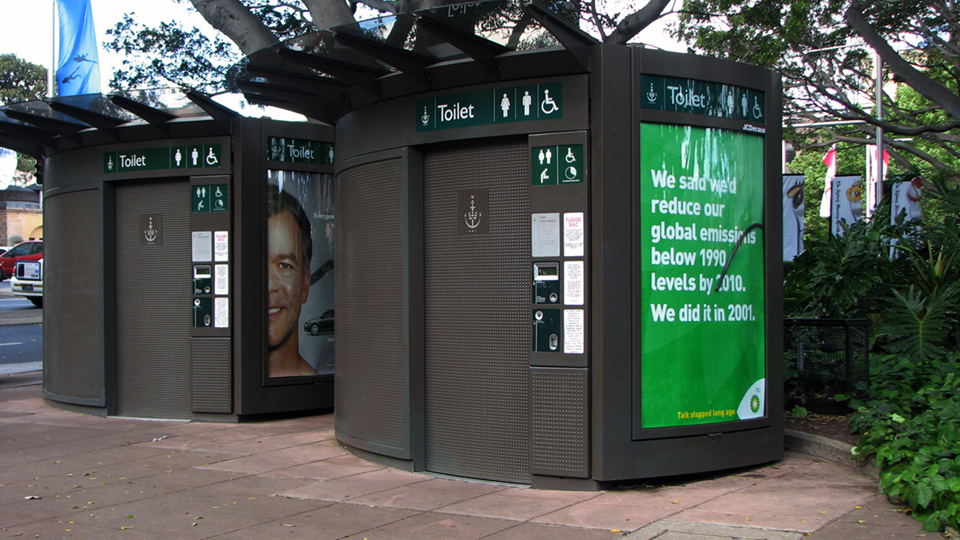 In 1996 the remaining underground lavatories in the city were decommissioned owing to problems with maintenance and public safety. Despite protests by the National Trust, the lavatory in Wynyard Park (1912) was demolished and those in Macquarie Place (1908) and Hyde Park North (1909) were filled in below ground level.
Notes