The Dictionary of Sydney was archived in 2021.
Cite this
Close
Citation
Persistent URL for this entry
http://dictionaryofsydney.org/entry/juniper_hall
To cite this entry in text
Dunn, Mark, Juniper Hall, Dictionary of Sydney, 2008, http://dictionaryofsydney.org/entry/juniper_hall, viewed
08 Jun 2023
To cite this entry in a Wikipedia footnote citation
cite web | url= http://dictionaryofsydney.org/entry/juniper_hall | title = Juniper Hall | author = Dunn, Mark | date = 2008 | work = Dictionary of Sydney | publisher = Dictionary of Sydney Trust | accessdate =
08 Jun 2023
To cite this entry as a Wikipedia External link
cite web | url = http://dictionaryofsydney.org/entry/juniper_hall | title = Juniper Hall | accessdate =
2008
| author = Dunn, Mark | date = 2008 | work = Dictionary of Sydney | publisher = Dictionary of Sydney Trust
Juniper Hall
Juniper Hall was built by the emancipated convict Robert Cooper in 1824 to fulfill a promise to his third wife, Sarah, to build her the finest house in Sydney. Cooper, a wealthy hotel and distillery owner in London, had been transported to Sydney in 1813 for receiving stolen goods.
Cooper was granted a conditional pardon in 1818, by which time he had already begun to rebuild his wealth in the new colony, having joined in partnership with two fellow emancipists, Francis Forbes and James Underwood. The three men opened the first legal liquor distillery in Australia on land granted to them in the Paddington/Rushcutters Bay area. As part of their development, the three partners agreed to each take three acres for the erection of their own homes.
A family home
Cooper began construction on his house almost immediately, and although the partnership with Forbes and Underwood dissolved within 12 months, Cooper retained his plot on the South Head Road (Oxford Street). The completed house was a two-storey building with a basement. Four large rooms occupied each floor, while the basement contained the kitchen. To the rear were a coach-house, stables and servants' quarters.
The position of the house on the top of a ridge line meant it had views across the harbour to the north and to Botany Bay to the south. Cooper named his new house Juniper Hall, after the juniper berry which was used in the distillation of gin, and recalling Juniper Street, the location of his former distillery in London. Cooper by this time needed a large dwelling, having 14 children from his first two marriages (both wives having died), with another 14 children to come from his union with Sarah. [1]
Cooper left Juniper Hall in 1831, returning with his family to England, and leased the property to an Irish lawyer, John Kinchela. Kinchela had arrived in June 1831 to take up the position of New South Wales Attorney-General, recommended by his Irish patron the Marquis of Ormonde. Kinchela renamed the house Ormonde House in honour of his patron (the 'e' was later dropped). Kinchela himself stayed at Ormonde House only until 1838, when the returned Cooper family moved back in.
Cooper's downfall
During the 1840s, Cooper made an attempt to enter politics, standing for the first partially elected Legislative Council in 1843. Despite building up to 40 houses for his workers to make them eligible to vote, he failed disastrously, coming last on the ballot. Cooper blamed a sustained campaign against him in the conservative press, who had scrutinised his convict past and colourful career before the courts. In 1849, having over-speculated during the previous decade, Cooper was declared bankrupt and was forced to lease his house once more. [2]
New tenants, new uses
[media]In 1852 Ormond House was rented by the newly formed Society for the Relief of Destitute Children, which accommodated 130 children at the house until the society moved in 1858.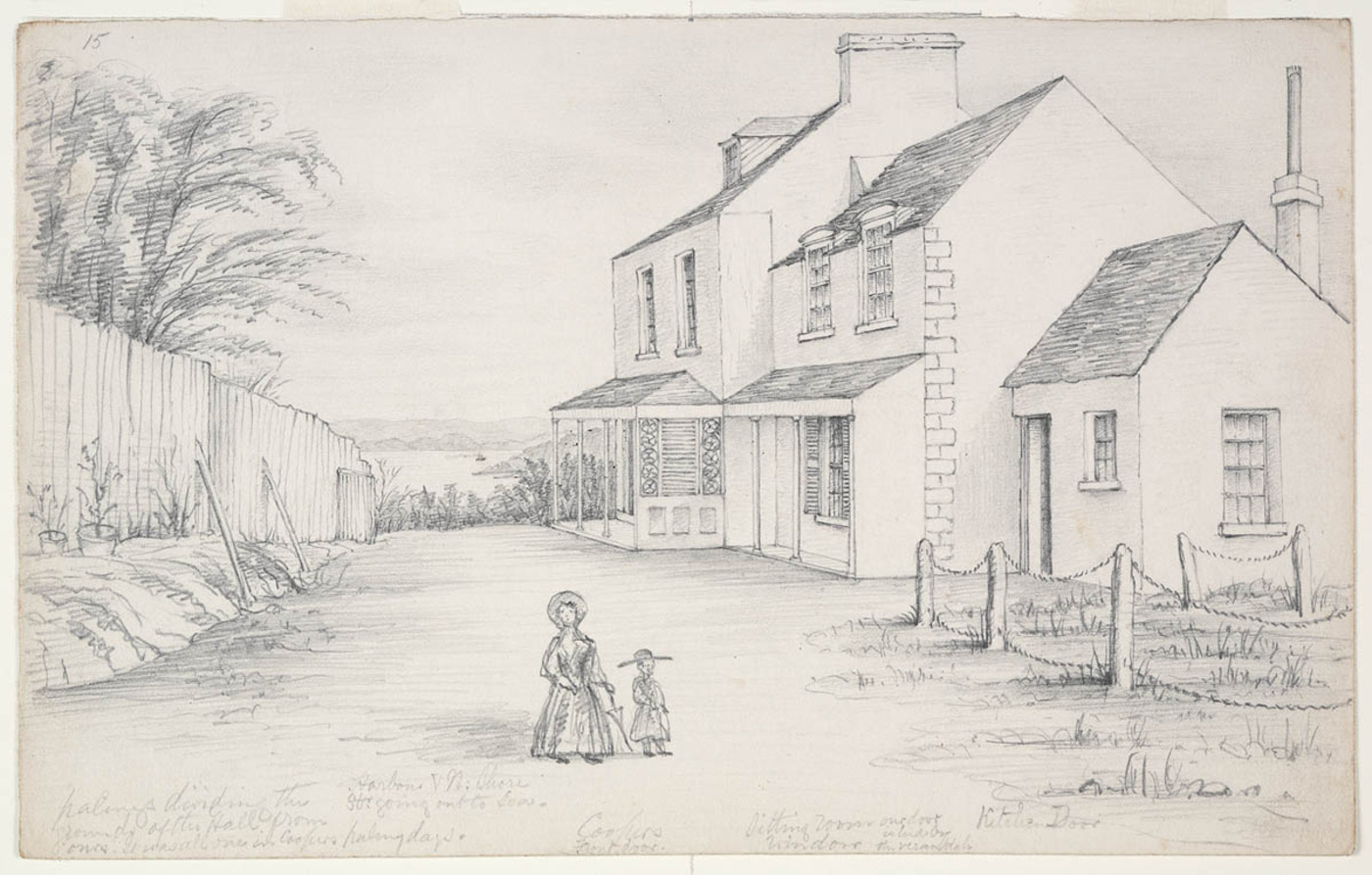 Robert Cooper died in 1857 and in 1858 Sarah Cooper moved back into the house. Before her death in 1863, Sarah refurbished the house, possibly with a view to selling it. On her death the house passed to her trustees, who in turn leased it to a variety of charitable and educational organisations, including the New South Wales Institution for the Deaf and Dumb from 1868 to 1872, a ladies' college from 1873 to 1879 and the Children's Relief Board from 1884 to 1885. [3]
In 1885, the house was purchased by the colonial government and extended with a large addition to the eastern end. The extension was built in a similar style to the original, and used as the probation office for the Metropolitan Shelter for Children and the Children's Court, a role it maintained until 1921.
The building was then sold to a shoemaker, Joe Gardiner, who proposed to demolish it and build flats. A public outcry encouraged Gardiner to change his mind and instead convert the house to flats, with a row of shops on the Oxford Street frontage. [4]
Restored to former glory
In 1984, after 60 years as residential flats, the building was purchased by the National Trust of Australia (NSW), with a grant from the New South Wales Government. The National Trust set about restoring the house to its colonial appearance and demolished the shops, revealing Juniper Hall (as it was renamed after about 1945) once again to Oxford Street.
Notes
[1] RL Knight, 'Cooper, Robert (1776–1857)', Australian Dictionary of Biography, vol 1, Melbourne University Press, Melbourne, 1966, p 246
[2] RL Knight, 'Cooper, Robert (1776–1857)', Australian Dictionary of Biography, vol 1, Melbourne University Press, Melbourne, 1966, p 246
[3] M Simpson, Old Sydney Buildings: A Social History, Kangaroo Press, Kenthurst NSW, 1995, pp 150–152
[4] Heritage Branch, New South Wales Department of Planning, State Heritage Register, 'Juniper Hall', Heritage Branch, New South Wales Department of Planning, Parramatta NSW, viewed 17 November 2008, http://www.heritage.nsw.gov.au/07_subnav_01_2.cfm?itemid=5045231