Cite this
Close
Citation
Persistent URL for this entry
http://dictionaryofsydney.org/entry/hawkesbury_river
To cite this entry in text
Clugston, Niall, Hawkesbury River, Dictionary of Sydney, 2008, http://dictionaryofsydney.org/entry/hawkesbury_river, viewed
17 May 2022
To cite this entry in a Wikipedia footnote citation
cite web | url= http://dictionaryofsydney.org/entry/hawkesbury_river | title = Hawkesbury River | author = Clugston, Niall | date = 2008 | work = Dictionary of Sydney | publisher = Dictionary of Sydney Trust | accessdate =
17 May 2022
To cite this entry as a Wikipedia External link
cite web | url = http://dictionaryofsydney.org/entry/hawkesbury_river | title = Hawkesbury River | accessdate =
2008
| author = Clugston, Niall | date = 2008 | work = Dictionary of Sydney | publisher = Dictionary of Sydney Trust
Hawkesbury River
The Aboriginal name for the Hawkesbury River is Deerubbin, which is believed to mean 'wide, deep water'. The Garigal people are the traditional owners of Broken Bay and the river's mouth, while the Hawkesbury's western reaches lie in the Dharug territory of the Cumberland Plains, and the northern bank between Wisemans Ferry and Wilberforce is Darkinjung country. [1]
Exploring the river
[media]In March 1788, little more than a month after the arrival of the First Fleet, Governor Arthur Phillip led an expedition which explored the mouth of the Hawkesbury as far as Dangar Island, near the present-day township of Brooklyn. In June the following year, his second expedition reached as far as Wisemans Ferry. It was on this expedition that Phillip identified the river and named it in honour of Lord Hawkesbury, the president of the Board of Trade in Britain.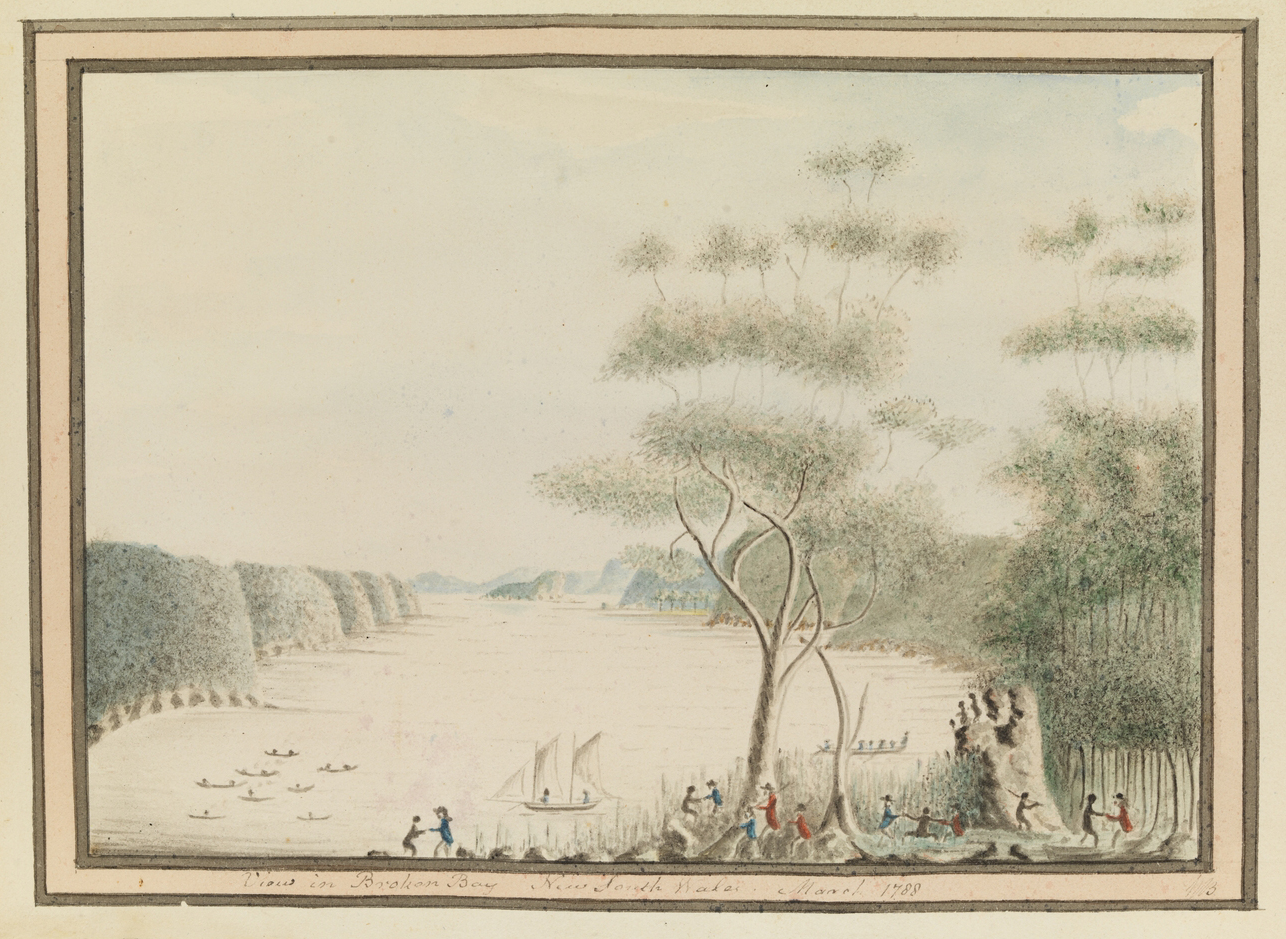 Still eager to find the potential farmland that had so far eluded him, Phillip returned to Port Jackson for provisions and immediately launched a third expedition, which reached as far west as the Colo River and Richmond Hill in July 1789. During these voyages, Captain John Hunter produced the first charts of the Hawkesbury. [2]
In 1791, Phillip, Hunter and Lieutenant Watkin Tench led further expeditions to explore the Hawkesbury and Nepean rivers, which established that they were in fact the same river. [3]
River transport and new settlement
[media]By 1794, settlement had begun on the western regions of the Hawkesbury in an area called the Green Hills. In 1810, Governor Macquarie toured the area and laid plans for five new towns – Windsor, Richmond, Castlereagh, Pitt Town and Wilberforce. [4]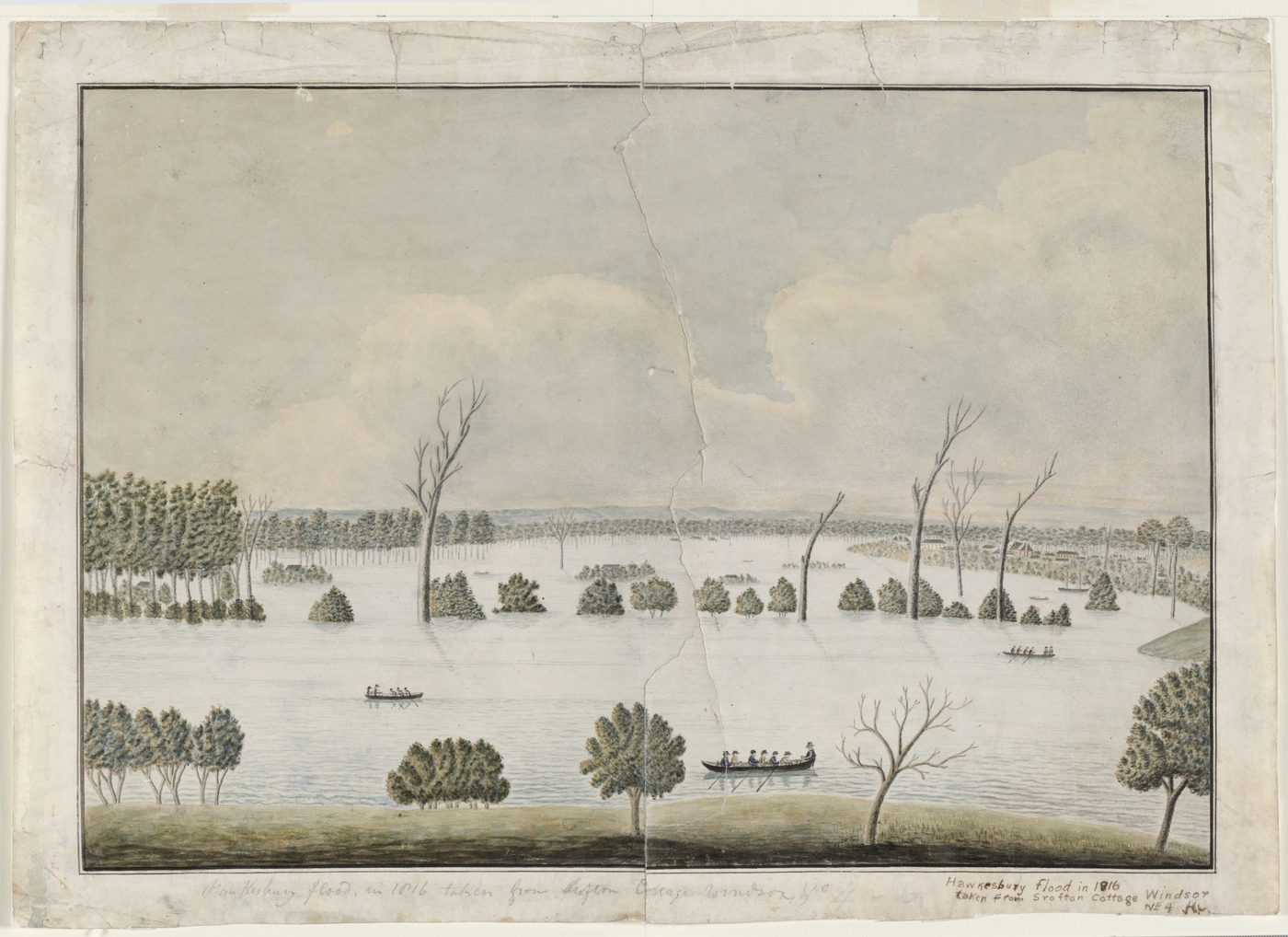 The river was an important transport route for more than a century. Boats carried the produce of orchards upstream to the railhead at Windsor or downstream to Sydney until the 1940s, when they were superseded by cheaper road transport.
The first regular crossing of the river was made at Wisemans Ferry, where the ferry service was established by the ex-convict Solomon Wiseman in 1827, at the time of the building of the Great North Road. A second ferry crossing was established by George Peat near Brooklyn in about 1840. This was linked to Sydney Harbour and Parramatta by Peats Ferry Road, which became part of the Pacific Highway in the 1930s. [5]
[media]The Brooklyn railway bridge was completed in 1889, shortly after the opening of the Northern Line. Peat's ferry was finally replaced by a road bridge in 1945. In the following year, a new railway bridge was opened, the original having developed a crack in its foundations. The original piers can still be seen beside the current bridge. [6]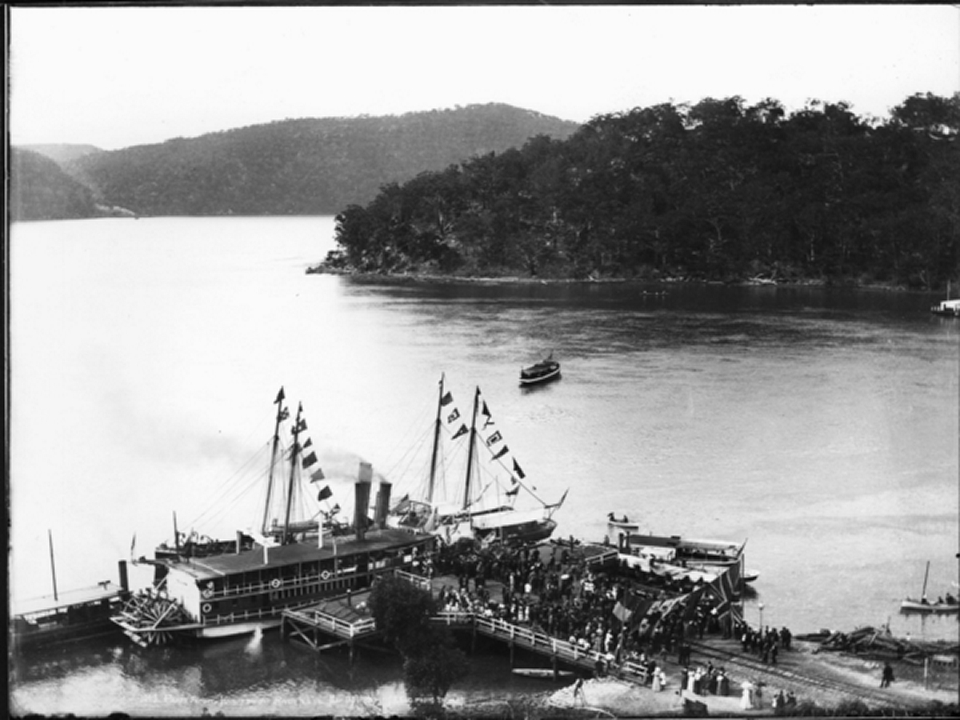 Recreation on the river
From the 1830s [media]onwards, the Hawkesbury became popular for cruising, picnicking, boating and swimming. [7] In 1871 and 1872, the English novelist Anthony Trollope toured Australia, and in his popular travel book praised the Hawkesbury as being greater than the Rhine. [8]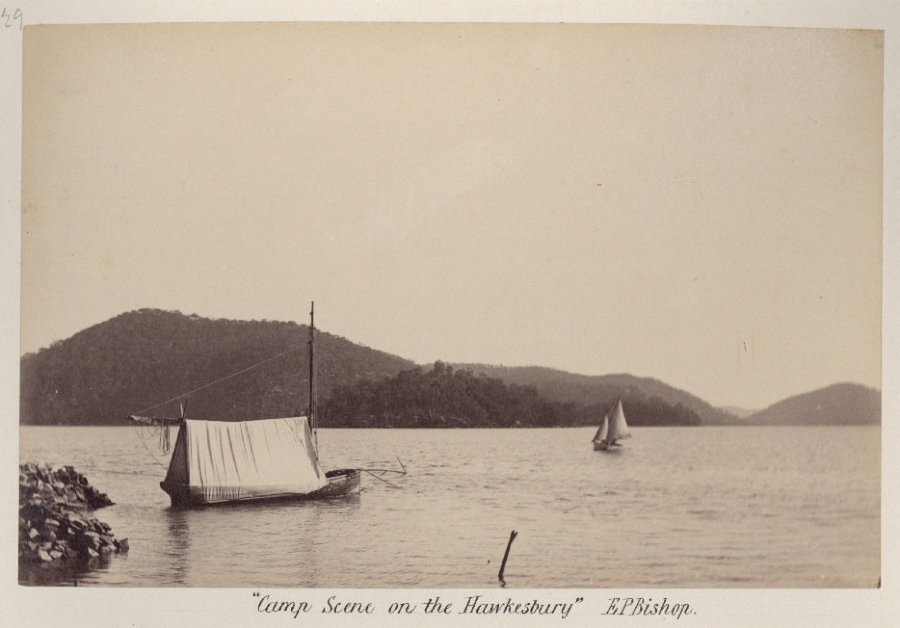 Notes
[1] John P Powell, Placenames of the Greater Hawkesbury Region, Hawkesbury River Enterprises, Berowra Heights, 1994, p 55; Jocelyn Powell and Lorraine Banks, Hawkesbury River History: Governor Phillip, Exploration and Early Settlement, Dharug and Lower Hawkesbury Historical Society, Wisemans Ferry NSW, 1990, pp 31–33; Michelle Nichols, Pictorial History: Hawkesbury, Kingsclear Books, Alexandria NSW, 2004, p 4
[2] John P Powell, Placenames of the Greater Hawkesbury Region, Hawkesbury River Enterprises, Berowra Heights NSW, 1994, pp 55–6; Jocelyn Powell and Lorraine Banks, Hawkesbury River History: Governor Phillip, Exploration and Early Settlement, Dharug and Lower Hawkesbury Historical Society, Wisemans Ferry NSW, 1990, pp 11–30; Hornsby Shire Historical Society, Pioneers of the Hornsby Shire, 1788–1906, North Sydney, 1983, pp 20–1
[3] Michelle Nichols, Pictorial History: Hawkesbury, Kingsclear Books, Alexandria NSW, 2004, pp 8–9
[4] Michelle Nichols, Pictorial History: Hawkesbury, Kingsclear Books, Alexandria NSW, 2004, pp 9, 14
[5] Michelle Nichols, Pictorial History: Hawkesbury, Kingsclear Books, Alexandria NSW, 2004, pp 44–47
[6] Hornsby Shire Historical Society, Pioneers of the Hornsby Shire, 1788–1906, North Sydney, 1983, pp 26, 29–30
[7] Claire Schofield, The Shaping of Hornsby Shire, Hornsby Shire Council, Hornsby NSW, 1988, pp 80, 193–5
[8] Michelle Nichols, Pictorial History: Hawkesbury, Kingsclear Books, Alexandria NSW, 2004, p 49
[9] Claire Schofield, The Shaping of Hornsby Shire, Hornsby Shire Council, Hornsby NSW, 1988, p 67